There is a growing trend to use architecture and other construction skills as part of the curriculum in mainstream secondary education. Peter Wilson looks at a few initiatives being piloted across Europe and the USA.
11 Mar 2005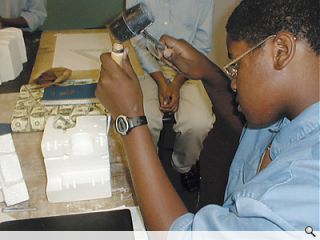 by Peter Wilson
Hardly a week goes by without the announcement of some new government-led initiative to improve primary and secondary education. Even the Chancellor of the Exchequer feels inspired to suggest that we need to teach children to be entrepreneurs. In the world of "education, education, education", everyone, it seems, can put forward their sixpence-worth for attention.
Nearer the educational coalface, skill shortages in the workforce are being addressed by new courses such as GCSE's in construction and the built environment, a rather grand way of introducing concepts such as health and safety to the electricians and joiners of the future. Also in England, the case is progressively being made for city academies in inner city areas that can offer distinct specialisms to their students. The majority of state secondary schools in England are in fact now designated as specialist schools, and are encouraged by a government formula that provides £600,000 for every £50,000 of private sponsorship gained.
In Scotland, the Executive's recently published Ambitious Excellent Schools set out an agenda intended to drag the worst performing schools upwards on a diet of music, arts and drama, although the document's call for philanthropic donors to support these proposed specialisms raises political concerns for Ministers who see no need for private sector funding North of the Border.
Yet initiatives that use private sector money to promote architecture are already happening in Scottish schools, albeit on a fairly limited scale. Glasgow School of Art and Clydesdale Bank have been running workshops in schools in social inclusion partnership areas with the aim of introducing second year pupils to creative areas they might otherwise miss. Using Glasgow School of Art staff, each 'Art for All' workshop involves some 60 second year pupils before they select their Standard Grade subjects. Responsible for the architecture sessions, Tilo Einert and Alison Blamire have evolved a design and build project that can be achieved within the day and which stretches the imaginations of all involved. The task to design a fantasy tower for a fantasy client is prefaced by a presentation of buildings inspired by the natural world, but there is a practical side to the project since each pupil has to construct a model that will actually stand up.
More regular engagement takes place in the small town of Lahti, in the east of Finland – a region with its own architecture policy – where a 'Children's School of Architecture' operates in refurbished premises in the centre of town. Much like an after-school club, its raison d'être is to make children more aware of their immediate environment, and to develop their creative and motor skills. The standard of work is extraordinarily high, with work ranging from small models to larger constructions in the landscape.
Taking the lead, however, in curriculum integration must be the Philadelphia chapter of the American Institute of Architects, who, in September 1999, opened the US's first Chartered High School of Architecture and Design (CHAD) in the downtown area of the city.
The project began as an 'AIA Millennium Legacy' – each year, the host city for the Institute's national conference is required to come up with a project of lasting value – and the groundbreaking idea of an urban high school that exposes inner city and minority students to the architecture and design industries was the brainchild of architects George Manos and John Egan. The challenge inherent in the project was to encourage fresh, previously unrecognised talent into these predominantly white male middle class professions. The result – established in only seven months – is CHAD, a public, independent, free-tuition high school, with a board of trustees consisting of architects, designers, community leaders, parents, and educators. Its honorary board is made up of nationally recognised leaders in design, education and business, including architects Denise Scott Brown, Frank Gehry, Michael Graves, IM Pei and Cesar Pelli.
What makes CHAD particularly impressive is the sheer amount of time spent by its students on art and design-related subjects – over 90 minutes per day. The creative buzz in these classes is palpable – students hard at work drawing or shaping models with the wall-mounted evidence of their endeavours demonstrating the rapid acquisition of new skills by even the newest entrants. This hands-on approach is particularly valuable in stimulating students who have difficulty with conventional academic studies – this is a school for 'visual learners' in which the student-teacher ratio is an astonishingly low 15:1. The school is subject to annual inspections and has to meet all of the normal state core standards in English, Mathematics, etc, but design is at the heart of its curriculum, and is used as the instrument to develop students' visual and spatial literacy, creative problem-solving skills and understanding of the physical environment and its impact on their quality of life.
The school has many practising architects and designers contributing to its programmes, and this is seen as important in the way students learn to engage directly with the professional sector as well as generating internship opportunities for themselves. The emphasis through its mentoring programme on future job creation is strongly pressed, and although only a small percentage of students each year actually go on to study architecture at university, many move into other design disciplines in which women and minorities are similarly under-represented. With the current low numbers of women in UK architecture, how long before we see a similar initiative promoted and supported by the design and construction professions in this country?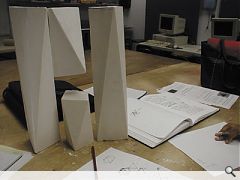 Back to March 2005