Housing market: Home Truths
9 Jul 2022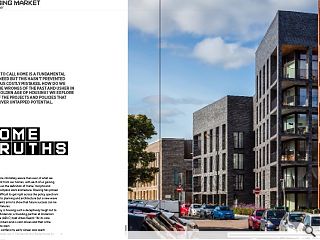 A place to call home is a fundamental human need but this hasn't prevented numerous costly mistakes. How do we right the wrongs of the past and usher in a new golden age of housing? We explore some of the projects and policies that can deliver untapped potential.
We are all more intimately aware than ever of what we need and want from our homes, with each of us gaining a clearer idea as the definition of 'home' morphs and bends to encompass work and leisure. Housing has proven notoriously difficult to get right across the policy spectrum from politics to planning and architecture but a new wave of developments aims to show that future success can be built on past failures.
Asked why is housing such a deceptively tough nut to crack Karen Anderson, a founding partner at Anderson Bell + Christie (AB+C) told Urban Realm: "At its core housing is numbers and is cost-driven and that is the wrong place to start. I have to confess my early career was spent demolishing walk-ups in Castlemilk and Easterhouse to build two-storey homes with front and back doors, but we can't do that in the future. We don't have the resources to keep demolishing homes and vast tracts of our cities. We need to stop and take a breath.
"Thinking back to the mid to late eighties, before the UK City of Architecture & Design in 1999, Glasgow and Reidvale Housing Association were doing good stuff with Elder & Cannon. At that point, the private and public sector offering was pretty poor and then we had quite a bad recession but then the housing association movement took off with a quality agenda. We got the year of architecture because of the housing association movement but the HA movement then accelerated its desire to do good stuff."
Emphasising the need to incorporate more social space into our housing as a counter-reaction to the suburban model of delivery Anderson argues that we've become too hung up on secure by design issues at the expense of social design. "How do you deal with everything from letting elderly people see some life go past to shared growing spaces?"
Referencing a pledge by the levelling up secretary Anderson adds: " Michael Gove set a target of building 300,000 new homes per year and in the same breath said it's not just about any old homes, it's about beauty, which is interesting for him picking up the Prince Charles agenda. It's a bit of a sop to the whole idea that social housing, specifically in England, has been a blight because of green belt and NIMBYs. Where there is hope is that's a recognition that housing is not purely about numbers, that's a start. Architects have always known how to do it but we can't do it if we don't get asked to do it!"
Is beauty a loaded term with Poundbury trappings as likely to repel as attract? If housing becomes beholden to fashion, are we simply repeating the 50-year cycle of destruction in a world where builders profit most by providing the basics and charitable organisations consider affordability as the greatest barrier to equality of accommodation? Anderson says: "It's getting more difficult constructing around the challenges of the carbon agenda. It's so complex even though it appears so simple, things like Passivhaus driving smaller windows, it just takes a bit of time to get it right and make sure people still get sunlight. It's all about the perception that big windows are at the front of the house and small windows are at the back. It's not about orientation."
Throw climate change into the mix and this challenge will only get harder as Anderson, who is leading a master's unit on developing sustainable proposals for South Uist at the Scott Sutherland School of Architecture & the Built Environment, is well aware. "The material challenge is around climate change. As Glasgow gets wetter and wetter with more frequent downpours detailing becomes important in terms of how we build.
"My students are looking at alternative materials like bricks grown from fungus and walls which use algae to generate electricity. There have already been Europe-wide cement shortages, which have been an issue for masonry construction. I say you have to think about the materials you use, it's no longer enough to go to the manufacturer and say 'I'll have this'. You need to think about carbon, weathering and deconstruction."
Is it fair to say there is a renaissance in council house building? What are the opportunities for driving the industry forward? "One of my last projects in the office was Edinburgh 21st century homes, looking at zero carbon on the neighbourhood scale, so not just looking at the house but issues around district heating and transport as well. It's beholden to our public sector clients to show the way. The fuel crisis will make that much more a potential positive if it costs more to heat your house than in the age of relatively cheap energy."
"Aside from poverty, social care and the issues around isolation; mental and physical health are the two big agendas that good housing design can help with."
In times of crisis, we're often shocked into enacting changes put off while the sun is shining. Hopefully, we are at an inflexion point similar to that which took place in the late eighties. However, inflation, the skills shortage and a potential recession play out the fundamental right to a roof over our heads remains.


Is there a magic formula for social housing?

Marie de Bryas, Stephen Taylor Architects
Cities have evolved to become a juxtaposition of urban fragments from many different eras as they respond to ever changing political, economic, and technological pressures. Social housing can offer architects the rare chance to explore a coherent urban idea at a large scale. Designing housing means thinking about the home and the private scale, as well as the street and the public scale at the same time. In the twentieth century, housing development moved away from forming the historical street and reverted to an open landscape approach, minimising the interaction between the dwellings and the public realm in order to give back to the city as much open space as possible. This approach led to poorly defined and impersonal public spaces that ultimately increased crime and failed to instil pride and wellbeing for the residents, as theorised by Oscar Newman.

So, as we tackle the current housing crisis, we, as twenty-first century architects, are asked to find new solutions to create successful, safe, and sustainable environments. As often, it isn't about finding a new solution, but understanding and modernising ideas of the past. When looking at successful pieces of cities, such as Haussman's Paris or the Georgian Terraces, we can pick up recurring elements, such as the intimate relationship between the dwellings and the streets they form, creating natural passive surveillance and a sense of ownership, or the rhythmic repetition of simple robust elements, such as doors or windows, whilst focussing on key special moments, in characterful corners, porches or gables. Contemporary social housing can aim to recreate this intimate relationship between the public and the private, whilst integrating today's environmental challenges. 


But the responsibility shouldn't only rely on architects. Local authorities and housing associations need to invest in high quality and sustainable housing and become best practice clients. Councils' limited budgets and risk-averse attitudes often lead to unsatisfactory tendering processes that value low costs over quality. A more collaborative approach would benefit the industry and result in higher quality housing.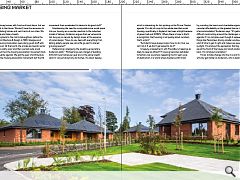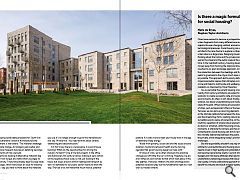 Back to July 2022