High-rise Housing: Safety First
8 Jul 2022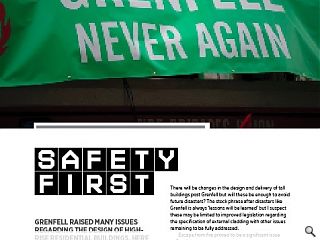 Grenfell raised many issues regarding the design of high-rise residential buildings. Here Leslie Howson throws light on what must be prioritised as urgently as failed cladding while addressing the architects role in facilitating solutions.
There will be changes in the design and delivery of tall buildings post Grenfell but will these be enough to avoid future disasters? The stock phrase after disasters like Grenfell is always 'lessons will be learned' but I suspect these may be limited to improved legislation regarding the specification of external cladding with other issues remaining to be fully addressed. Escape from fire proved to be a significant issue at Grenfell with the stay-put strategy undoubtably contributing to the many deaths.
Not unusual in tower blocks, residents were initially advised by the fire authorities to stay in their homes, advice which in retrospect proved unwise. However, no one could have envisaged what was to follow, a fast and ferocious fire on the outside of the building engulfing numerous flats. The eventual race to evacuate the building was then handicapped by burning cladding which restricted rescue attempts. So often in disaster situations, the enemy was time.
Another related issue which cannot be ignored, is that of escape stairs and whether another staircase would have allowed a faster escape. In all new build, alternative means of escape are conditioned by building regulations, though statutory guidance in the UK varies; only in Scotland does a building above 18M require a second stair. Following recent concerns over new single-stair skyscrapers in London including one not a stone's throw from Grenfell, the RIBA has joined fire safety experts in calling for more than one staircase to be mandatory in tall residential blocks.
Not untypical of post war high-rise residential tower blocks up to the 1980's, Grenfell was served by a single access staircase; used for fire escape purposes as well as access for up to 600 occupants from 120 flats over 24 floors, the same staircase that would be used by the fire fighting and rescue services. Provision of two stairscases separately dedicated, would thus seem to be obvious. However, there is resistance to a second stair from some developers who consider such a requirement would make certain development proposal non-viable on tight urban sites, since designing in a second staircase reduces the number of units with resulting cost implications. Evacuation of high-rise residential buildings is clearly a complex and difficult process especially at night and during a serious fire and when the fire services are faced with such a scenario.
Escape from the burning building as quickly and safely as possible must take precedence over a reliance on fire warning and sprinkler systems to safeguard people lives. Experienced fire officers know that it takes only 2 or 3 minutes to be overcome by smoke inhalation and 5 to 10 minutes for the fire itself to cause real injury to people. Grenfell proved in the most horrifying way possible, that even both these timescales can be severely modified if the building materials are toxic and burn quickly and in an unpredictable manner. The ingenuity of architects can and should come into play when considering the issue of escape stairs. Trellick Tower built in 1972 is one such exemplar. This 31 storey public housing block designed in the Brutalist style by architect Ernő Goldfinger and now Grade II listed, has two stairs, the main one a safe distance from the residential floors to cope with phased evacuation.
However, in most other tower blocks of the same period, such a two-stair solution was rare and gave way to a cheaper single core, single stair solution as at Grenfell. The most prolific period of high-rise housing iconstruction in the UK was from the early 1960's to the early 1980's Slum clearance and the provision of housing units was a political vote winner for successive governments, housing built cheaply and in quantity high rise were seen as the solutions but such policies left a legacy of failures both social and constructional. The high-rise housing vision was perhaps best expressed in Le Corbusier's' 1952 Unité d'Habitation in Marseilles, 337 apartments with 23 different layout across 12 storeys a community orientated design which included educational and play facilities.
Though it influenced many of the early high-rise housing schemes in the UK, this exemplar model was stripped to basics by UK City Councils who settled simply for delivery of housing numbers at the expense of design quality and without community even being considered. Post war multi-storey houses built using innovative but suspect construction methods sometimes resulted in dramatic failures. A notable example was Ronan Point, a 22-storey tower block erected in East London, which partly collapsed in 1968, only two months after it had opened.
A public inquiry concluded that a gas explosion had triggered the collapse. However, the building system used was found to be structurally unsound; built with no structural frame, simply offsite prefabricated concrete panels bolted together which had progressively collapsed. Not only was the design flawed but the building had been erected too quickly by unskilled labour and without proper site controls allowing corners to be cut and pushing the system beyond safe limits. Ronan Point came to be seen as the high-water mark of both council housing and modernist architecture.
The blame for the failure was laid on the local authorities and architects and the policy of building high-rise council housing began to be questioned. Despite this, once new British Standard Structural Design Codes for concrete were introduced to prevent such a disaster happening again, high-rise public housing continued to be built in large numbers. Ronan Point was like Grenfell, a disaster waiting to a happen. The common denominators were cheapness of construction a lack of understanding of the consequences of innovative construction not properly tested and poor workmanship by unskilled operatives. Both incidents became land mark cases necessitating a re think about certain aspects of high-rise building construction in the UK.
One was a new system-built block that partly collapsed following a gas explosion in a single flat, the other a newly refurbished, tower block that suffered a devastating fire that again emanated from a single flat. Being seen as symbols of the failures of low-income housing , both also highlighted concerns about the way such building projects are designed and procured, how the quality of the work is checked , the inadequacy of the building regulations, the focus on fast low-cost construction and reliance on low skilled contractors cutting corners on safety to deliver them. Between 1945 and 1975 an estimated 440,000, high-rise flats were built for public housing tenants including Grenfell.
The construction of such tower blocks had been encouraged and incentivised with subsidies by successive governments , as a means of dealing quickly with post war slum clearances. Industrialised building methods offered the prospect of delivering homes quickly without being constrained by skills shortages in conventional building trades. 50 years on, problems are still emerging with large panel systems similar to Ronan Point from the 1960s and 70's with an estimated 41,000 flats still standing UK wide. Methods of constructing high rise housing have, come a long way since Ronan Point failed and following the Grenfell fire UK Building Regulations are improving with introduction of the UK Building Safety Bill.
Nowadays Modern Methods of Construction (MMC), a process which focuses on off-site factory assembly construction techniques, is seen as an alternative to traditional building methods, allowing high rise housing to be built quickly and cheaply once again. MMC is seen as having the potential to alleviate the UK wide skills shortage in the construction industry, as well as improving the environmental performance of buildings, during and after construction and some say enable better quality houses to be delivered. Current MMC systems include modular construction based on off- site produced fully fitted out steel and concrete modules.
These are delivered to site and stacked together around slip form concrete cores, thus allowing buildings to be built quickly to meet the current pressure for housing, as was the case post war. Given previous failures associated with earlier prefabricated building systems in the UK, it is to be hoped that these more recent modular systems prove structurally sound long term and are erected by skilled contractors who fully understand the systems. With the reduction of carbon emissions very much to the fore, tower blocks are now being pioneered that are constructed entirely of wood ,using engineered structural timber in conjunction with CLT panels. One such is the Mjøstårnet Tower in Norway, now the world's tallest part residential wooden tower block.
Advocates within the timber panel construction sector see a great future for timber in high rise housing, though informed critics have expressed concern that this new building typology is moving too fast and without sufficient knowledge and appropriate building codes, especially as to how timber will perform during a fierce fire. There seems much scope for improving high rise living and for innovative design solutions to fire escape in the planning of tall residential buildings but no modern methods of construction should ever progress at the expense of safety of the occupants, especially escape from fire which has to remain at the top of the developer and designer's agenda . Whilst high rise living has not proven to be the best solution for the low-income public housing and rental sector, it continues to attract higher income group owners in high density urban locations.
According to the NLA (New London Architecture), 583 tall (20+ storey) buildings are in the pipeline in London alone. 87% are residential, and scheduled to provide an estimated 88,000 new homes over the next 5 years. One such is Ten Degrees currently the world's tallest modular built residential skyscraper. It is promoted as setting a new benchmark for rented housing in London, it offers high quality living that perfectly blends work and leisure while providing the utmost comfort and convenience. With 546 spacious apartments across two adjoining 44 and 38-storey towers it offers residents access to a roof top gym, sky lounge, co-working space, rooftop and ground level terraces, a private dining room, a pet spa, a games lounge and a cinema room, thus almost returning to the design ethos of Unité d'Habitation from 70 years ago.
It is notable that the twin towers have been designed to simply abut one another, each with a central core and only a single stair but with no integration of the two layouts; thus an opportunity lost to provide a dual escape option per floor. High- rise living is attractive to buyers with co- living and other high rise housing models now emerging to suit the different demographic groups of UK society. High-rise presents a number of challenges and opportunities for designers and developers one such post the Covid 19 pandemic, is the need to ensure that every home has direct access to open space with good sized balconies for all upper-level flats factored into the cost of every development.
Many developers tend to build high-rise flats at the lowest cost and to the limits of the regulations of the day, albeit tempered by what will sell. In this desire to get the most out of a site, density takes precedent but of course should never be at the expense of safety. Whether as owner occupiers or tenants, residents of high-rise housing need to know they are safe especially from fire. There is no place for shortcuts in the design and construction of high-rise housing and people safety must always be the priority. With high-rise living a continuing part of future city centre housing, architects have a significant role to play in developing innovative solutions for residential tower blocks, designing sustainably and safely the occupants. Clearly, they should have the relevant experience to take on high rise building types. Whilst being diligent in specifying for construction, they must have confidence that materials are properly certified and that the construction systems and contractors who erect them are reliable.
Ideally, architects should maintain a continuing watching brief over design and constructional outcomes and certainly avoid being left vulnerable to the failings of the procurement and certification process, especially on design and build projects. The tendency towards PFI in recent years has exposed construction failures that are often due to the use of unskilled site staff, poor site supervision and lack of understanding by contractors of engineer designed structural systems. The whole of the building industry developers, builders and consultants alike, have a collective moral responsibility and duty of care to ensure the inhabitants of buildings stay safe at all times and especially from fire and the consequences of fire. Architects designing high-rise housing are well placed to be advocates for safety as they are for aesthetics and sustainability. Where people's safety is concerned, today's building innovations must not become tomorrow's problems.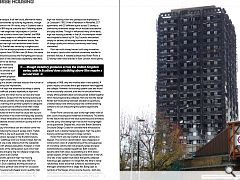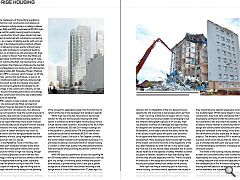 Back to July 2022