Team Esteem: Homegrown
26 Jul 2021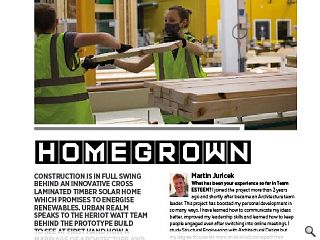 Construction is in full swing behind an innovative cross laminated timber solar home which promises to energise renewables. Urban Realm speaks to the Heriot Watt team behind the prototype build to see at first hand how a marriage of architecture and engineering is breaking new ground in residential design at the Construction Scotland Innovation Centre
Martin Juricek:
What has been your experience so far in Team ESTEEM?
I joined the project more than 2 years ago and shortly after became an Architecture team leader. This project has boosted my personal development in so many ways. I have learned how to communicate my ideas better, improved my leadership skills and learned how to keep people engaged even after switching into online meetings. I study Structural Engineering with Architectural Design but my degree focuses far more on its structural aspect than the architectural. By leading the architectural design team, I have been able to develop my design skills whist applying the engineering knowledge to the design. But above all, I have gained a lot of good friends that I have worked with over the past 2 years.
What are the most valuable aspects you are taking from this project to your professional career?
I have developed a professional network of contacts within the industry. Even the variety of the courses my ESTEEM colleagues come from, future-proves my network within large variety of professions in the industry. As a team leader I have often had to step out of my comfort zone and learn new skills to fulfil the tasks required from me, those often being things I never knew I would enjoy. I have a much clearer picture of what is required from me as a future professional and through applying new innovative construction methods materials on our house I have been able to gain an early inside into the future of sustainable construction.
What is your role in the prototype phase and what do you do?
Besides making a lot of decisions affecting the aesthetics, I participate in the construction of the cross laminated panels at CSIC. Making those after 2 years of designing and discussing them has been a very proud and thrilling experience for me. I was lucky enough to participate in some of our big milestones - construction of our first and last CLT panels. Being at the forefront of our design team I have been trying to salvage every waste material to create items which compliment our interior.
How do you feel working in CSIC?
Personally, I value the work at CSIC as an amazing opportunity to meet people out in the industry. CSIC is especially interesting as it is at the forefront of modern and innovative construction not only in Scotland but in UK in general. Just seeing the excitement in the eyes of the people working there when something comes together, must make anyone interested on being a part of the construction industry.
What have you learn so far in the construction phase working in CSIC?
I had a very basic knowledge of the works it undertakes to build cross laminated panels or glue laminated panels, as such working on their construction allowed me to learn the process. I greatly value being able to explain every part of the construction phase of this project and CSIC has ensured we are fully engaged in the construction processes at their factory.

What are some challenges you are/were facing in the construction stage?
Having to quickly learn the processes as well as all safety requirements needed at the factory was definitely a challenge. However, CSIC has offered comprehensive guidance and training for this to be overcome. Overall working under tight timescale has also been a challenge with delays in delivery of material and construction taking longer than anticipated. Team ESTEEM is lucky enough to have a lot of well experienced members to quickly resolve any issues at hance.
What is your experience working with CLT? Prior to this project I had no experience of working with CLT. From working at CSIC factory I have been able to get my hands on the material and seeing how its made and used I now understand the benefits of CLT in construction.
What are you thoughts about CLT in the future. CLT definitely have a role to play in the future of sustainable building design. Its presence in Scotland and the rest of the UK however depends on the improvements of the local timber infrastructure. Currently most CLT isn't manufactured in UK and further investments in the technology would be required to make it more mainstream building material. Nevertheless, Team ESTEEM is doing its part in CLT promotion and will hopefully impact a part of this improvement.

A message for students creating similar projects like Team ESTEEM? This project has been a lot of hard work and volunteering hours, but I always saw that as an investment into myself and I can already see the vast improvement in my skill set compared to two years ago. The amount of work is then more of a motivation than a burden and I would encourage everyone to join any projects and volunteering experience that could potentially teach them something. Afterall, any job is a competition so employers will likely look for these experiences.
Anything you would like to add I am extremely proud of every member of the ESTEEM family. I have learned a lot from every one of those members and I can only hope they learned a little bit from me too. We overcame every problem that we have come across so far and we will continue to do so until the house is standing in Dubai.
Ayman Darve:
What has been your experience so far in Team ESTEEM? From the very beginning of ESTEEM, now over 2 years ago, it has been a huge learning curve in the best way possible. However, what has also remained consistent is the sense of family & teamwork between the team despite our massive growth over time! The skills you learn are not only valuable in a working/professional environment but even life skills which develop you as a person hugely. For example; public speaking & delegation through being Vice Team Lead is a skill due to lack of confidence I never thought would come easy, but the narrative and environment of the Team made such challenges much smoother to develop & conquer. Couldn't ask for a better team!
What are the most valuable aspects you are taking from this project to your professional career? The growth in software knowledge, to even having experienced liaising with sponsors and members ofthe professional industry are truly skills which make each member of the team & I valuable and applicable candidates for further endeavours. Time management, chairing meetings, organising presentations, professional documentation development for people inindustry are just a few of the huge list of hard & soft skills which will truly help me apply my best professional self in any given task. Esteem truly equips you with an almost starter kit of transferrable skills in assortment to ensure your professional growth.
What is your role in the prototype phase and what do you do? In the prototype & Esteem team, my role has been; Vice Team Leader, and now after over a year will be transferring to Team Advisor. Throughout the past months the build up to the prototype has been getting more and more exciting. From organisingthe area of build with meetings alongside Heriot-Watt Uni Staff members to even sponsors who will be largely involved in the upcoming procedures, for example; CSIC. The scheduling and organisation of key paperwork, materials, Gantt charts, communication lines which as student we do not normally get exposure to were some of the many tasks which I undertook in collaboration with other Esteem members to contribute in pushing and striving for the positive progression of the prototype build. I can confidently say, the rigour and hope for seeing our house finally come to life in Edinburgh is a highly anticipated sight for all of our team across the world. Getting to participate in making it a reality is a bonus!

What are you thoughts about CLT in the future.
The future of CLT I believe is just beginning, given the huge gap in the market for such a lightweight, durable and flexibly applicable material, the progression and use is only sure to grow. There are multiple opportunities of more research to ensure and certify it's capabilities, however the sheer innovation of CLT proves future thinking and sustainable the Esteem house aspires to be. The material is a huge part of our build and Esteem is proud to be working alongside CSIC to make our customised panels, as they have been a huge help in pushing forward our sustainable & innovative ethos whilst they themselves continue to perform research on the material to further grow its capability and applicability in the construction industry.
A message for students creating similar projects like Team ESTEEM? The message or words of encouragement could genuinely be put to three words; Resilience, Teamwork & Innovation. From the beginning of our project our aspirations as a team were always to push boundaries and create a home which is representative and speaks to each & every member of our team. I feel proud & confident in saying each of our members have grown an unbreakable bond with a unique aspect of the house through the hard work we have all put in.Communication in such projects becomes very affluent and building a bond between members beyond "professional/working boundaries" isstrongly what I believed pushed us working so cohesively (props to our Social Media/ Events Team)! If you want more advice in a new innovative way of how Esteem is; tune in to our podcasts which we have recently began in discussion with various members ofour Team, from different specialities, backgrounds & academics/professions!
Ellenor Witton:
What has been your experience so far in Team ESTEEM? I have been a part of team ESTEEM for almost two years, since stepping into the role of Structural Team Leader. Earlier in the project, during the design stages it was less technical and more about finding a floor plan and aesthetic to the house that we liked. Since then, as more decisions were made and interest from companies peaked, we were able to design a structural system utilising different products. For example, we wanted to build a prototype on our Edinburgh campus and then dismantle before shipping the house to Dubai. This is now taking place and simplified with the use of the X-Rad system by Rothoblaas. Great for design for manufacture and assembly (DFMA) and disassembly in this case too. As this project has developed so has my own knowledge and skills, applying our curriculum and much more into this sustainable house we are now building.
What are the most valuable aspects you are taking from this project to your professional career?
The most valuable aspects of this project for myself has been the opportunity to work on using mass timber, incorporating cross laminated timber (CLT) and glued laminated timber (glulam). Sourcing homegrown timber to form these products and have that hands on experience making them ourselves at Construction Scotland Innovation Centre (CSIC) has been immeasurable; learning about the material in a practical way too. This project opened opportunities at University too, being the first student at Heriot-Watt to base their dissertation this topic of home-grown timber and in the form of CLT. I have established an area of construction that I enjoy, using sustainable materials and I hope to carry this forward within my structural engineering career.
What is your role in the prototype phase and what do you do? So far during the prototyping phase I have been based at CSIC. I have been involved in making the glulam ground beams and the CLT floor panels. I have also been involved in the post-pressing processes for the wall panels: attaching the X-ones by Rothoblaas to the corners of each panel which will then be used to connect adjacent panels and used to lift them into place. The visual panels also require sanding to ensure a quality finish.
How do you feel working in CSIC?
Working in CSIC has been fun and practical way to learn more about the materials we are using in our house. It is a space driven by innovation and sustainability, always looking to better the construction industry. It is a great thing to be part of.
What are some challenges you are/were facing in the construction stage? The most significant challenge that we have been experiencing in the factory is probably the difficulty of attaching the X-one connections to the corner of the panels, which is something we have a lot of. Finding the best approach and tools to increase efficiency with this has taken a while but now the process is slightly easier.
What are you thoughts about CLT in the future.
In my opinion mass timber, of which CLT is a form, is the future of construction. Timber is one of the only structural materials that could be considered renewable, with the speed of trees growth, especially softwoods which are those usually used within mass timber. CLT can form all structural elements of a building, except underground foundations due to the implications of the moisture on the timber, and lighter than alternative materials such as concrete. Countries such as Austria with established commercial CLT production utilise CLT within design much more than we do in the UK; but Austria alone also produce approximately two-thirds of the worlds CLT volume. CLT use in the UK is increasing but there is much more opportunity. We chose to showcase the Team ESTEEM house built out of UK-grown timber to show that further carbon reductions can be made.
A message for students creating similar projects like Team ESTEEM?
Team ESTEEM Is an extra curricular project and therefore does not take priority over university work. It is hard to distinguish this line as we are learning while doing this project and actually gaining more hands on practical experience. But you do gain a lot of experience that is practical for our future career.
Jairis Alvarez:
What has been your experience so far in Team ESTEEM? I have been working in the ESTEEM project for more than two years and it has been the most amazing experience I had during my university years. I am studying Architectural Eng nevertheless in ESTEEM I am in charge of the Communications, PR, Marketing and Events. This project made me discover other passion which I will be always grateful. It is the truly example that what you study is not want you have to be. The project make me enhance my leadership, organization, communication, engineer and team work skills which some are not thought in university. It encourage to talk to PR media companies like radio, news, magazines and to talk in presentations and conference. It made me network and meet professional not only from engeierin and construction but also journalist, writer and suitable consultants. It has broken the stereptype that ones you finish university you are able to talk to industry experts. Moreover, it has made me lead a group of talented students that are development their skills while contributing their knowledge in the project. I never thought I will gain so much experience during this project which has enhance my professional skills.

What are the most valuable aspects you are taking from this project to your professional career? There are so many valuable aspects that I am taking from this project, one of them was to have the opportunity to talk to industry experts and network with companies that value a sustainable future. When I started university, it was hard to find something to be interested since I was new in the country. Finding team ESTEEM had made be out of my comfort zone because of the team leader role. I also learn that to be a leader you dont have to know everything because there is always a team, we all support each other to learn and grow professionally. Finally, I have discovered that I have a passion for communications as well as architactural eng. Therefore I hope to embrace to create a more sustainable future in which everyone is able to share the knowledge.
What is your role in the prototype phase and what do you do? My role in the prototype phase is different than others, due to the fact that I am not in Edinbugh at the moment. I am coordinating everything online with the help of my team. We also create internal and external events to covers topics from Team ESTEEM to CLT Future. I hope to be able to flight in Edinburgh at the end of July to be part of the assembly of the CLT panels and furniture design.
How do you feel working in CSIC? I had the opportunity before Covid-19 to meet staff members from CSIC, they are so passionate professional which are leasing the sustainable and timber industry. They have the energy and knowledge to share which encourage individuals to be innovative and find new solutions. As I mentioned I am also working with them virtually to organaize site visit, events and podcasts collaborations.
A message for students creating similar projects like Team ESTEEM? My message for anyone that is working or will have the opportunity to work in projects similar to Team ESTEEM is that never give up and take advantage of every single opportunity that comes in your way. Sometimes in life we follow a professional path because 'We were told it was the best thing to do' However that might not be your passion. Projects like this one give you the opportunity to really know what you would like to do for a professional career because they encourage to be out of you comfort zone and to learn knew things. The world in full of opportunity to innovate and groth personally, you just have to explore and find the one that best suits you.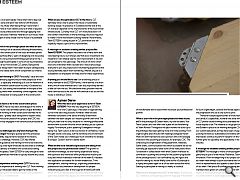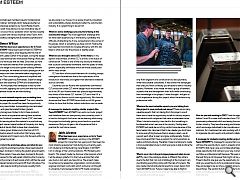 Back to July 2021