Yorkhill Quay: Funnel Vision
21 Apr 2021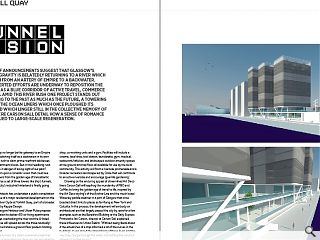 A flurry of announcements suggest that Glasgow's centre of gravity is belatedly returning to a river which had fallen from an artery of empire to a backwater. Now concerted efforts are underway to reposition the waterway as a blue corridor of active travel, commerce and homes. Amid this river rush one project stands out for looking to the past as much as the future, a towering tribute to the ocean liners which once ploughed its waters and which linger still in the collective memory of the city. Here Carson Sall detail how a sense of romance can be imbued to large-scale regeneration.
The River Clyde may no longer be the gateway to an Empire but it is quickly establishing itself as a destination in its own right as developers rush to claim prime riverfront addresses for their des-res apartment blocks. But in this headlong rush to the future are we in danger of losing sight of our past? One architect has hit upon a romantic vision that could see horizontal skyscrapers from the golden age of transatlantic travel immortalised as a set of three towers like ship's funnels, indicating that the city's industrial hinterland is finally going places. Carson Sall Architects has undertaken a public consultation for the second phase of a major residential development on the north bank of the River Clyde at Yorkhill Quay, part of a broader masterplan set out by Keppie Design.
Peel-owned Glasgow Harbour and Urban Pulse propose to file a joint application to deliver 410 co-living apartments with rooftop terraces overlooking the river and the A-listed Graving Docks. These will spread across the three nautically-inspired towers and will share a ground-floor podium hosting communal amenities. Modelled on the funnels of a steam-powered ocean liner the towers will also incorporate a top-floor sky bar and amenity decks with basement cycle and parking below a ground floor shop, co-working units and a gym. Facilities will include a cinema, local shop, tool station, launderette, gym, medical, restaurant/café bar, and landscaped outdoor amenity spaces at the ground and top floor, all available for use by the local community. This activity will front a riverside promenade and a broader recreation landscape led by Oobe that will contribute to an active riverside and encourage 'guerrilla gardening'. Drawing on the enduring appeal of streamlined Art Deco liners Carson Sall will leapfrog the mundanity of P&O and CalMac to bring the golden age of travel to life, inspired by the Art Deco styling's of the Anchor Line and the much loved Waverley paddle steamer in a part of Glasgow that once boasted direct links to places as far-flung as New York and Calcutta.
In the process, the development will embody an architectural era that largely passed the city by, save for a few examples such as the Beresford Building or the Daily Express Printworks. Ian Carson, director at Carson Sall, explained these influences to Urban Realm: "Without being literal about it the actual lines of a ship informed a lot of the curves in the buildings, it was about the streamlining of these liners and the way they charge through the water, not battling the wind but allowing it to flow around. "We're responding to the river and referencing the past but not reproducing it, we're not building a boat. In essence, we're taking hints from the better examples of an era that was seen to be a progressive industrial revolution. We're going through a revolution now and there are opportunities with new materials, working practices and environmental standards. There used to be an aspiration to own your home but the younger generation are more open to sharing, meeting and exploring to enhance their wellbeing." More than an evocative skyline Carson hails Yorkhill Quay as a burgeoning cultural centre, establishing a 'living bubble' that can draw together a broad section of society in one self-contained complex.
Detailing his inspiration for the project Carson said: "The Isokon Building in Hampstead was one of the first co-living experiences in the thirties. There were plans to build more of them and even Walter Gropius used them. They were the start-up apartments of their time and welcomed Agatha Christie and Henry Moore among others. For us, what was important was the content, the building itself provides all the accommodation and facilities which you would find on a luxury liner. It's a living bubble." In recent times as people have embraced working from home, this is a concept that appears set for a second lease of life with large corporations such as Barclays deploying their teams into co-working spaces because they'd like them to work in a more creative environment. "The facilities we're providing will not only serve people living there but others travelling to the area", says Carson, perhaps learning from mistakes made at the residential-dominated Glasgow Harbour, which lacks so much as a corner shop.
"There's going to be a lot more people living on the waterfront. To the north is the Yorkhill Hospital site, which I call the New Park Circus and that will arguably have better views than Park Circus itself." To make the most of these views tenants will benefit from a 180-degree panorama up and down the river while facing north to the Campsie Fells. Taking the traditional tenement bay window up a notch these impressive views will be seen from duplex apartments with a bed deck at the back. "I was involved in the Jam Factory conversion in London with Ian Simpson, it was one of the last big conversions in Southwark before the Shard and Tate Modern. A lot of it is about placemaking and bringing activity back to a place. "We've got a great asset in Glasgow with the Clyde which everyone has backed off from for varying reasons. It was a working river and sewer and these perceptions take a long time to shift.
Creating a new community from scratch is harder of course than grafting onto existing buildings in more established locales but Carson is confident that a disconnected series of object buildings from the Hydro, to the Armadillo and Transport Museum, can function as a cohesive whole playing its part in the broader rejuvenation of the city. Eager to get started Carson is keen to put the land to good use, saying: "Before anything comes out of the ground we're thinking of hosting temporary events to bring people to the quayside. With the opportunity of the Graving Docks, that whole stretch of the river is going to become an exciting part of the city. One possible pitfall is the site's susceptibility to flooding with the Scottish Environmental Protection Agency (SEPA) raising the growing risk of extreme one in 200-year events with Glasgow City Council but Carson is adamant that connection between the activities and quayside is essential. He continues: "We're also thinking about the elevation along the expressway, we don't want it to look like the back of a building. That will be our main entrance. A lot of the co-living space will be dual aspect so you can look through the building and see activity. Slipways between the buildings will carry the change in level, providing a physical and visible connection." ForCarson, this approach is personal having grown up on Arnwood Drive where he met shipyard owner John Brown's son, with the pair occasionally heading out to listen for boats on the Clyde. "That was one of the big inspirations for me personally", Carson reminisces, "from my bedroom window in my parents' house I could see the funnels of the Waverley going down the Clyde. The larger ships were like moving cities and the identification stripes of their lines were painted on the funnels. We're thinking of incorporating stripes of clear glass which will give the buildings their own identity and show the zone where the duplex apartments are. At night these would shine out as a ribbon."
"The space between these glass ribbons will require more robust materials and we'll be testing ideas for vertical ribs. What will make this building sing is the detail. The three objects will be clothed to form a whole but at night you will get a randomness of light. We're looking at a hierarchy of windows which relate to what's behind." Unlike Basil Spence's doomed 'ships in full sail' at Crown Street, there is a determination is to avoid segregation by encouraging a broad range of occupiers.
"In any street, you get lots of different tenures, more evident towards the city centre. It adds to the enrichment. Why do one tenure in one building? It seems bonkers." Over and above the finished product, Carson is keen to document the journey, working with artist Martin Gray to document the construction process and all the people involved. Bringing to public attention a process that passes most by. "The public don't realise that thousands of people are involved, especially in a project costing between 60 and 80 million pounds." If Glasgow is once again to be a river city it will need projects of the scale of Yorkhill Quay to deliver the critical mass necessary for a full 180-degree transformation. With projects from Water Row to a new Clyde Park and bridge, however, it appears that the Clyde is set to beat with the lifeblood of the city once more.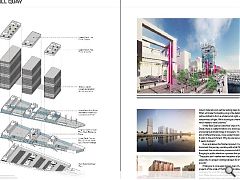 Back to April 2021