Architecture Fringe: Streetwise
10 Jul 2019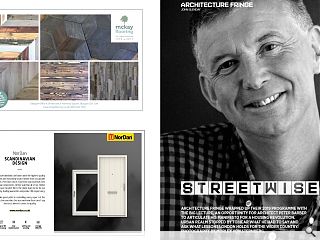 Architecture Fringe wrapped up their 2019 programme with the Big Lecture, an opportunity for architect peter barber to articulate his manifesto for a housing revolution. Urban Realm stopped by to hear what he had to say and ask what lessons London holds for the wider country. Photography by Morley von Sternberg.
All too often in Britain the word housing is immediately followed by the word 'crisis' but it wasn't always so, throughout the 1960s and 1970s record numbers of homes were built, peaking in 1968 when 425,830 were delivered. The Ronan Point disaster of that same year and political and economic upheaval since have led to a collapse in new building to around 165,000 units in 2018. Are we now on the cusp of a radical return to those heady post-war years?
Architect Peter Barber thinks so. Addressing a packed Architecture Fringe gathering the social housing pioneer outlined his vision of a more egalitarian society. Barber is turning his attention not to the tower blocks that defined their era but to the terraces, cottages and back-to-back housing which defined our more distant past. As a Londoner Barber is acutely aware of the problems facing those without access to secure accommodation, an issue which has now spread to those on middle-incomes, with predictable consequences for the most vulnerable.
Barber told Urban Realm: "There are currently 150,000 people who are homeless in London, one of the richest cities the world has ever seen. We have a massive problem and I think three things need to happen, we need to end right to buy as you have done here in Scotland, we need to introduce rent controls and we need to have a massive social housing programme - just as we had in the aftermath of the second world war." In his own small way Barber is seeking to construct templates for a new Britain, highlighting projects as varied as studio accommodation for the homeless at Holmes Road, Kentish Town, to high-density housing association properties at Donnybrook Quarter, Hackney.
"We've been working on a small scale doing social housing for local authorities and it has been rather interesting, " observed Barber. "However the numbers game is becoming more pressing and my concern is that a lot of local authorities are going to cede control of the programmes that they are running to the contractors. The corporate structure of construction companies means this may well not be as good as it might." A quick scan of Barber's work shows that it is the public sector that has been most receptive to innovation with their private counterparts proving to be less than enthusiastic about following suit. "I've long wanted to work for a big volume builder but unfortunately they don't want to work with me!" Says Barber. Musing on why this should be he added: "Where it's working well social housing is delivered by democratically elected boroughs, which are answerable to the electorate and not their shareholders. The private sector has very different drivers, which relate to profit and therefore the pressure to reduce space and quality is there. In the public sector there is still the residue of the welfare state mindset in certain quarters which can give rise to the most wonderful architecture.
"The private sector has failed us, we abandoned social housing in the late seventies and since then millions and millions of social housing units have been lost to the private sector. Global capital is not a good model for producing houses and creating cities, it's a disastrous one. You only have to walk around London to see the distress and mess created by the private sector." But does the rampant capitalism of London make it a special case? Possibly in the private sector it is, we've just completed a project in south London that has 40% 'affordable' housing and it's quite an interesting building. It's not the cheapest in the world but it is possible because values are high. In a weird way while one is disgusted by what is going on in London in terms of the suffering of many thousands of people, as an architect it gives you a bit of wriggle room.
"There are the good guys but the big picture in which the market and global economics see housing as an investment vehicle has served us very badly." While Barber believes that the possibility of a proper vernacular architecture emerging in our globalised economy remains far-fetched he is keen to stretch the bounds of what is possible by questioning everything, chief among them the space between buildings. "A lot of our projects are street-based housing, they're not massive apartment buildings with a single point of access. They feel very urban and cultivate particular, very direct relationships between people and the street. That's something that has fascinated me all the way through my career and something I come back to on every project, how can we think about this as a piece of urbanism?" Barber observes that 70% of all buildings in our cities are housing stating that "when we make houses we are building pieces of city", but is mindful not to overstate the impact which is limited to providing the framework in which society can evolve. "I'm always hesitant about building communities because my fear is we can't build a community. We can create the conditions where a group of people have the opportunity to meet one another. You can also do the opposite. I pull back from the language and claims people sometimes make for architecture.
It's really important not to overstate what's possible but we can create the right conditions. "I tend to quote Walter Benjamin who said. '… we design and build our buildings and thereafter they constrain us'. There's a complex reciprocal relationship that exists between people and space, between culture and architecture." Nowhere is that interface more pronounced than at Donnybrook where sets of public routes bisect the site. "Public space belongs to everybody and nobody. It's important to focus on what a street is and how it works. The street is the basic building block of the city", notes Barber. Barber is the first to concede that not every idea put into practice was wise, but finds solace in the adaptations of occupiers. "Placing windows in the door was a mistake in a way but people have put their own pictures in. You can't predict what will happen in the buildings you create.
Some architects really hate it when people muck about with their buildings but I really like it when the architecture becomes the background and people's lives are in the foreground." As an evangelist for streets and houses Barber is seeking to harness more than nostalgia and sentimentality in pursuit of his goals, observing that 30% of space in a typical block of flats will be given over to circulation. "The benefits of houses are social, economic and practical. A four-storey terrace of back-to-back houses gives the same density as a six-storey block of flats at 750 homes per hectare." If these changes are to find more widespread currency Barber is aware he must spread his gospel further, noting that nothing need be taken for granted in a democracy. "We are architects but we're also citizens, we are part of this situation and we all have the power to change it," he notes. If this vision of the future is to be realised then each of us must travel down our own roads to get there.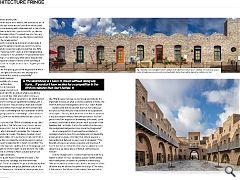 Back to July 2019