Lakhta Centre: Russian Twist
10 Jul 2019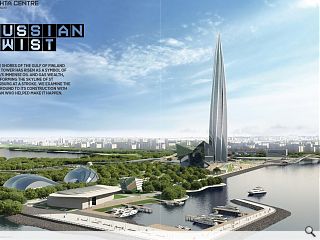 On the shores of the Gulf of Finland a new tower has risen as a symbol of Russia's immense oil and gas wealth, transforming the skyline of St Petersburg at a stroke. We examine the background to its construction with the man who helped make it happen.
St Petersburg may be best known for its Imperial splendor but on the banks of the River Neva, at a respectful distance from the UNESCO World Heritage Site, the city's newest edifice is making its presence felt. Rising up through 87 floors the future Gazprom HQ puts its own distinctive twist on the glass skyscraper, reaching up to a vertigo inducing 462m to create Europe's tallest tower.
Ahead of its formal opening later this year Urban Realm paid a visit to the city to see whether this totem to oil and gas represents the height of sophistication. Commissions don't come much bigger than the tallest tower in Europe and concept architect Tony Kettle of Kettle Collective was forced to fend off a who's who of international architects from Massimiliano Fuksas to Herzog & de Meuron, Rem Koolhaas, Daniel Libeskind and Jean Nouvel to secure the prize while still fresh from winning the design competition for Moscow's Evolution Tower not once but three times. Attributing his success to earlier experience working in the city Kettle envisaged a contemporary spire from the start but the distant location was not his first choice.
The flat lowland landscapes surrounding the city help to swallow up the enormous scale of the tower which had been relocated from the Okhta promontory and tweaked to maximise the vistas, views and proportions relating to its waterfront location overlooking the Gulf of Finland. "We moved from the Okhta promontory to Lakhta because the old city is a UNESCO site. It wasn't in the listed zone but it was on the edge and UNESCO preferred it to be further away. When we went further out it allowed us to make it more elegant. "When we moved to Lakhta we used all the same principles, for the tower itself but adjusted them. It's contextual to the city of St Petersburg, the canal systems and the baroque forms of the city, it's a spire seen against other important spires from different centuries. Those other tall buildings were there because of religion, trade and communications.
The idea underlying it is really simple. There are so many structures with twisting forms but these are just vertical columns on an orthogonal grid. The corners move but they're secondary to the main building. This complex geometry is derived from simple repeating patterns found in nature, in particular the Fibonacci sequence, which give rise to the appearance of great complexity from relatively simple inputs. Kettle continued: "The next century for us was about energy so we tried to come up with a new idea for a tower which is like five towers in one. Instead of being just a circle of office space it is five towers, each of which twists and tapers. On every floor there are five floorplates. It was also inspired by the Peter & Paul fortress on the banks of the River Neva where you can see every facade. We were using that same technology to bring daylight deeper into the plan. You can sit 12m away from the edge but you'll still get daylight. It was also designed as a very energy efficient building, using 40% less energy than a traditional glass tall building."
The internal fit-out remains in full-swing and much of the surrounding land is still a building site as thousands of contractors scurry to complete a planetarium, library and other facilities within the towers shadow, including a highly secure Gazprom control centre overlooking the gulf, all of which is being delivered largely as first conceived. Kettle said: "If you compare the original rendering with the building, it's so close. I went to the World Cup and met with Gazprom chairman Alexey Miller, and he was delighted. He said, 'Tony, you've done it.'" Since practical completion of the tower envelope Kettle has been embroiled in a legal spat with local delivery architect Gorproject in a row over authorship but is keen to rise above the fray, saying only: "I would suggest anybody looks at the Lakhta Centre website, the client makes it very clear. I like to focus on design."
Kettle's mathematical approach to design reflects an awareness of engineering principles carried down from the days of the Falkirk Wheel although the practice has no engineers on its books. Instead the team is comprised of 40 architects, landscape architects and urban designers operating from studios in Edinburgh, Dubai, Muscat and Oman. "It's interesting how a skill associated with architecture can inspire and lead ideas," says Kettle. "We're not engineers but we understand how engineering works. We designed a bridge for Glasgow recently which will be the world's longest opening cable-stayed bridge. That was through understanding the principles of engineering structures. It's interesting to understand the principles behind engineering and natural forms and the engineers we work with are all like architects because they understand context." Unlike many of his peers Kettle has cast his net far and wide for work, overseeing expansion to an airport departure board of international locations, including a recently opened Hong Kong office targeting a thus far largely untapped Far East market.
Explaining this pursuit of growth beyond Britain Kettle said: "It's opportunity, it's a bigger pond. We have a whole range of projects from a Solar Innovation Centre for Sheikh Mohammed to a new masterplan in Oman. We enjoy new challenges in different places. Flying is also a great time to think. It's an ideal place to really think things through." Russia and the rule of law don't always appear to go hand in hand with diplomatic relations with the UK currently in the deep freeze over the attempted assassination of a former spy and the linking of Russianbacked separatists with the downing in 2014 of a passenger jet over east Ukraine, but what is the business climate like? "There's a lot of false concern. My personal experience has been straightforward. There are tough laws and rules like anywhere in the world When you visit different parts of the world you recognise similarities and nuances of why a place is different and special. "You need a good local partner. In Oman we've got a good partner who understands the system, regulations and cultural issues. Right now I'm designing a mosque, it's very contemporary and of today but you need local understanding." As a former international design director at RMJM Kettle is of course no stranger to racking up air miles but has Scotland suffered from the demise of the architectural juggernaut? "We enjoy the new freedom of creating studios which can respond to client needs", Kettle said. "The biggest trend I'm seeing is that people are looking to work with individual designers again.
They don't want to work with an anonymous company they want to choose the best and know exactly who they will be getting." One bugbear of Kettle's is a procurement system which entrenches the status quo, a push factor in his own moves abroad. He said: "Unless you've done 10 hotel projects you can't get the next one. I always remember Robert Matthew at Ninewells Hospital when he was asked how many hospitals have you done? 'None, that's why you have to employ me.' "Your skills as a designer can be applied with more value not only when you know what you should be doing but also when you challenge. Sometimes when you approach something fresh that's when you challenge. This is how we normally do it but is that the right way? Is there a better way? I always think you should start from first principles on every project, however often you've done it.
We should be starting from first principles and give that value to the client." It was a tall order but St Petersburg's status as a bridge between Europe and Russia is exemplified by its latest landmark which echoes the history laid out at its feet while simultaneously reaching for the skies. It has energised a city at risk of looking backwards rather than forwards and will offer up new perspectives on the city and the country when it opens later this year.
Back to July 2019