RIAS: Unity Candidate
18 Jan 2019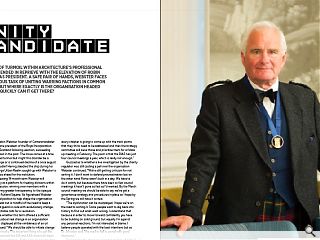 The professional body for architecture in Scotland has earned a reprieve from the turmoil which has rocked it in recent months with the elevation of Robin Webster as president. A safe pair of hands, Webster faces the arduous task of uniting warring factions in common purpose, but where exactly is the organisation headed and how quickly can it get there?
On 11 October Robin Webster, founder of Cameronwebster Architects, became president of the Royal Incorporation of Architects in Scotland following election, succeeding Stewart Henderson in the post. The move comes at a time of unprecedented turmoil but might this disorder be a catalyst for change or is continued decline of a once august institution inevitable? Having steadied the ship during hsi first days in charge Urban Realm caught up with Webster to establish what lies ahead for the institution.
During his fleeting 19-month term Webster will prioritise stability as a platform for healing divisions within a fractured profession, winning over members with a rallying cry to bring greater transparency to the opaque machinations of Rutland Square. As figurehead Webster is in an unrivalled position to help shape the organisation for the years ahead but is mindful of the need to keep a still-powerful old guard on side with evolutionary change, amidst more excitable calls for a revolution.
Pressed as to whether this term offered a sufficient window to bring about real change in an organisation which has so far displayed all the nimbleness of an oil tanker Webster said: "We should be able to initiate change but we want continuity. The important thing is to get the grassroots involved and the GIA and EAA have both been having workshops on strategy. At the next council meeting every chapter is going to come up with the main points that they think need to be addressed and then the strategy committee will sieve those and prioritise them for a follow up meeting in February. The point is that the RIAS has just four council meetings a year, which is really not enough."
Quizzed as to whether a live investigation by the charity regulator was still casting a pall over the organisation Webster continued: "We're still getting criticism for not sorting it. I don't want to defend procrastination but on the other hand Rome wasn't built in a day. We have to do it calmly but because there have been so few council meetings it hasn't gone as fast as I'd wanted. By the March council meeting we should be able to say we've got a governance strategy and procedures in place so I hope by the Spring we will have it sorted.
"The dysfunction can be overplayed, I hope we're on the road to sorting it. Some people want to dig back into history to find out what went wrong. I understand that because in order to move forward confidently you have to be building on solid ground, but equally I'm against any personal reactions. I'm not interested in blame. I believe people operated with the best intentions but as Dr Johnston said, 'the road to hell is paved with good intentions."
Recognising the changed economic realities of today's cash-strapped times Webster is keenly aware that his organisation must do much more with far less, saying: "There are some bloody good architects in Scotland but 85% of practices have four people or less. They can't afford to do a lot for the RIAS when fees have dropped to 30% of what they were ten years ago. It's absolutely ridiculous."
At present the RIAS membership fee does not include practice services, something Webster would like to change so that all practices can benefit. Webster added: "I would like to see if it's at all possible to reorganise that, so every practice is able to benefit. People like Maryse Richardson are incredibly knowledgeable and are on the phone to everybody. I'd also like to see pop-ups where we could show recent schemes which have won planning permission so that architecture becomes more of a talking point amongst the general public. I always get very disappointed with sites where planning applications have been made but nothing is posted until work has started. I believe local authorities have a duty to put a photograph of what's going to happen on-site so people have an idea of what's going to happen there."
Webster placed transparency at the centre of his campaign, with one of his first actions being the production of written procedures. He observed: "One of the things we need to clarify is that committee chairs should serve limited terms. We have one excellent chair but he's been on it for 30 years, it's ridiculous. It's not a job for life, you need a turnover, you need to give people a break and bring new blood in."
Amidst endless talk of governance, probity and transparency it is bread and butter issues of procurement, fees and planning which truly fire Webster who is an ardent champion of competitions as a means of fostering architectural talent. He said: "A lot of people express doubts about competitions, but I think a well-organised two-stage competition doesn't need to cost the profession a lot of time." Webster will also push for reform of much maligned Pre-Qualification Questionnaires (PQQs) by enshrining a minimum as well as a maximum fee so that 'if people bid too low they are automatically discounted because a race to the bottom isn't helping anybody'.
Part of this approach sees Webster vow to adopt a more combative stance in the defence of member interests at a national and local level, declaring: "The government and local authorities need to understand that if you pay peanuts, you'll get monkeys. You just cannot do a good job on one or 2%. One of the solutions is for local authorities and governments to be advised by architects, people on procurement panels don't include architects. What we can't do is criticise other members of our profession, but we can have workshops amongst ourselves where we promote best practice."
An absence of leadership has opened up a vacuum readily filled by a phalanx of new organisations seeking to fill the void, not least A New Chapter which has become a rallying point for the disaffected. The ceding of ground by the RIAS has fueled an explosion of architectural activism with groups like the Architecture Fringe emerging, does Webster see such groups as a help or a hindrance to the RIAS? Are they a sign of grassroots vitality? "It is, although it may also be that some people are desperate! We're supporting them. We're big enough to have people on the Fringe and outside criticising us, that's healthy. We want to hear all voices and raise the profile of how much architecture matters.
"A New Chapter had a base camp page which was really good because people who weren't members were invited to contribute to that. I'm proposing that we do something similar. Some people have said if it's anything to do with the RIAS then they'll have nothing to do with it well they've got the option to work outside. What I'm suggesting is a platform which we won't censor. We want community involvement, but we've got to look hard at what that means, sometimes it's just a loud voice. It's not always necessary."
In seeking inspiration Webster is casting his net across the North Sea to Denmark in the hope that some Nordic discipline might rub off at home. Webster said: "I was in Copenhagen several months ago and architects have a much higher profile there. I'm not saying they're perfect but they're respected. Unfortunately architects here are seen as adding expense and are not relied on to deliver a project, losing out to project managers. It's not just architects but other professions too are seen as no longer being respected or impartial. There's a perception that the discipline of architecture doesn't exist and anyone can do it. I have my own opinion of how successful the Festival of Architecture was but it did raise the issue of architecture."
Webster admits that winning a total percentage of votes cast of around 20% 'wasn't very good' but points out that the figure has been as low as 5% in the past but how does he explain this lack of enthusiasm? "I dare say some people aren't involved and are just too busy", remarked Webster. "We're keen to reach out to people."
As an illustration of the challenges which await Webster recalled an early tussle over the apparently simple matter of rearranging pictures on the wall. "I suggested we relocate portraits in the council room of Rutland Square and some people shouted me down. I still believe that room should be about architecture, not people. We're not about people we're about architecture. Why not have images of the Doolan Prize? People using that room should see architecture not an old gentleman's club."
If this early battle is any indicator the RIAS is in for more fireworks in the months and years to come as it seeks to reassert its authority over a fractious membership, but as fatigue sets in fatigued after a year of turmoil many will ask whether such dramas are worth their time.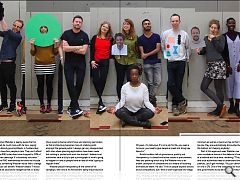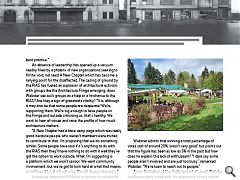 Back to January 2019