Housing Crisis: New Frontiers
17 Apr 2018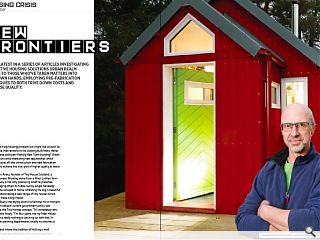 In the latest in a series of articles investigating innovative housing solutions Urban Realm speaks to those who've taken matters into their own hands, employing pre-fabrication techniques to both drive down costs and increase quality.
Britain faces a big housing problem but might the solution lie in small-scale interventions to the existing built fabric rather than grandiose politician-friendly New Town building? Urban Realm looks at some interesting new approaches which seek to combine off-site construction and new fabrication techniques to achieve the holy grail of higher quality at lower cost.
Jonathan Avery, founder of Tiny House Scotland, is one such pioneer. Working alone from a West Lothian farm steading Avery is not only practicing what he preaches but encouraging others to follow suit by single-handedly re-imagining the concept of home, smashing the big is beautiful maxim and showcasing a new range of tiny houses which promises to make a big impact.
Talking Avery into laying down his hammer for a moment Urban Realm asked if current government policy was conducive to the Tiny Homes concept. "It's completely anti, really", laments Avery. "I'm four years into my Nest House prototype and really nothing is catching up with that. In Britain and in planning departments locally no-one has a clue."
In Scotland where the tradition of Hutting is well established these prejudices are not so ensconced but Tiny Houses still encounters considerable headwinds. Nevertheless Avery points to the success of |Richard Heggie of Urban Animation in pushing a hut for leisure use, through planning and building control. Avery said: "What I would love to see is something being developed over the coming years in the same sense for Tiny Houses because the potential to solve some of the housing shortage issues for certain groups and individuals is very strong indeed.
"Richard and I have a joint project in East Lothian just for people who want to live on the land and be self-sufficient with very little footprint. We're waiting to see how that comes off with planning."
With more than just a desire to furnish people with four walls and a roof to call their own Avery is motivated by the homesteading movement and the drive for small holdings. He has already opted out of the rat race himself but in a country which already builds the smallest homes in Europe is the solution really be to go smaller still? Avery conceded: "I certainly get some people who look at my finished projects and say, 'that's ridiculous, who could have an interest in this'? But if you come at it from the other direction and say 'can I create something which I want to be in? Is it possible and does that solve the individual requirements?' Then the answer was a resounding yes!"
Are people still biased against 'bijou' homes? Don't we need space in which to stretch and grow: "Certain people in society have got to the point where they realise 'I don't need all this crap. I don't need all this complication. If only I could live more cheaply and simply.' It's the pressure of social media as well and looking at what your friends have got and asking 'can I afford a second car or a bigger house? Some people have got wise to all that. We used to do kitchens and I'd hate to be in retail these days as the bottom has fallen out of that market. People aren't filling their homes with stuff they don't really need.
"If you could put a house that was £40 or £50k in front of people who couldn't afford to rent or buy and was suited to what they were doing then there is a solution for them. The problem is that doesn't really exist for most people and the big hiccup in all of this is land. You have to compete against people who are going to put up a £350k detached house- you're talking £100k for the plot minimum."
Partnering with modular timber manufacturer Carbon Dynamic Avery is now on site delivering the first of 11 homes which will together form the Social Bite Village, a community for up to 20 individuals living in a low-cost and safe environment for between 12 and 18 months. Explaining how he came to be involved Avery said: "Josh Littlejohn became aware of My initial Nest House prototype. He got me to design a version specifically to meet his requirements with two single bedrooms at either end." To be delivered in a matter of months it will offer not just a warm and dry space but a complete care package including on-site carers and a hub building when it opens its doors this spring, all geared toward enabling residents to return to a mainstream way of living.
"Although I hadn't thought of it at the time, because I was working on the Homesteading angle, the idea is that these small structures can have applications in other fields beyond social housing. It's not rocket science and I'm not pretending I'm the first person who has done this, every architect worth their salt has done 10 concept homes at some point. It's more down to the approach and where it can be used."
Doubling as a self-taught designer, engineer and craftsman Avery is nothing if not industrious, applying his own hands to ideas that would otherwise languish in a notepad. Avery said: "I'm a bit of a maverick really in that respect I am one of these people who if they want to do something will just go out and do it. I've spent over 30 years as a graphic designer, photographer, furniture maker – I've brought all my aesthetic skills together for this. My love of architecture has always been through people like Voysey and Mackintosh who would design every aspect of a house from the door handles upwards."
While flexibility is the watchword of his designs Avery is keen to avoid suggestions that his clients be given free rein to amend specifications to their own requirements, stating: "I work the other way around, I'm very prescriptive in that my vision as a designer produces a look which certain people would go for and certain people wouldn't be interested in. If you look at the Nest house on my website that's pretty much it, I don't want anyone coming along and saying 'can you design this for me?' I think it's much more about how the function of it can be designed around the way you want to live and the uses you have for it.
"I'm doing my second version now called the Nest Pod which is actually on wheels and a chassis. You might call it a caravan but I'm standing next to it now and it's a bloody big caravan! It's a proper timber framed home within a 3.5t weight limit to be road legal. It's a very different animal in the sense that it's a proper house in the way that it's built but it's also small and compromised - that brings on great design because you have to use every square inch of it."
Tony Fox of Offsite Factory Homes is also seeking to push construction boundaries. Active since 2003 when the company completed a modular building in London for Peabody Housing Fox has become evangelical about the benefits off-site manufacture can bring, starting with the raw materials. "A lot of what we do uses recycled materials like steel. Over 70% of the structure of a 25-50sq/m apartment comes from old cars and washing machines, we put them up in a weekend on site meaning there is less disruption, transport and waste."
His latest project is an adaptation of a brick built Victorian property for the Ideal Home Show but are people receptive to this way of building or do they balk at the idea of living in old washing machines? "When I started the business when I said prefabricated everyone thought of the post-war buildings. We've built thousands since and they're not just for social rent. About 30 mortgage providers are now quite happy to lend on prefabricated buildings so long as they are accredited by NHBC or BRE
"The key is the units have to be transportable. I wouldn't say it limits the architecture because you can have rooms two modules wide but generally in urban areas we go up to about 3.6m wide with a length of up 15m. If you think of it as building blocks the architecture is to some extent determined by the size of building blocks – although there is some stuff for the Princes Trust up at Dumfries House which required a particularly high 3m ceilings, most urban ones are 2.5m high. Urban areas tend to be where the benefits of the modular system come into play. We did the CitizenM hotel in Glasgow, it's not just houses."
Is this something which could address the housing crisis, after all successive governments have talked a great game but have made precious little headway. Surely a cheap and scalable solution has its attractions? In this regard Avery strikes a note of caution, saying: "The problem is where this butts up against planning and building regulations. What we've done for the Social Bite Village is a two-bedroom house of about 30sq/m and really in planning law if that was a house it should be 55sq/m. There is that push for more light and space whereas I tend to go the other way, it's not for everybody but it does have a part to play and I think in the wider sphere that where developers may have put three flats per floor in an apartment building they are now starting to squeeze in 10 micro flats." Is that a good thing? "I think it is personally, it depends on the price of course. I set out with the idea of producing a liveable house for a single person or a couple that is not cutting back on quality, luxury and craftsmanship, for under £50k and I've shown that to be easily doable."
Fox is similarly optimistic, believing that the big housebuilders can ultimately be seduced so long as the numbers can be made to stack up: "Yes, it is a scalable and volume business. The problem with conventional houses is that with a factory you've got fixed overhead costs, rent and rates which you don't incur on a building site, so you need a certain volume of work. I don't make the frames I have those brought in and that cuts down the factory space you need by about 50%. We tend to make them in the factory and fit them out on-site. If you try to do everything, you end up with a huge place which is difficult to keep busy."
For a taste of what could be Avery cites The American Tiny House movement which he believes is a decade ahead of where we are in Britain having written the concept into the planning code. Avery said: "It became a huge thing in America around the 2008 financial crisis when people were losing their homes and having to find a space in a trailer park. Tiny House gives you the opportunity to do something a bit different and more wholesome than living in an old battered caravan. It is recognised over there a s a social movement because there is an ideological argument of having a smaller footprint and being more sustainable. People are asking why should I get this really big house and be saddled with a 30 year mortgage working like a demon."
Through desire or necessity the Tiny House movement seems here to stay, driven by the practicalities, economies and even romanticism of attempting to lead a life outside the norm. Avery concluded: "It was certainly something which appealed to me, seven years ago we moved to a small holding because I wanted land and to build things. If you have the land why shouldn't you be able to live in something you want to, why should you be dictated to? I would have fitted in fine back in Colonial times as they migrated slowly west building log cabins. That's my ideal world."
Back to April 2018