Glasgow Avenues: Walk This Way
17 Apr 2018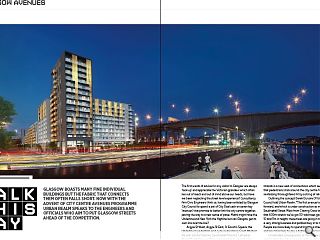 Glasgow boasts many fine individual buildings but the fabric that connects them often falls short. Now with the advent of city centre avenues programme Urban Realm speaks to the engineers and officials who aim to put Glasgow streets ahead of the competition.
The first words of advice for any visitor to Glasgow are always 'look up' and appreciate the Victorian grandeur which often lies out of reach and out of mind above our heads, but have we been neglecting the street level experience? Consultancy firm Civic Engineers think so, having been enlisted by Glasgow City Council to spend a pot of City Deal cash on seven key 'avenues' that promise to better knit the city centre together, paving the way to a new sense of place. Miami might have the Underline and New York the Highline but can Glasgow get its own link over the line?
Argyle St West, Argyle St East, St Enoch's Square, the Underline (a pedestrian and cycle route linking Great Western Rd with Central Station), Sauchiehall Precinct, Cathedral St and North Hanover St have been singled out as the key strands in a new web of connections which seeks to ensure that pedestrians stick around the city centre for longer while revitalizing thoroughfares hit by a string of retail closures.
Outlining the concept Derek Dunsire Of Glasgow City Council told Urban Realm: "The first avenue to be taken forward, and which is under construction as we speak, is Sauchiehall Street West from Charing Cross to Rose Street. On that 600m stretch we've got 30-odd trees going in at between 10 and 11m in height, these trees are going in to last. There is a very strong business and political buy-in to the Avenues. People are more likely to spend time on a street that is green and are more likely to pay a higher cost for a cup of coffee."
Unintended consequences of the mobile phone and the smoking ban have been a surge in the numbers of people lingering on our streets rather than rushing from A to B but can place-making make Glasgow a leader in putting people first? Stephen O'Malley, founding director of project leaders Civic Engineers, said: "We track these tenders and projects all over the UK and I can say with a high degree of confidence that we haven't seen anything else of this scale or ambition. There's £150m from the City Deal but it's the principles that underpin it; sustainable urban placemaking is deeply embedded into the brief."
Since a firing of ambition in the late 1980s and 1990's between the Garden Festival and European City of Culture the city seems to have slipped behind its rivals but seems to be firmly in the driving seat as far as its public realm is concerned, perhaps owing to low levels of car ownership in the city making pedestrian-led improvements an easier sell. Just 49% of households had access to one vehicle in 2011 according to Scotland's Census, versus rates of 68% in Aberdeen, 60% in Edinburgh and 58% in Dundee. Is there a paucity of investment across the UK as a whole in public realm? "The difficulty is with political leadership because it's a difficult argument to put to your electorate. If you've taken the car out of their life you've made it less attractive to drive around a neighbourhood. It's a very emotive argument."
How do you frame the argument that it's not just for the benefit of cyclists and pedestrians but for everyone? "The positives are obvious but in Manchester for example they are still feeling a bit sore over the congestion charge referendum and the embarrassment of not getting that voted through (79% of voters across the borough rejected the levy in 2008).
"I had a bit of an epiphany a few years ago when I heard Jurgen Meier of Siemens UK in Manchester speak of it as a centre of global electricity expertise, in a position to attract the best engineers in the world to work at that facility. What is the lifestyle that the city then offers them, where are the concert halls, open space, what are the schools like. To be competitive on the international stage you have got to have urban infrastructure."
No stranger to ushering populations back into our cities O'Malley arrives in Glasgow fresh from a similar (though smaller) project in the Ancoats district of Manchester. Delivered in partnership with Dan Dubowitz of Civic Works it has helped to foster a new sense of community. "I like the word foster", says O'Malley. "It's a supportive, nurturing and gentle way of dealing with it. We undertake a character analysis of each stage as we proceed. Some of it is really simple, for example as you walk along the street it's not very even underfoot. At the backs of buildings, the access points cause pedestrians to step down and then step back up again. You get a frustrating route along the face of buildings which is not very attractive."
Extending that vision to the larger canvas of Glasgow city centre has not been plain sailing with both O'Malley and Dunsire mindful that they must still win over a body of opinion to their way of thinking if their project is to succeed; amidst continued resistance, hesitation and anxiety from those not invested in the scheme. O'Malley said: "There are people within Glasgow who still need to be convinced that these are the right things for the city. The principles embedded in the brief and the basis the money was awarded are not subscribed to by everyone. We as a design team have got work to do to bring those people around with us.
"What we would hope is that the Avenues will bring a contiguous quality to the streets that are dressed as avenues, to be versatile and adaptive to the character of specific spaces. We want people to intuitively understand where they are in the city as a result of the architecture, proportions of the street, uses and the overall environment. This is part of a wider master planning strategy which has identified nine different neighbourhoods within the city core and there's a separate masterplan looking at each of those.
"We can embellish and enhance that through design but it's not about competing with impressive buildings in the city – unlike other areas where you may want a stronger presence from the design to give places a little bit of a lift. We're not pursuing an agenda of high-spec materials and ornate lighting columns and expensive benches. What we're interested in is how the spaces perform. We would have failed if we've placed an obligation on the council to have to maintain these spaces, it won't happen and what will then happen is these spaces just deteriorate and then we're back to square one."
Is there a danger that by focusing on the Avenues specifically that the gulf in quality between some of the secondary lanes becomes stark? Bins scattered, unkempt, if we have these brand-new routes could a gulf open up with other spaces? O'Malley responded: "It's definitely about phasing, the City Deal money for the Avenues has to be spent by 2024. There is a programme of study for the lanes and squares, there's a whole series of different layers to the city's development and evolution and the intent is to have the tide come in and raise all boats not just the pepper potting of different pieces."
What is assuredly not on the cards is any form of significant overt physical construction such as a deck structure over the M8 motorway, with O'Malley clear that the allocated budget solely concerns the public realm, streetscapes and the ground plane. He said: "There is no money allocated within the parts of the scheme that I'm involved in for structures, facilities and pavilions at this point."
Amidst a flurry of promises are Civic Engineers at risk of over-selling the potential benefits of the scheme? Asked how he would gauge the success of the delivered work O'Malley added: "We'll be successful if we can help people imagine those spaces used for different things. We've done a few climatic comparisons with Asian cities and with Zurich which already have a lot of street vitality and where the climate is not too dissimilar to Glasgow. The city considers itself to be a very wet place and quite a hostile outdoor environment but as soon as you offer a bit of protection and shelter people will colonise those spaces."
Lauding Glasgow's famed Grid Iron street pattern O'Malley welcomes the 'simplicity' of the city's existing road layout, the single biggest aid to navigation across the city centre. It does offer simplicity and that's attractive because you should be able to move and navigate through the city quite easily. One of the less straightforward routes is the Underline, an eclectic series of forgotten spaces zigzagging their way up from Renfield Street across to the M8 and ending at the Glasgow School of Art's School of Fine Art, within the former Stow College, still under construction. Encouraging the use of forgotten spaces and better integrating low footfall zones with areas of high traffic the scheme aims to open people's eyes to the opportunities which exist right in front of us on our own doorsteps.
Of course in an age where people demand authenticity, a bit of grime isn't necessarily a bad thing and the Avenues team are conscious not to 'go backwards' and simply end up with a load of Starbucks and Tesco Extras. If they succeed Glasgow city centre promises to be revitalized and will go a long way toward the Council's goal of encouraging residents to live in the city centre. As the UK begins the process of distancing itself from Europe Glasgow could end up a little closer to its continental cousins.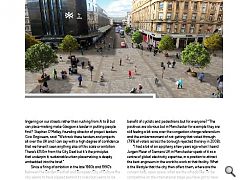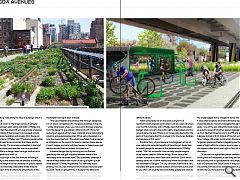 Back to April 2018