Architecture Fringe: Bad Press
23 Oct 2017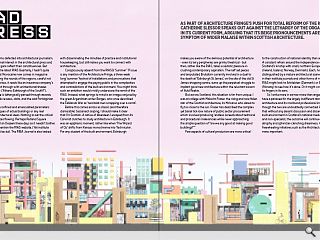 As part of Architecture Fringe's push for total reform of the RIAS Catherine Slessor speaks out against the lethargy of the organisation in its current form, arguing that its beige pronouncements are a symptom of wider malaise within Scottish architecture.

As an architect who defected into architectural journalism, I take a professional interest in the architectural press and how individual organs reflect their constituencies. But flicking through the latest RIAS Quarterly, I hadn't quite apprehended that Novocaine now comes in magazine form. Glumly doing the rounds of the regions, careful not to frighten the horses, it reads like an insurance company's annual report shot through with unintentional shades of Alan Partridge ('Athens: Edinburgh of the South?').
Here, architecture is lethargically parsed through awards, conventions, book reviews, obits, and the odd Partidginian travelogue. Within these confined and emasculated parameters there are no critiques of actual buildings or any real discussion of architectural ideas. Nothing to set the critical or ideological juices flowing. Perhaps Rutland Square assumes we're all on Dezeen these days so it needn't bother. (Let's not even mention the RIAS website.) Yet institute journals need not be dull. The RIBA Journal is also tasked
with disseminating the minutiae of practice and institutional housekeeping, but still makes you want to connect with architecture. Conspicuously absent from the RIASQ 'Summer' 17 issue is any mention of the Architecture Fringe, a three week long 'summer' festival of installations and provocations that attempted to engage the paying public in the complexities and contradictions of the built environment. You might think such an ambition would vividly underscore the remit of the RIAS.
Instead, what springs to mind is an image conjured by the great Argentinian writer Borges, who once described the Falklands War as 'two bald men scrapping over a comb'. Before this comes across as classic (and therefore dismissible) Sassanach sniping, I should make it clear that I'm Scottish. A native of Aberdeen I escaped from its Calvinist clutches to study architecture in Edinburgh. It was an epiphanic moment, rather like when 'The Wizard of Oz' shifts from Kansas monochrome into Technicolor. For any student of the built environment, Edinburgh fringe makes you aware of the delirious potential of architecture - even its lairy peripheries are grimly theatrical - but then, rather like the RIAS, takes a sadistic pleasure in crushing contemporary aspiration.
The naff set pieces and amputated Brutalism currently involved in a duel to the death at 'Edinburgh St James', on the site of the old St James shopping centre, sums up the perpetual struggle to implant good new architecture within the reluctant bosom of Auld Reekie. But across Scotland, this situation is far from unique. I was at college with Malcolm Fraser, the rising and now fallen star of the Scottish architecture, its McIcarus who dared to fly too close to the sun. Fraser has described the complex yet banal tick-box nature of public sector procurement which involved producing 'endless screeds about technical and procedural irrelevancies while never approaching the simple question of "are we any good at making good buildings?"'
Few aspects of cultural production are more critical to the construction of national identity than architecture. A constant refrain around the independence debate is Scotland's kinship with small, northern European nations (Ireland, Iceland, Norway, Denmark). Each, however, is distinguished by a mature architectural scene, reflected in their institute journals and other forms of media. The RIAS might look to Arkitekten (Denmark) or Byggekunst (Norway) to see how it's done. Or it might continue to stick its fingers in its ears. So I write more in sorrow more than anger. I don't have a panacea for the largely indifferent state of Scottish architecture and its moribund professional institution, though the two are undoubtedly connected. But I'd hazard that without any decent discussion and dissemination of the built environment in Scotland's national media, specialist and non-specialist, the outcome will continue to be atrophy and sphincter-clenching dreariness. Which makes freewheeling initiatives such as the Architecture Fringe even more important.
Back to October 2017