Architecture Fringe: Critical Mass
23 Oct 2017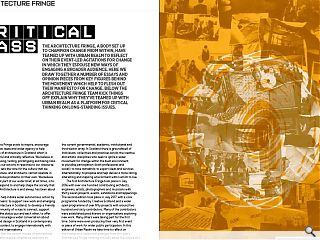 The Architecture Fringe, a body set up to champion change from within have teamed up with Urban Realm to reflect on their event-led agitations for change in which they espouse new ways of engaging a broader audience. Here we draw together a number of essays and opinion pieces from key figures behind the movement which help to flesh out their manifesto for change. Below the architecture fringe team kick things off explain why they've teamed up with Urban Realm as a platform for critical thinking on long-standing issues.

The Architecture Fringe exists to inspire, encourage and support new ideas and wider agency to help foster a culture of architecture in Scotland which is plural, thoughtful and critically reflective. We believe in provoking, thinking, testing, prototyping and taking risks. We believe it is our actions in response to our discourse that ultimately sets the tone for the culture that we create. Architecture, and architects, cannot operate in a vacuum and solve problems on their own. We believe that an inherent part of our wider brief, at all times, is to engage with, respond to and help shape the society that we live within.
Architecture is and always has been about people. We wish to help initiate wider autonomous action by the following means: to support new work and emerging practice in architecture in Scotland; to develop a friendly but critical community of voices to connect, support and challenge the status quo and each other; to offer a platform to encourage a wider conversation about architecture and design in Scotland in a contemporary socio-political context; to engage internationally with other people and organisations. We believe that the current mosaic of architectural culture in Scotland requires alternative additions to the current governmental, academic, institutional and third-sector array. In Scotland there is groundswell of individuals, collectives and practices across the creative and artistic disciplines who seek to ignite a wider movement for change within the built environment; to pluralise participation (both professional and social); to raise standards; to export ideas and services internationally; to propose and help deliver a more caring, interesting and inspiring environment within which to live. The first Architecture Fringe took place in July 2016 with over one hundred contributing architects, engineers, artists, photographers and musicians with thirty-seven projects, events, exhibitions and happenings.
The second edition took place in July 2017 with a core programme funded by Creative Scotland and a wider open programme of over fifty projects with around two hundred and sixty contributors. Many of the contributors were established practitioners or organisations exploring new work. Many others were taking part for the first time. Some were even producing their very first event or piece of work for wider public participation. In this edition of Urban Realm we take time to reflect on the themes and issues that emerged from this year's Architecture Fringe, thinking critically about the culture of architecture in Scotland and also about our own work and events as a platform. This year we examined the theme of infrastructure; not physical but the organisational, cultural, institutional and political infrastructure required to support the profession and the delivery of architecture. Organisers, contributors and members of the public combine within these pages to consider how this infrastructure effects Public Life, Perceptions of Architecture and the Practice of Architecture.
The Architecture Fringe is constantly evolving, using the feedback from our contributors and audience to refine and improve what we do. The platform is open and free for contributors to use and place work upon with a direct and nurturing symbiosis between the core and open programmes. The Architecture Fringe is yours to use; to make new connections and friends, to explore new ways of seeing the world, to challenge existing structures, to amplify your voice to make yourself heard. We hope you'll join us.
The Architecture Fringe is an independent contributorled series of projects and events across the arts which explores architecture and its impact. The production team for the Architecture Fringe 2017 was: Akiko Kobayashi, Andy Summers, Chris Dobson, Lauren Coleman, Lee Ivett, Liane Bauer, Marion Preez, Nachinji Mumba and Neil McGuire.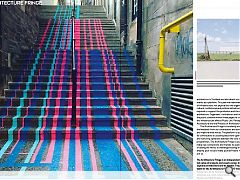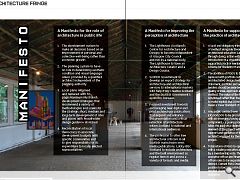 Back to October 2017