Architecture Fringe: Open Source
23 Oct 2017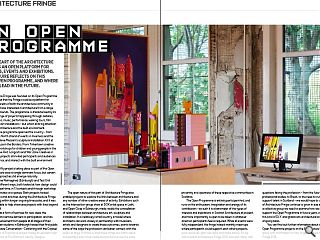 At the heart of the Architecture Fringe is an open platform for projects, events and exhibitions. Neil McGuire reflects on this years open programme, and where it might lead in the future.

The Architecture Fringe was founded on its Open Programme - the simple idea that the Fringe could be a platform for the diverse interests of both the architecture community in Scotland, and those interested in architecture from a range of other backgrounds. The programme is characterised by its diversity – a range of projects happening through debates, exhibitions, talks, music, performance, walking tours, film screenings and art installations – but which all bring attention and focus to architecture and the built environment. This year the programme spanned the country – from the 57 Degrees North strand of events in Inverness and the Highlands, to Steve Messam's sculptural installation XXX at Mellerstain House in the Borders.
From Tinkertown creative placemaking workshops for children and young people in the west, to Creative Riot, Longcuts and War Zone Creatives in the east, these projects all invited participants and audiences to see, experience, and interact with the built environment differently. With over fifty projects taking place as part of the Open Programme, there was no single dominant focus, but certain themes and approaches did emerge naturally. Custom Lane Reimagined (Edinburgh) and Test Unit (Glasgow), in different ways, both looked at how design could be enacted in real-time, in 1:1 contexts and through workshop activities, to activate civic spaces. Both projects hosted focussed events and activities during the Architecture Fringe but are working within longer ongoing timescales, and it was exciting to be able to help showcase projects with lives beyond the Fringe itself.
Operating as a form of test-bed for new ideas, the Fringe has tried to remove barriers to participation, and has encouraged involvement from people at all stages of their careers. This year students in Edinburgh hosted their first public event (An Exquisite Conversation - Conferring with the Corpse) while the Voices of Experience project hosted an excellent intergenerational event at The Women's Library, Glasgow.
The open nature of this part of Architecture Fringe also enabled projects to explore the links between architecture and any number of other creative areas of activity. Exhibitions such as the Intersection group show at DOK artist space in Leith, and Open Close in Edinburgh, made visible the constellation of relationships between architecture, art, sculpture and installation. In a (relatively) small country, a model where architects can work closely in partnership with musicians, artists and designers to create these outcomes, points towards some of the ways the profession can better connect with the public at large. It shows us that these things are within reach, and perhaps even more viable and productive due the scale, proximity and openness of these respective communities in Scotland.
The Open Programme is entirely participant-led, and runs on the enthusiasm, imagination and energy of its contributors – as such it is a barometer of the types of interests and aspirations in Scottish Architecture at present, and more importantly is open to be taken in whatever direction participants feel is required. While all events were fully independent, the fringe hosted monthly meet-ups where participants could support each others projects, pool resources, gain new skills, and share advice. As we look towards Architecture Fringe 2018, and with many vital questions facing the profession – from the future of our professional bodies, to Brexit, to the need to cultivate and support talent in Scotland – we would hope to see this aspect of Architecture Fringe continue to grow in size and scope. As a collective group we need to examine how we can better support the Open Programme in future years, and celebrate this kind of D.I.Y. and grassroots architectural activity on an ongoing basis.
Back to October 2017