Exploring Glasgow: City Mission
20 Oct 2017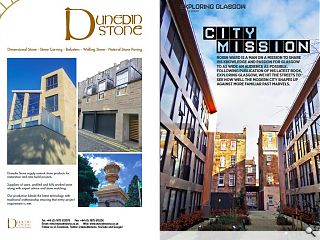 Robin Ward is a man on a mission to share his knowledge and passion for glasgow to as wide an audience as possible. Following publication of his latest book, Exploring Glasgow, we hit the streets to see how well the modern city shapes up against past marvels.

Having travelled the globe writing Exploring Vancouver and Exploring Bangkok world weary architecture critic Robin Ward has returned to his roots for his latest architectural guide, Exploring Glasgow. This latest venture marks a return to a city with which he retains a strong affinity, despite now living in Edinburgh, Raised in a Woodside tenement Ward describes Glasgow as 'closest to my heart' and 'my city' and to better understand the source of this passion Realm held a conversation with Ward, establishing the motivations for the book as well as some choice observations along the way. For Ward, writing the book hasn't been so much discovery as rediscovery. Having left the city in 1976 after graduating from the Glasgow School of Art he has returned to find much changed. "The motivation for the book was there hasn't been a good architectural guidebook for Glasgow in over a decade. The RIAS did one for central Glasgow but that was in the nineties, what's happened since then? The Pevsner guide is great but I hesitate to say almost unusable on the street in the way it is organized. Although it is very authoritative. I wanted to organize tours of the city so you can walk these routes, use public transit or hop in your car." Any architectural guide to Glasgow will be redolent of past glories and inevitably that is the case here; with familiar haunts from the City Chambers to Kelvingrove and the University of Glasgow putting in predictable appearances.
Acknowledging the inherent risk of becoming cliched Ward stresses the importance of viewing each building as though it were for the first time. In the City Chambers for instance Ward said: "The best time to visit is during Doors Open Day because everyone can go in and just walk around. It's like a revolution has taken place. It's the people's building and they own it for that day." While Victorian splendor predominates it is not the whole story and a surprising number of modern additions can be found peppered amongst them. Ward has gone out of his way to find strong modern examples of each typology – a thankless task when it came to the domain of student housing with only Elder & Cannon's work for The Ballet School in Woodside passing muster. Singling out his personal favourites Ward alights on Alan Dunlop's Hazelwood School and City of Glasgow Colleges Cathedral Street campus (pg 60), together with its satellite Riverside Campus – a sign perhaps of the importance the city places on education.
Recalling his time at The Vancouver Sun Ward said: "As an architecture critic writing a column in a newspaper you want to explain the building you're reviewing to the public but there's also a great temptation to ridicule what should never have been built, 'oh what a waste of concrete or whatever'. After doing this for ten years I found it so easy to throw the developers sales spiel back at them. I got to the stage where I just wanted to focus on what's good." Among the newest buildings to be included are Page\ Park's Scottish Power's HQ on St Vincent Street and BMJ's Imaging Centre of Excellence within The Queen Elizabeth University Hospital campus. Addressing the former Ward remarked: "It was so significant that I had to put it in the book. It needed a good building for a long time. what I like about the building is that it's a corporate HQ that doesn't try to be 'iconic'. I guess they could have made it look like a giant wind turbine instead of being ribbed like a central heating radiator. Maybe the radiator look was intentional, but this is Page\Park. They stuck to a sensible brief, energy supply and sustainability being serious issues. The building says so - straight up, functional, not simply a funny shape. It's a big improvement on the former Strathclyde HQ, it was a real piece of 1960's slop to which the architects at GCC decided to add a Po-Mo doorway. The whole thing was a mess."
At the opposite end of the scale sits the Plaza Ballroom, Zit Building titleholder in the 2009 Carbuncle Awards. Explaining its apparently incongruous inclusion Ward said: "I couldn't resist commenting on the worst piece of facadism in the city, I walked past it and I thought great what's happened to the Plaza Ballroom? It's body parts lie scattered." Notable only for its absence is the Council's flagship regeneration of Oatlands, but doesn't the exclusion of this and other examples of low quality design stifle debate about what's going wrong in architecture? Ward responded: "There's a lot of rubbish. It's not in the book because I'm trying to encourage people to make the journey. There's not a lot that's critical in the book, although I'm pretty damning about the Council's actions in Springburn. I visited for a photo project when I was at art school and I found a wonderful tenement area that if it had been in the west end would have been spruced up - but it was one of the last areas on the council's death list and within a year it was all gone. "It was real Glasgow urbanism with streets flowing up and down the hill, it was almost perfect and it was obliterated. Even now Springburn has been sidelined. There is a good new college there (Glasgow Kelvin College by RMJM/Stallan-Brand) but the rest of the community has been dispersed. Springburn Halls were demolished as recently as four or five years ago because the Council didn't maintain it and couldn't find a use for it.
Because it's Springburn they reckon nobody is going to notice. There are loads of abandoned old schools and council owned buildings. Talk sustainable, those buildings should not be torn down, find a use for them." Readers will hunt in vain to find any of these lost marvels in Exploring Glasgow however. Ward explained: "These are not in the book because I thought I'm not going to bring readers all this way to find it's been torn down anyway like London Road Primary school, Parkhead. These books inevitably are outdated as soon as they're printed. Billy Connolly's murals are an important addition to the streetscape but came too late." While comfort can be found in the familiar many pages encourage urban explorers to venture off the beaten track, although one trick missed was coverage of rear facades and Glasgow's numerous back alleys. This was necessitated by a need to keep the book tourist friendly, which makes things a little too predictable for born and bred Glaswegians. Ward conceded: "The glazed brick rear façade of the Northern Assurance Building on St Vincent Street is just amazing, if it was to the front it would be up there with Mackintosh as a proto-Modernist façade from 1909. A lot of the back alleys are quite frightening. There's a seedy interest in the cobbles and rundown buildings, it would make a great setting for a film noire. It's interesting that that aspect of Glasgow has not yet been gentrified. A good editor must know how to wield the knife and Ward's publishers forced the authors hand in culling 60 entries to make the page limits, prompting inevitable questions as to why individual favourites have failed to make the grade.
Others are included but with caveats as to their future. Ward is a prominent critic of McAslan & Partners scheme to overhaul the Burrell Collection for instance, vainly called for the city council to hold a design competition to build a Burrell 2.0 - but concedes it's 'just not going to happen', drawing unfavourable comparisons to the disastrous George Square competition, won coincidentally by McAslan. Put on the spot to name Glasgow's best modern architects, Ward answered: "I think Page\Park have done and still do great stuff. Elder & Cannon have a long track record of sensitive intervention. Collective architecture is another. All the modern buildings in here are there because they're worth a look." The book is not just about how many classical columns are on the façade but what interested me was how it is done. I'm a citizen, I walk the streets and use buildings. Ward has now turned his attention towards a successor title in Edinburgh but does he think Glasgow is keeping pace with international or even national rivals? "I think we're falling behind. If you look at the regeneration and revival of Glasgow some wonderful things have been achieved since the Garden Festival. I've avoided contemporary political comment in the book but I sense there is a degree of lurching from one festival to another like waves coming in and I think we're ion a trough now after the Commonwealth Games. I wonder whether in the long-term this form of high profile, top-down regeneration is sustainable."
While it is easy to fill a book with past marvels it is embarrassingly difficult to do the same for present day builds but Ward has shown that what the city lacks in quantity it makes up for in quality. An avuncular guide with a keen eye Ward offers the best evidence that the city's best days lie ahead, concluding that the city is defined first and foremost by its people.
Back to October 2017