Wavegarden: Swell Design
10 Jul 2017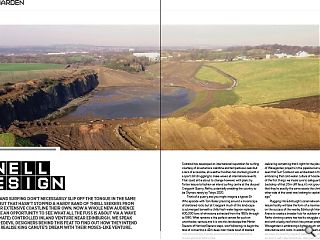 Scotland and surfing don't necessarily slip off the tongue in the same sentence but that hasn't stopped a hardy band of thrill seekers from making our extensive coastline their own. Now a whole new audience could have an opportunity to see what all the fuss is about via a wave powered inland venture near Edinburgh. We speak to the daredevil designers behind this feat to find out how they intend to finally realise King Canute's dream with their Moses-like venture.
Scotland has developed an international reputation for surfing courtesy of an extensive coastline and tempestuous seas but a lack of accessible, all-weather facilities has stunted growth in a sport still struggling to make waves at international events. That could all be about to change however, with plans by Tartan leisure to fashion an inland surfing centre at the disused Craigpark Quarry, Ratho, potentially enabling the country to be Olympic ready by Tokyo 2020.
Think of a quarry and you might imagine a typical Dr Who episode with Tom Baker prancing around a moonscape of shattered rocks but at Craigpark much of this landscape is submerged beneath a chilly fresh water lagoon replacing 400,000 tons of whinstone extracted from the 1850s through to 1990. What remains is the perfect canvas for such an unorthodox venture and it is into this landscape that Martin Stevens of HarrisonStevens steps, scarf billowing, to begin the task of converting a 43m deep man-made bowl of blasted rock into a family friendly environment for the adrenaline driven and spectators alike.
Stevens said: "We're always very conscious about delivering something that's right for the place. There are lots of Wavegarden projects in the pipeline but we were very keen that Surf Scotland was embedded in the landscape, embracing that cold-water culture of hoodies and fleeces. One of the first things we made sure to safeguard was the fantastic backdrop of that 20m cliff face, it's not ground breaking in that they're exactly the same assets the climbing centre on the other side of the canal was looking to capitalise on 20 years ago."
Plugging into Edinburgh's canal network this surf and leisure facility will take the form of a manmade loch and builds on the success of the nearby Edinburgh International Climbing Arena to create a broader hub for outdoor enthusiasts. The Ratho climbing centre has had its struggles commercially and with a leaky roof which has proven problematic at best Wavegarden is embracing a lighter touch which will minimise disturbance and costs. In addition the team at Tartan Leisure are keen to diversify beyond watersports, offering visitors access to self-catering lodges, glamping pods, a waterfront café and restaurant, retail, a zip line and water tubing activities amongst others.
Stevens continued: "We're trying to re-use as much of the site as we can and that's why a lot of the stone from the rock face is being re-used as terracing and the sub base. It's not just an aesthetic re-use of the site but a physical one too. That amphitheatre, the natural bowl of the quarry, is wonderful."
Relieved of the requirement to build an expensive and failure prone roof Stevens is optimistic that a planning application for the site, still under consideration, will find favour with officials – citing a focus not just on the needs of surfers but on plants and wildlife too. Indeed the environmental and resource conscious design was a stipulated requirement of the build alongside providing a financially sound and suitable environment for watersports.
Making all this possible is a new generation of artificial wave machine capable of setting the flooded quarry in controlled motion with a synchronized dance of symmetrical cresting waves, providing the guaranteed swells and wakes which fans of the sport currently have to head to the coast to find and then at the whims of Mother Nature. Developed by Spanish engineering firm Wavegarden 'The Cove' can produce high frequency waves with better quality and greater variety than the type you may be familiar with from your local municipal pool. This engineering marvel capable of generating symmetrical, consistent waves at the push of a button from a causeway bisecting the lagoon. It also doubles up as a walkway for the public to get up close and personal with the surfers, who will be free to practice everything from belly boarding to barreling to their hearts content without worrying about wind dying down. What's more the development of new generation wetsuit capable of keeping you toasty in even the parkiest waters means there's never been a better time to go to boarding school.
Building on the first Wavegarden at SurfSnowdonia SurfScotland will create an adventure leisure hub serving the Central Belt, just a short hop from Edinburgh along the Union Canal this sporting mecca will sit within a brand-new country park so those who don't wish to get their hair wet also have something to enjoy. Drawing visitors to the shores of the manmade loch will be a hub and arrival plaza capable of hosting events, while providing appropriate accommodation for facilities management, ticketing, a café. This will back onto the cove directly and from heresurfers can access the water from a handy boardwalk.
More than just a surf facility Wavegarden is designed to slot into the country park around it, with just four hectares of operational wave park amid 21 hectares of parkland. Turning to the interface between these elements Stevens said: "We were keen that the operational side of Wavegarden didn't seem like a fenced off us and them scenario. We were very keen that the water body felt part of the park itself so the secure 2m fence boundary has been set down into the body of the swale system. We're working with a series of reed beds and wetlands to disguise that boundary and control the sites hydrology while acting as a wildlife corridor to re-establish an ecosystem."
Overlooking this waterbound activity will be a network of camping pod terraces carved out from the surrounding cliffs, from which spectators will benefit from elevated views of proceedings from a clifftop walkway. Beyond this the landscape will be populated by meadow grassland, a gorse bush ridge and tree planting designed to grow into a woodland windbreak. This is expected to mature over the next 15 years to envelop the lodges and provide an important wildlife corridor, into which will be arranged a number of large outdoor seating areas for dining and gathering.
Peppered throughout this landscape will be a number of modular builds faced in timber for the hub, café and surf centre. These will be buiot off site. Stevens observed: "We will be looking over the course of the next few quarters how the architecture comes forward but we have identified as part of the early brief that we have one major building on-site for year-round activities such as café, ticketing and shops. There's then a municipal wet building where you get kitted out and a satellite building on the far side of the lagoon offering additional viewing opportunities and facilities for camping pods. We're looking at how all these buildings can come together as a suite.
Almost uniquely for a planning application the flood of public comments on the planning application have been unanimously positive, something that Stevens is particularly pleased with: "The first port of call for the keyboard warriors is your comments page and then the planning portal shortly after! It's a huge credit to the way the client team has undersold their achievements in a way."
Nevertheless Stevens does not underestimate the challenge which lies ahead, admitting that Wavegarden Scotland will not be first out the blocks. He said: "We're probably not going to be the first people on the ground, three Australian projects are probably ahead of us but it's part of that first wave of seven or so in play at the moment. With a prompt favourable outcome we'd be looking at a site start early next year and all going well we'd have people surfing by summer 2019."
It has taken four years to get this far and it will take a further two to transform the present moonscape of the disused quarry into a watery Eden. Should Wavegarden make it this far surfers need no longer scour the globe for that elusive perfect wave because the mountain will have come to Muhammad.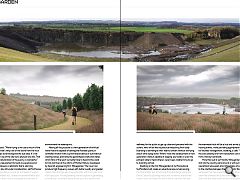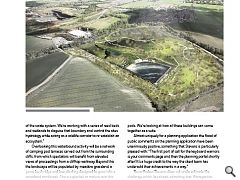 Back to July 2017