Oriam: Pitch Perfect
|
Send to friend
11 Jan 2017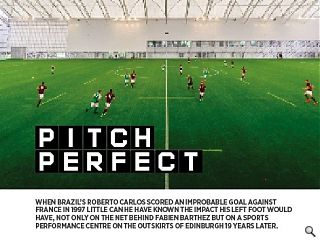 When Brazil's Roberto Carlos scored an improbable goal against France in 1997 little can he have known the impact his left foot would have, not only on the net behind Fabien Barthez but on a sports performance centre on the outskirts of Edinburgh 19 years later.
Oriam (Or is Gaelic for gold) has been conceived by the Scottish government in a bid to turn around the fortunes of an underperforming national football team by giving them access to the best facilities and services available. But with sub-par performances still raw in the memory, most recently a screaming pink 3-0 drubbing from England at Wembley, can this cathedral of sport turn things around - or is more divine intervention required?
For those unacquainted with what many consider to be the greatest free kick of all time Reiach & Hall director James Grimley sets the scene: "He was about 35 yards out and he's got a wall of French guys in front of him. He takes a long run up to it and pelts it with the left side of his foot. Bartez is standing in goal for the French and you can see he doesn't understand how this ball got past him. A group of French scientists sat down and worked out how this goal was scored and it turns out if you hit the ball hard enough with enough spin, over enough distance it doesn't just curve but it starts to curve in on itself. If there was no gravity it would eventually form a spiral."
Having tried (and failed) to replicate this trick shot in person Grimley settled on replicating the achievement as only an architect can by tracing the arcing trajectory of the ball in steel, 18m above the heads of players below – perhaps in the hope that this might subliminally influence their game.
Aware that this could also be construed as something of a gimmick Grimley counters: "In a way it's a slightly cheesy idea but we were in competition with Dundee and Stirling in bidding with Edinburgh and Heriot Watt University to host this facility. Stirling at the time were favorites so we knew we had to come up with a story to capture the imagination of the Scottish Football Association and journalists."
Clearly the ruse worked but did it overly complicate or compromise the build in any way by having to conform to a rigid mathematical concept? Grimley said: "If it's a true equiangular spiral an engineer can't mark it out because it's infinitely different at every single point on its curve. The reality of it is split into a series of smaller curves which are calculable. You don't notice that it's a series of curves, it looks like one big sweeping curve." Instead of bouncing off the ground however the flowing curves of the tensile trusses come crashing through 15m of earth and rock via giant steel piers, each modelled on the Alberto Giacometti sculpture 'Head-Skull'.
Harnessing experience gleaned from their work at Aberdeen Sports Village the team settled on the use of translucent polycarbonate cladding, relishing the opportunity to experiment with industrial materials on a large and unusual building with little in the way of obvious precedent. This transparency in the façade feeds through to interior spaces with the intent to give occupants regular 'glances' through to other halls as you progress through the building, giving a real sense of a living, working building.
Located within a former Pinetum at the long gone Riccarton House the complex is rooted in romanticism, as Grimley explained: "We loved the idea of arriving through the trees to get to the building. We produced an image of a young boy in a football strip and it's almost a Hansel and Gretel moment where he comes out of the forest and finds this magical glowing building where amazing things happen. He walks out the other end as a Scotland player." More prosaically the belt of trees, part of the historic landscape, affords protection from the wind, prying eyes and tabloid hacks.
Installing an elite entrance for high performance athletes and a separate public entrance for everyone else ensures an added layer of seclusion, as the centre juggles the needs of public and players with twin circulation routes around which playing spaces are organised.
The most striking element of the design is an undulating white canopy intended to provide an instantly identifiable backdrop for TV interviews as well as keeping the elements at bay and with the intention that it ultimately becomes a symbol of sport. Modelled on a pine cone the stretched PVC fabric is wrapped over the structural steelwork to provide a strong and stable shape although it already required a jet wash, the hope being that a regular dousing with rain will do this work for them.
Outlining one of the pitfalls of using such a roof Grimley stated: "In Aberdeen we used a similar roof where seagulls would land and see people playing sport underneath. Because of the way their eyesight works they would actually try and peck thinking it was bugs on the roof - there was a story of one seagull getting its beak embedded in the roof light and dying there with its face stuck!"
By taking advantage of a change in level Reiach & Hall have been able to carve out a dramatic ascension from changing rooms to pitch, for an effect akin to a major stadium entrance, by slowly unfolding the pitch to view and it raises the hairs on the back of your neck in anticipation.
This volume comes relatively cheap at just £1,400 per sq/m which is reflected in a fair amount of value engineering as evident from wonky joins and bare concrete floors to the demotion of thick box girders to skinny trusses. Despite this some high spec touches such as glass balustrades are evident and with space for 500 baying spectators alongside the 3G pitch (a further 300 can be accommodated in the games hall) there is nothing artificial about the atmosphere it generates.
Standing alongside the 116x76m indoor pitch Grimley said: "A lot of people try to hit the girders but they struggle, they are much higher than required. We had to go up to 28m on the centerline and 15m at the sides but if you're covering a huge span and put a curve in the structural element its more efficient than a straight line. Like a shell the curve gives you strength. That combined with the spiral means it's a higher space than briefed for. It's not heated so you're not paying any more in energy costs."
The wall at the far end of this hall has holes punched through it for acoustics and ventilation as well as opening up views from the public area to the high-performance area at different heights so kids and adults can take a peek. Grimley points out that if you drew musical score lines over these gaps the music for 'Flower of Scotland' could be read.
Late in the design process it was decided that the artificial pitch should play host to rugby as well as football which required a wider playing area and some creative juggling of spaces to cram everything in. This saw support buildings pushed back within the same roof span and an angled acoustic façade which bounces grunts and shouts back to the pitch. Behind this wall sits a high-performance treatment room which, whilst lacking the MRI scanner used by top flight clubs such as Manchester United, does mean people can be treated there and then, improving the chances of recovery.
This is joined by a hydrotherapy area and semicircular changing rooms modelled on Tottenham Hotspur's, which means the manager can stand in the middle and hand an equidistant bollocking to the whole team. Speaking of which Gordon Strachan's office is on the upper level (for now) alongside desk space for the Scottish Football Association, Sport Scotland, Volleyball and Netball organisations as well as multi-use theory classrooms.
Elsewhere a listed walled garden has been incorporated into the building fabric with a minimum of fuss. Adding weight, solidity and a sense of history these were simply given a light brush after necessary doorways were cut through to remain as true to the original gardens as possible. Wrapping around a nine court games hall this space provides Sport Scotland with the space it needs for Volleyball, Badminton and Basketball tuition – with the notable exception of tennis, although this could change with discussions underway as to whether courts should be added to a remaining section of walled garden.
Grimley added: "Sport Scotland have criteria about the reflectance value of the walls and soffits whereas but not the specific colours, whereas Sport England do so we chose a vibrant blue which we actually borrowed from Herzog and de Meuron's Basel insurance building for Roche. We took lots of pictures and samples to recreate the same colour. It pings and pops."
Four lines of polycarbonate roof lights which sit between the courts are sufficient to provide generous lux levels on a normal day. It illustrates how far Reiach & Hall have come since their first foray into sports provision at Herriot-Watt a grim windowless seventies block which remains in use on the campus alongside a later nineties addition. "It's not one of our finest", admits Grimley. "It was built back in the day when sports buildings didn't have roof lights and there wasn't much natural light getting into them. There is a certain section of the sports fraternity that don't want any natural light in their spaces, they're just not used to it, so there are a lot of gloomy sports buildings. We wanted to show you can control the light with thermal plastics to stop glare and create bright daylit spaces."
A subdividable café affords views out into the games hall offering an event space and private dining accommodation for the Scotland and Hearts squads. The nutrition needs of players are now very precise so there's a fully equipped kitchen from where club chefs can dish out high protein grub.
Much like Grimms' fairy tales of old there is no guarantee of a happy ending for Oriam and it won't deliver tomorrow's sporting superstars on its own. What it does offer however is a level playing field to all who step through its doors, assuring them of a real sporting chance.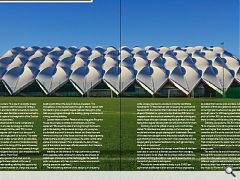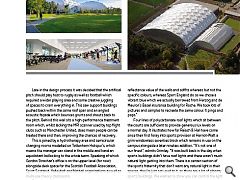 Back to January 2017