Derelict Glasgow: Disappearing Act
|
Send to friend
11 Jan 2017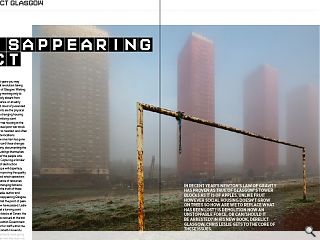 In recent year's newton's law of gravity has proven as true of Glasgow's tower blocks as it is of apples. Unlike fruit however social housing doesn't grow on trees so how are we to replace what has been lost? Is demolition now an unstoppable force, or can/should it be arrested? In his new book, Derelict Glasgow, Chris Leslie gets to the core of these issues.
Over the past eight years you may have missed a quiet revolution taking place in the skyline of Glasgow. Waking up late on a Sunday morning only to spot something newly absent from the horizon for instance, or an early morning boom and cloud of pulverized concrete. Such events are the physical manifestations of a changing housing policy which is prioritizing scant investment on low-rise housing at the expense of stigmatised post-war stock which is expensive to maintain and often built in inappropriate locations.
During this time one man has gone out of his way to record these changes through photography, documenting the short lives of the buildings themselves as well as the lives of the people who called them home. Capturing a familiar city in a brief orgy of destruction that proponents hope will dispel lazy stereotypes while improving the quality of social housing and which detractors fear is a needless waste of resources brought about by changing fashions.
Irrespective of the truth of these viewpoints Chris Leslie, author and photographer of Disappearing Glasgow, told Urban Realm that the point of peak demolition may now have passed. Leslie said: "I think we're at a turning point because one of the blocks at Govan, the Ibroxholm flats, was rescued at the last minute when the Scottish Government stepped in to save it for staff within the hospital (Queen Elizabeth University Hospital). There's fantastic work going on at Maryhill as well with the high-rise flats there's a project with Collective Architecture for a whole reimagining of the scheme. Not just the usual re-cladding but looking at the issues and the community to see what can be done."
While much of the housing stock was substandard Leslie believes that the sink estate label has been applied too liberally, particularly with a dearth of housing contributing to ever lengthening waiting lists for accommodation. Leslie remarked: "I think the high-rise flats that have come down in Glasgow have all been labelled sink estates many years ago, because of serious problems where demolition seemed the only answer but for a long time there was nowhere else to house people, we'd ran out of places to send people. What's going to replace them and where are we going to be in 30 years' time? In terms of quality and because of the cost of land and regulation no-one builds houses like they used to. One of the main goals of the project was to avoid being in the same position in 30 years' time. It's the same areas of the city that seem to be in this cycle of moving on every 30 years. People are beginning to use their imagination rather than just wiping the slate clean."
While Leslie labored in isolation during the many years of preparatory research the book, now that it has been published, throws open a window to all with a latent enthusiasm for tower blocks and brutalism in general, and even to those seeking a Christmas stocking filler with a difference. It does at least break the mold of books detailing the more photogenic tenements and grand municipal architecture from the city's Victorian heyday. Leslie commented: "The market for this book wasn't old, nostalgic, elderly people. It was younger people because everything in the book has disappeared over the past eight years. This isn't about nostalgia, it's about events that everyone can relate to because they happened so quickly and so recently.
"It's still fresh. A lot of people's memories and connections are with the high-rise flats. If you were away over the past eight years you would have missed all the changes, there's a lot of things going on. Having it in book form certainly draws attention but for a long time nobody cared!"
Is there a danger in this new air of pragmatism as leading stakeholders try to make the best of what we have that the pendulum could swing too far in the opposite direction. Might we be best to cut our losses now rather than throw good money after bad? "Eight blocks at Red Road housed 4,500 people, it was huge but they were nowhere near the shopping area. They wanted to blow up the Red Road estate for the Commonwealth Games opening ceremony. It was a crass idea but even without the failed demolition the whole city would have been bearing its scars to the world. Even if it did come down in a spectacular firework display why are you blowing up failed social housing?
"With an audience of a billion watching it would have generated some debate and discussion and I was in favour for that to happen because I was documenting these flats and nobody seemed to care. We've lost 30 per cent of the city's tower blocks since 2006, when this latest phase of regeneration started and it's happened at such a speed that the whole point of the project wasn't to look at it from an architectural or academic viewpoint but to look at it from the residents point of view. What happened here? When did it go downhill? What changed? These flats were the utopian answer to a horrendous housing crisis and these flats were sought after. It was about giving former and current residents the chance to speak out – it's a multimedia project not just a book."
So-called 'poverty porn' has gained traction from programmes such as Channel 4's 'Benefits Street' and BBC 2's 'Hardest Grafter' so is this project a reaction to the demonization of these buildings in the press, highlighting that there are many positive stories to be told which have been lost behind wider narratives and salacious headlines that proclaim a world of urban decay, unemployment and drugs: "They were marketed as progress but my first attraction was to photograph them. It wasn't my agenda to romanticize the flats because a lot of people I've spoken to were delighted to get out of them, they were in such a state. It's a real mixed bag of opinions and views and experiences. It's happened in the blink of an eye and no-one has properly stopped to document it."
It seems that opinions on tower blocks are rather polarized, arousing feelings of hatred and love often from neighbours in the same block but what feelings do they elicit from the photographer's standpoint. Is their sheer scale and unavoidable presence enough or should you try to ensure that everyone has a viewpoint? "Architects and photographers loved the idea of high-rise buildings but I was often told 'try living in it for six months and that might change your mind'. I was very conscious of that. Some of the images show the buildings in a beautiful light and a very aesthetic presentation but that's just the type of photography I do. It's meaningless without the narrative of people who lived there and the social documentary."
Of all the projects on display two stand out, literally for Leslie. The Whitevale/Bluevale twins which once towered over Dennistoun and are now no more. Leslie said: "For me personally Whitevale/Bluevale flats were in my neighborhood and that was the last project I did. They were brutalist buildings with fantastic stories and wraparound balconies but they were hated by the community and the council. They were so close to the Commonwealth Games Athlete's Village that my friend said these flats could have been used by the Athlete's given their proximity to Celtic Park for the opening ceremony, city centre and transport links. You could walk around those balconies and get 360 degree views of the city. They were big, spacious flats inside as well. There was no imagination allowed for that because they were viewed as a sink estate and had to go. That was a real shame for me. In any other city they could have done something special with those flats."
A block lost here or there isn't going to change the city but read over a period of eight years the city is changing and perhaps isn't the city now that it once was? Is Glasgow becoming any less Glaswegian? If there is one constant of history it is that waves of demolition precede waves of renewal and the real question isn't so much what is being lost but what will replace it. A question which has no clear answer despite being asked for the better part of a hundred years and more.

Disappearing Glasgow, A Photographic Journey by Chris Leslie, edited by Johnny Rodger (Freight Books, £20)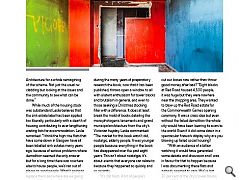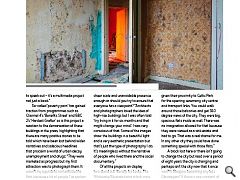 Back to January 2017