St Kilda: Isle be Back
17 Oct 2016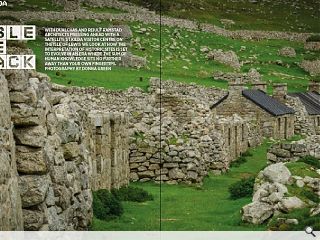 With Dualchas and Reiulf Ramstad architects pressing ahead with a satellite St Kilda visitor centre on the Isle of Lewis we look at how the interpretation of historic sites is set to evolve in an era where the sum of human knowledge sits no further away than your own fingertips. Photography by Donna Green
Having published their first concept visualisation for a St Kilda visitor centre Dualchas, working in collaboration with Reiulf Ramstad Arkitekter of Norway, have positioned themselves on the leading of a new breed of 'remote' visitor centres which seek to protect sensitive environment s from tourist hordes whilst retaining the economic benefit by positioning visitor centres with their attendant infrastructure and facilities off-site in less sensitive locations.
To that end charitable company Ionad Hiort have chosen a former radar station at Uig, on the Isle of Lewis, as a more accessible gateway to St Kilda. Perched upon a windswept clifftop the distant cliffs of St Kilda can be viewed some 50 miles to the west on a clear day with displays and VR technology helping to transport people to the island in spirit.
Bringing Urban Realm up to speed with the story so far Dualchas architect Ruaraidh Flyn, said: "In March we were appointed along with Reilff Ramstadt to develop a masterplan that would work alongside two other masterplans for Ionart. These are concept designs for the overall site and visitor centre to form a business case for the project."
Intended to promote discussion of the idea and generate interest from a wide range of partners; including HIE, Glasgow School of Art, UHI, NT ,HES, Scottish Marine Centre and UNESCO, Scottish and UK government's.
Flyn is keen to stress that this isn't just about St Kilda with the centre aiming to deliver a broader insight into Hebridean culture and the landscapes of the Western Isles. He said: "Three different communities were bidding to become home for the project (the others being the Isle of Harris and Benbecula) and the community in Uig one out in the end. A lot of that had to do with regeneration of the community around it. Something we have a real interest in working on is peripheral sites; we've got a real interest in Gaelic culture here which the project is going to represent with a very strong connection to many other peripheral locations."
Not only is the project remote access but it is also remote delivery with none of the design team having set foot on St Kilda having been thwarted by the vagaries of a Scottish summer. Treacherous seas mean local boat owners are unwilling to make the trip and the island remains under the purview of the National Trust and MOD who will not grant access on a whim. The team are also scattered around the UK and beyond with the content team based in London and Dualchas straddling two offices in Skye and Glasgow, not to mention the client based on Lewis.
Commenting on the remote access approach Flyn added: "It's a model which Unesco have been looking at because they have many sites which are difficult to access. That's why they've been supportive of looking at this as a pilot project which may be repeated and refined elsewhere." That being said there won't be a total disconnect between site and subject with the planned centre's halls and viewpoints oriented to look out to St Kilda on the horizon.
The site also has similar characteristics to the abandoned island with Flyn observing that the nature of the clifftop site is very similar to St Kilda, albeit much reduced. He said: "The cliffs are about 80m here and 300m or so on St Kilda and there will be clifftop walkways which give you that experience of vertigo and what it takes to go up and down these cliffs - which is what the people of St Kilda were doing day to day. Nearly all of their food came from the birds on the cliffs. It's six miles south of Uig and one mile south of Mangersta so its separate from the communities but none of those had a view to St Kilda."
View won't be restricted to St Kilda however with consideration also given to the Flannan Isles, the Island of Scarp, Mangersta Beach and Clisham, the highest mountain on Lewis which rises to 799m. Each of these landscape elements will be picked up by the design with wings of accommodation stretching out toward them. Between each of these arms will sit an open courtyard which will nestle within each wing for shelter from the weather.
If delivered the centre would become the first UK project for Reiulf Ramstad who has become well known in their native Norway, giving the scheme importance beyond these shores. Speaking to Urban Realm Reilff Ramstadt said: "We're used to working on the outskirts of civilization, St Kilda is a very special place, there is nothing as remote as that in Norway." Despite the distances involved Ramstadt was surprised to learn that Scandinavia had an (albeit unhappy) historical connection to the area courtesy of the Vikings."
A frequent flyer Ramstadt witnesses at first hand the homogenisation wrought by globalisation and is keen that something distinctive be built to do justice to the rocky outpost. He continued: "I think it's interesting where the site is in Uig, the community have such a strong opportunity to develop something unique. I've been working for 20 years mostly outside Norway in small valleys, mountains and villages and that helps us develop a strategy and dialogue to achieve something."
What leaps out from the initial visualisations is a sense of scale, which brings the difficult matter of funding into the spotlight. Flyn said: "Overall it's a £10m project, that's architecture, landscape and infrastructure works. There are other pieces of the masterplan which would come into play if GSA decided to open a facility there. This building has to be up on the site but others could be lower down in the community."
Asked what the working relationship with Reilff Ramstadt was like Flyn stated: "It's a method of working in different countries, they have partnered in other Scandinavian countries and Europe as well." Nevertheless communication wasn't without its challenges as Flyn added: "People were spread out, it was a huge challenge just getting people to meet together and the technology to do it." For his part Ramstadt added: "Architecture is like music when it comes together, we like to work with other people. It's always interesting to develop unique experiences with whoever we're working with."
Another key aspect of the brief was a laboratory area which will look at all the different technologies utilised such as VR for remote viewing. A significant amount of floorspace will be dedicated to this purpose, enabling experimentation with different technologies which will position Lewis as a centre for remote access experimentation." For now however progress remains firmly rooted at the initial masterplan phase pending further consultations and a heritage lottery funding application later this year. Should that appeal prove successful an open design competition will then be held for the buildings.
From the outer fringes of the Western Isles to the heart of a global conservation drive St Kilda has always resonated with romantic notions of an isolated society, ironically such associations could now see it become more accessible than ever.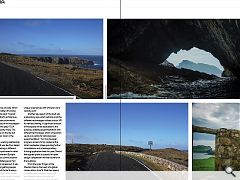 Back to October 2016