The Monzie: Dereliction Duty
17 Oct 2016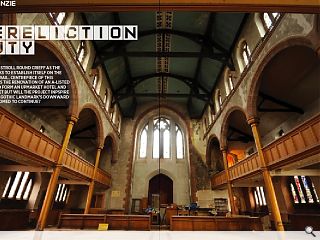 We take a stroll round Crieff as the town seeks to establish itself on the tourism trail. Centrepiece of this ambition is the renovation of an A-listed church to form an upmarket hotel and holiday let but will the project inspire - or is the gothic landmark's downward spiral doomed to continue?

Crieff's A-listed Old South Church, built in 1882 to designs by JJ Stevenson, has languished in a state of dereliction for the better part of a decade, during which time it has endured more than its fair share of false starts. Having played a part in the Gothic Revival it is now in line for a revival of its own thanks to the arrival of a charismatic Irish developer who has taken this quiet corner of Perthshire to heart.
John Corryard of Corryard Developments is an unlikely saviour for this crumbling slice of history being a man of science rather than the cloth, with a background in the pharmaceutical industry. However development is his passion and after many years of running Corryard as a side interest he took a leap into the unknown by giving up his monthly pay check to put his faith in construction.
Asked whether he was afraid to take on a building in such condition Corryard, who divides his time between his flat in Crieff and Ireland, told Urban Realm: "No, not at all. We have our own construction team which helps to keep costs low. We've got experience of buildings which are in much worse condition than this." With the dust yet to settle on the UK's decision to exit the EU now might not be the most propitious time to get involved in a multimillion pound gamble but Corryard is unpeturbed, saying: "Conversion of old buildings into high end units is a robust market and our purchasers are normally cash buyers who are downsizing so we're not that impacted. The fall in the pound could increase tourism."
Nevertheless Corryard concedes that he 'doesn't come from a hotel background' and has thus brought on board hotel manager's from the London Savoy and Ballyfin in his native Ireland to advise on the nitty gritty of day to day management.
Mindful of the closure of a number of other hotels in the town, notably The Crown which was demolished to make way for affordable homes, not to mention the looming presence of the Crieff Hydro, which hoovers up the majority of visitors to the town. Corryard has opted to pursue a different tack for the Monzie - targeting individuals or couples who might stay anywhere from a night to a week off season whilst operating as a hotel during times of peak demand. Corryard continued: "Initially it won't operate as a normal hotel because we didn't want to incur all those costs related to setting up a restaurant and other services. We couldn't have a situation where there is only an old granny sipping a cappuccino in the building with 20 staff."
Open to anyone willing to shell out the £6k required for a night's stay (including catering), Corryard is targeting a distinct demographic from other establishments in the town. He said: "This will be a completely different target market, the people who will come to stay here probably would never have heard of Crieff before. Crieff won't be the destination, the hotel will be. We also have a US agent who will sell the hotel in the American market. We want to get in on the trail for tours. It will hopefully be popular for people looking for a smallish wedding of up to a 100 people or 150 people who are looking for something a little bit different and unique. The Crieff Hydro does a nice job but they could have three weddings in the same day there."
One concern in this regard is a lack of on-site parking, likely first on the list of expectations for guests and something Corryard has sought to offset through acquisition of an annexe plot 200m down the road capable of hosting up to 30 valet parking spaces.
The work will see the landmark bell tower transformed into a romantic main suite, spread over five floors, opening with a ground floor reception space with period fireplace and windows. Climbing the guano splattered stairs Corryard said: "We're putting in a new first floor above the arch in the windows which will be open on either side so you'll be able to look up and down the full height of the hall. There will be bedrooms above each window below. As you go up there will be an open area leading from the tower and accessing a terrace wrapping around the side with views toward the hills." Next up will be a floor dedicated entirely to a freestanding bath with a separate toilet and shower area situated directly above. Sadly the bells themselves are long gone but the space they occupied will give way to a lofty bedroom that would do Rapunzel proud."
Meanwhile the old mission halls will be converted into kitchens with Corryard enthusing about the organ and the grates from the underfloor air heating – all of which will be refurbished, with the Nave encased in glass at the end of a hallway. Corryard added: "There is a lot of emotional connection between the people of Crieff and this building and we respect what happened here in the past but it's not a church anymore and we want to save what we can for the next phase of its life." A plant room and Moroccan Hamman spa (due for delivery in phase two) will round out the accommodation in the basement while lift access is offered throughout.
Outlining how the required uses were achieved within the available volume project architect Jamie Russell of McKenzie Strickland Associates said: "We were balancing the historic scissor trusses in the halls with the volume of spaces with the combination of accommodation wanted. Escape requirements meant demonstrating that this would work in terms of current regulations. We didn't want an enclosed fire stair because that would compromise it so we've used vents and sprinklers to ensure all the smoke will form a reservoir in the ceiling. The concept was to keep the main body of the kirk as an open void."
Keen to avoid the church falling into the 'twee' trap Corryard is committed to an uncompromisingly modern interior to contrast with retained period features. Set pieces will include a 5.5m long bronze table with a weathered wood finish, currently being manufactured, for the main dining hall as well as a contemporary whisky tasting room and library. Corryard said: "We're going to clean it but we're not going to paint the whole thing, we don't want to dicky it up. There will be a polished concrete floor, flex foam sofa and we're taking the feature bronze columns as the signature theme for the whole building, reflected in our logo."
Corryard's confidence is reflected in a projected site start of January for an opening in June 2018, with everything now 'ready to go'. A confident Corryard said: "We're just having our final meeting with the bank and we've got some of our own money to pump in. We've no debt. This is our own personal long term pension; we normally have an exit route where we build to sell, normally 50 per cent off plan. This one we're not selling, we're operating it as a unit so it's a little bit more risky.
"Phase one from this point to opening is £1m and that's with us as the main contractor and not including the furniture and fit out. My wife is an architect; we commissioned McKenzie Strickland to do the work with her oversight and direction. For McKenzie Strickland it's just another project but for us it's really personal. It's been a good three years to get to this point."
Nevertheless the architect is well placed for site visits being based directly across the road and with their window giving a framed view of the spire. Russell added: "Before John got involved it was always sad walking past it so it's great that there's now a viable future for it. From the dreaming spires of Oxford to The Shard steeples serve to inspire those who see them and Corrryard will be hoping a little of this magic rubs off on Crieff.
Back to October 2016