Timber: Branching Out
12 Jul 2016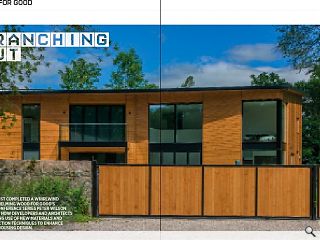 Having just completed a whirlwind UK tour at the helm of Wood for Good's spring conference series Peter Wilson explores how developers and architects are making use of new materials and construction techniques to enhance modern housing design.
Innovation - the word is very much a buzz term these days and indeed, in economic terms, Japan's Nomura Research Institute could not state its relevance more clearly - "We are now in the creative era: the information age is over and speed of innovation is the only sustainable advantage." In this context, the value of the creative industries to Scotland has long been apparent but anyone who continues to wish architecture be included in this grouping in preference to that of construction needs to consider the way in which this is increasingly viewed: the tectonic plates have shifted of late and perhaps usefully so if the profession is now considered to offer an economically beneficial role in the re-industrialisation of the nation.
Certainly Scottish Government policy has imperceptibly moved in this direction, with the creation of a series of 'Innovation Centres' that are intended to link key industries more directly with academia in order to transform good ideas through research and development into marketable products, processes, services and systems. Oil, biofuels, aquaculture and several other sectors - including construction - now have their own innovation centres all linked to departments in those universities able to provide the necessary academic rigour and research experience to bring good ideas into the mainstream economy.
But what do we actually mean by 'innovation' and what is it that architects do that can be viewed as genuinely innovative? Dictionary definitions vary but "a new method, idea, product, etc.: e.g. technological innovations designed to save energy" whilst clear enough, implies a level of originality - the notion that every innovation has to be the result of a eureka or lightbulb moment. From an architectural perspective, Kenneth Frampton describes it as: "material constraints aside - innovation is…contingent upon a self-conscious re-reading, remaking and recollection of tradition, including the tradition of the new - just as tradition can only be revitalised through innovation." So pure invention is not necessarily always the case - and invariably is not: most innovation in fact arises from a constant process of development and, when coupled with intensive research and testing, can deliver high added value results - Japanese industry, for example, has long been held in high regard for its constant evolution in working methods that have since transferred from car manufacture to the construction industry where a 'lean' approach is now commonplace in sectors such as timber frame production.
The need to explore this further and the opportunity to view the use of timber in new housing in a very different light from conventional perceptions has been the subject of a series of conferences around the UK promoted by Wood for Good, the first of these taking place recently in Edinburgh and entitled "The Innovative Timber House - developing new timber housing systems & products for the 21st century". Others have addressed some of the diverse areas of timber construction in housing today (e.g.'Prefabricated Timber House Design: Delivering Quality, Meeting Demand'; 'Solid Timber House/Vertical Timber City'; and - in late October - 'The Self Build and Custom Build Timber House') but, with the industry here in Scotland perhaps more conversant with the use of wood due to long familiarity with timber frame construction, the broader role of innovation in the use of timber - and its potential economic value to the architectural and engineering professions was the subject selected to kick off Wood for Good's Spring 2016 programme.
Aligning innovation with the role of timber in the Circular Economy, Charlie Law of Sustainable Construction Solutions Ltd immediately established the context for new thinking: the advantages timber has over others from an environmental perspective and the possibilities to design buildings for lease rather than sale by manufacturers made clear how materials, products and construction systems might be developed to ensure they can be re-purposed at the end of their prescribed term of use, a concept that focuses attention on the deficiencies of conventional financing and waste management solutions and the benefits available when a longer term view is taken. Louise McGregor of Zero Waste Scotland picked up on this theme and further emphasised it immediate economic value to the sectarian her outline of the organisation's Circular Economy Investment Fund, a source of new finance that should be explored by all architects and engineers with thoughts on how more sustainable buildings might be developed.
The academic and technical back up available in Scotland to all of this became clear from presentations by Professor Sean Smith, Director of Edinburgh Napier University's Institute for Sustainable Construction and Dr Neil Burford of Dundee University, the latter using a project built in the city's Botanic Gardens to explain how new approaches to timber housing could not only achieve Passive House standards but also offer self-sufficiency (autarkic) in energy use and actually contribute surplus energy generated from the building's daily use back to the grid. The route to how architects and others might similarly prototype and test their ideas was given sharp focus by Bruce Newlands, Technical Director of the Construction Scotland Innovation Centre in his dramatic presentation of the new and very large facility being created near Hamilton that will have all the technology necessary to fabricate and test full-size products and systems and which will be available to all on an open source basis similar to that of the MakLab, which Bruce himself originated.
All the technological development in the timber world won't build new housing, however, if financial structures mitigate against its implementation, but Matthew Benson of Rettie and Co. delivered a radical alternative to the way we think about land values and construction and how we might build more economically to solve the problems of housing shortage. So radical in fact that it was something of a shock to the audience to find that Matthew's proposed economic model was more or less how Edinburgh's New Town was financed.
But if anyone thought that was 'radical' dealt with for the day, they hadn't anticipated Alastair Parvin's presentation of the WikiHouse concept, a wholly unusual method of construction using CNC-machine-cut plywood sections. The resulting easy-to-assemble structures convinced many that this could well be the way to go to meet ambitious housing target numbers. Architecture and housing: not a word combination often expressed by volume house builders but Parvin was clear about the role of the profession to influence the quality of the housing stock in this country, and if anyone was in any further doubt, one of Europe's leading timber architects, Haiko Meijer of Onix in the Netherlands, showed in project after project how the material excels in affording opportunities for design expression and product innovation.
Kicking off a conference series with a programme embracing economics, sustainability, R&D and prototyping, finance, manufacturing and construction innovation as well as outstanding architectural resolution is perhaps unusual but the synthesis of all these elements is arguably what good architecture should be all about in the 21st century. As a promotional organisation, Wood for Good has been bold in the conception of its conferences and perhaps in itself innovative - radical even - in its delivery of state-of-the-art, objective information on the one genuinely renewable construction material available to us all: timber.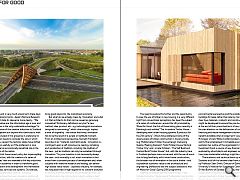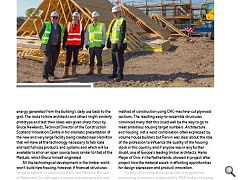 Back to July 2016