Port Dundas - Windy City
12 Jul 2016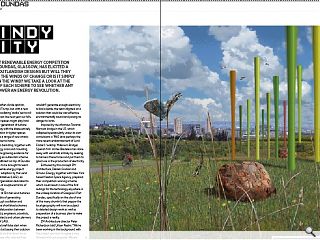 A recent renewable energy competition at Port Dundas, Glasgow, has elicited a trio of outlandish designs but will they usher in the winds of change or is it simply peeing in the wind? We take a look at the merits of each scheme to see whether any might power an energy revolution.

Wind turbines often divide opinion, just ask Donald Trump, but with a new generation of oscillating 'stalks' set to roll off the production line next year our hills, seas and urban spaces might play host to a whole new generation of turbine which does away with the blade entirely to allow installation in tighter spaces and opening up a range of new artistic possibilities closer to home.
Against this backdrop, together with a looming energy crisis and mounting concern over the growing evidence for global warming an outlandish scheme to install a Windforest on top of Dundas Hill, Glasgow, is to be brought forward after the renewable energy project was chosen for adoption by the Land Art Generator Initiative (LAGI), an international organisation dedicated to the conception of sculptural forms of renewable energy.
The cluster of 13m tall wind turbines would be capable of generating electricity through oscillation and was one of three shortlisted schemes conceived in collaboration between artists, architects, engineers, scientists, landscape architects and urban planners at the behest of LAGI .
Following a brief false start when the team looked at basing their solution on water, only to be shot down by an electrical engineer who warned they wouldn't generate enough electricity to boil a kettle, the team alighted on a solution that could be cost effective, environmentally sound and posing no danger to birds.
Inspired by the infamous Tacoma Narrows bridge in the US, which collapsed spectacularly under its own convulsions in 1940 (and perhaps the more recent embarrassment of Lord Foster's 'wobbly' Millenium Bridge) Spanish firm Vortex Bladeless has done away with windmills entirely by seeking to harness these forces and put them to good use in the production of electricity.
Enthused by this concept ZM Architecture, Dalziel+Scullion and Qmulus Energy, together with New York based Yeadon Space Agency, prepared their competition winning scheme which could result in one of the first outings for the technology anywhere in the unlikely location of Glasgow's Port Dundas, specifically on the site of one of the many drumlin's that pepper the local geography will now be subject to detailed design work as well as preparation of a business plan to make the project a reality.
ZM Architecture director Peter Richardson told Urban Realm: "We've been working in the background with the project sponsors to agree a way forward with our proposal. We are waiting to get confirmation from LAGI for the next stage. When we were asked to enter it was very much on the basis that the project would be implemented as part of the 100 Acre Hill scheme that Bigg are doing with HTA, so we had to integrate with that.
"Part of the spirit behind the project is to see Glasgow rekindle its past engineering spirit. What's exciting about these proposals is we're using prototyping technology, we're not using run of the mill stuff, its new technology and the wind turbines we're looking at are in production right now. If they work Glasgow could be one of the first cities to use it."
Whilst Glasgow could be one of the first places to host the new technology it will not play host to any manufacturing however, as Matthew Dalziel of environmental art firm Dalziel & Scullion explained: "The new turbines will be coming on stream about the same time as Windforest so we could be the first ones to actually introduce them on a large scale. There is no prospect of them being built in the UK as the rights to the design are held by the Spanish firm so manufacturing rests with them."
A major question mark still hangs over whether the scheme will ever make it off the drawing board however with no budget currently in place to realise the £1m project, even though Dalziel calculates it could actually turn a profit inside 12 years thanks to annual electricity sales to the grid of some £92k. Dalziel observed: "Louise and I have noticed that rather than having money or an idea up front promoters ask artists, architects or creatives to generate an idea that could get supported. "Although Bigg Regeneration is on board they're a bit wary at this point. We're confident they will back it at the next stage. Normally architecture is the first thing spoken about and artwork is shoe-horned in but before any buildings have even been designed there's going to be a big art work."
A key consideration for the experience is the two metre motion and blurring brought about by the oscillating stems of each turbine, something Dalziel is keen to harness by creating an impressionistic ensemble when viewed from afar to create some considered. It would be quite impressionistic. In addition to the turbines the Windforest team have also incorporated a series of 'erratic' boulders designed to mimic glacial debris by using industrial bricks and detritus found on site, some of which could even be used for bouldering."
But with no imminent prospect of delivery is the scheme ultimately little more than a marketing gimmick or PR stunt: "Absolutely not. It's ambitious but its still early days and the whole team is behind it. We're relying on other people to support us but it's an economically viable project which some clever businessman or entrepreneur might want to support.
In addition to the winning design two other schemes were also shortlisted with Watergaw, prepared by landscape architecture studio ERZ and poet Alec Finlay in collaboration with Riccardo Mariano, amongst those which just missed out. Featuring an integrated array of devices including wind turbines, hydroelectric turbines and a heat pump the mechanical marvel would have announced its presence through a recurring rainbow on the city skyline.
Explaining the mechanics of Watergaw Mariano said: "It is an integrated system of devices (mainly wind turbines, hydroelectric turbines and heat pump) that generate renewable energy. Every time the system generates a certain amount of energy the water feature is triggered for a few minutes. The Watergaw is an expression of the renewable energy generated on site."
Another participant in the scheme, ERZ director Rolf Roscher said: "The Port Dundas / Dundas Hill site is so close to the city centre and potentially so visible. The canal basins and the proposed new neighbourhood offer great possibilities. The Watergaw scheme is very responsive to this site, drawing on the full range of power generating opportunities that this site specifically offers. This includes: micro-hydro turbines in the pipe feeding the canal, a water source heat pump in the basins and a series of modified quiet revolution wind turbines. "
The final runner up in the trio of winners was Dundas Dandelions, a tubular construction that also aims to harness the power of the wind through vibrations rather than rotation. Designed by Stallan-Brand, Pidgin Perfect and Glasgow Science Festival/University of Glasgow together with Matthew Rosenberg of Los Angeles based M-Rad. It aims to put beauty back into energy generation and create a 'unique destination' to boot through creation of a Glasgow Science Festival lab housed within temporary container architecture.
The 'dandelion' itself would consist of 345 individual steel tubes with a 16m long 'hair extension' at the end of each to convert kinetic energy to electricity via a torque generator. LED's would have been embedded in its tips for aesthetic effect with the complex dome all held together by the structural principle of tensegrity – a process which allows isolated components to be held in place by continuous tension and compression, a complex solution only made feasible through the use of Building Information Modelling.
However the project would be much more than just a dandelion, as the project backers wrote: "There will be opportunity for an outdoor cinema, a market, a theatrical dining experience, temporary sculpture park, live music and festival helping to further illustrate Dundas Hill as a place of creative and technological experimentation."
The Lighthouse will display the winning design through to 29 July.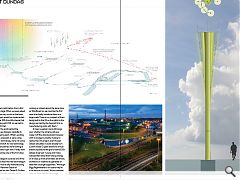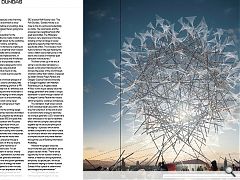 Back to July 2016