Perth: City Sicker?
6 Jul 2016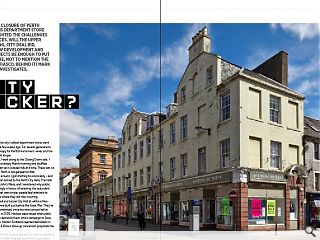 The recent closure of Perth of McEwens department store has highlighted the challenges the city faces. Will the Upper Tay Crossing, city deal bid, Thimblerow development and other projects be enough to put this closure, not to mention the City Halls fiasco, behind it? Mark Chalmers investigates.
McEwens of Perth, the city's oldest department store, went into administration a few weeks ago. For several generations it provided retail therapy for Perthshire farmers' wives and the city's well-heeled. No longer.
Out of curiosity, I went along to the Closing Down sale. I joined the queue on a drizzly March morning and shuffled along as the doorman let in a dozen folk at a time. There was no pushing or shoving: Perth is too genteel for that.
Whilst standing around, I got chatting to a local lady – and soon the conversation turned to the Perth City Halls. The halls stand on nearby St John's Place, and I wondered why public opinion was so strongly in favour of retaining the redundant buildings. Her answer was simple; people feel attached to them because that's where they did their courting.
The Main City Hall and Lesser City Hall sit within a Neo-Baroque pile, and were built just before the Great War. They've lain, more or less abandoned, since the new concert hall at Horsecross opened in 2005. Hackles were raised when plans were put forward to demolish them, and a campaign to Save the City Halls began. Historic Scotland rejected demolition in 2012, then Simpson & Brown drew up conversion proposals the following year.
Today, Perth & Kinross Council appear no closer to deciding their fate, and the City Halls have become Perth's equivalent to Union Terrace Gardens in Aberdeen, or Dundee's Central Waterfront ten years ago: a civic shame, a failure of democracy or a wasted opportunity, depending on your outlook.
Half an hour later, we finally made it through McEwens' plate glass doors. All the "bargains" had gone, so I exited the store in search of lunch. At this point, factors outwith my control took a hand. Raised voices came into focus from a nearby pub, and suddenly a door burst open. Four young duellists in St Johnstone colours spilled out onto the street, and a right melée ensued.
I quickly headed up Paul Street, past the City Mills and towards Thimblerow: a large car park which was once slum housing. The tenements were demolished in the 1960's and Thimblerow has been a gap site ever since. In fact, although the site has been earmarked for development over the past 20 years, work was never initiated. Until now.
Expresso Properties intend that the new Thimblerow will provide the larger retail floorplates which Perth is apparently lacking. At first glance, the Holmes Miller-designed scheme in the newly-designated Mill Quarter seems like a classic mixed-use development with restaurants and bars, speciality shops, a cinema, gym, student housing and a multi-storey car park.
However, the thing which sets Thimblerow apart is its status as the first project promoted by the Scottish Cities Alliance. The city council provided the site, it was marketed through the Alliance, and and Expresso were selected as development partner. The project has a high political profile – it can't afford to fail.
A couple of streets away from Thimblerow, the redevelopment of Perth Theatre has just begun. Horsecross Arts – which runs both Perth Theatre and Perth Concert Hall – commissioned Richard Murphy Architects to revamp the Edwardian theatre. Demolition men are currently clearing away old workshops and rehearsal rooms at the rear of the building, and soon construction will begin on a new entrance facing Mill Street.
With that, the theatre's aspect will turn through 180 degrees and it will look towards the new Premier Inn in Pullar's Dyeworks, and Perth Concert Hall at Horsecross. Along with the city's Museum and Art Gallery, these buildings form the core of the Cultural Quarter.
A new Perth City Plan was published recently: according to Perth & Kinross Council's planners, the city centre now consists of a Mill Quarter, Cultural Quarter, the retail core and the Inches beyond them. Perth's shape has certainly changed, perhaps the plan acknowledges that. Popular wisdom is that the traditional high street is dead, killed by the internet and retail parks. In Perth's case that means St Catherine's Retail Park, five minutes away.
City centres will only survive, it's said, if they become social areas with speciality shops, pubs, cinemas, and cafés. It's been suggested that Perth's boutique shops, in areas like Princes Street, need to be nurtured and would benefit from being grouped together, in what's known in retail terms as "special accessibility". That approach is common to both the Thimblerow project and tentative plans to rescue the City Halls.
If the Halls are retained, perhaps they will become a shopping arcade along the lines of La Boqueria in Barcelona or Boston's Faneuil Hall – although the death of McEwens does nothing to convince us that more city centre retail space is required. On the other hand, if the Halls are demolished, they may make way for a civic square and market place. From leftfield, there came a proposal to turn the City Halls into a museum, to boost Perth's bid to become a future City of Culture.
The CIty Halls have become a favourite cause for local worthies, and the pet subject of letter writers to the local newspapers. The débacle has run for several years and may last for several more: at its root is the council's failure, long before Horsecross was commissioned, to work out what to do with the City Halls afterwards. A decade after the Concert Hall opened, as one contributor to the papers put it, "We should throw away our hard hats and put on our visionary bunnets."
As the lady in the McEwens queue made clear, buildings have a sentimental power – and just like her, I have my own reasons to feel close to Perth. My ties are with the city's edges, the land which sat beyond Perth proper, and that's where huge, shattering changes are coming.
Traditionally, Perth's edges were strongly defined. It was hemmed to the east by the steep bank of the Tay, to the south by an escarpment with the Earn beyond it, and to the north by the Almond. One of my father's uncles has a farm called Windyedge out beyond the Broxden roundabout; a great uncle had Newton of Huntingtower farm. With its name so redolent of John Buchan's novel, the latter was swallowed up by a housing estate and the city's crematorium.
Now the farmland which lies beyond it at Ruthvenfield has been earmarked by the Pilkington Trust for the Almond Valley Village: a mixed use development with 1500 houses, a primary school and community facilities. An outline application was refused at the start of May, but the same sitting of the Planning committee approved Bertha Park. Bertha Park, located across the River Almond from Inveralmond industrial estate, is even larger, a £1 billion development with woodland, community facilities and employment land – plus 3000 new homes.
For generations, the Tay, Earn and Almond were physical and psychological barriers, but now they're about to be breached by the Cross Tay Link Road and a new Almond crossing: enabling works which will open up the land at Bertha Park and Ruthvenfield. Those developments will be supplemented by Oudenarde to the south on the former Bridge of Earn hospital site, plus Scone North and Balgarvie to the north-east of the city.
Both Bertha Park and Ruthvenfield are effectively new towns and with them, Perth has taken over the claim to be "Scotland's fastest-growing city" from Inverness. In fact, Perth will be a very different shape in ten or fifteen years' time. Perth & Kinross Council have allocated Almond Valley Village, Bertha Park and Perth West in the local development plan as strategic development areas which together could provide over 5,000 homes, and that follows on from a prediction that the area's population may grow by 25 per cent in the next twenty years.
Adding an extra 10,000 people to a city the size of Perth is radical: it would be a big deal even in a city the size of Edinburgh or Glasgow. What's surprising is that almost all these schemes lie on greenfield land which needs to be unlocked by major new roads.
The strange thing is that there isn't a lack of brownfield land, most of it closer to the city centre. The railway marshalling yards at Tulloch – "Perth New Yard", from which the tracks have been lifted and the Space Age control tower demolished – is a vast site zoned for housing. Its owner, DB Schenker Rail promotes it as such, although it may lie fallow for a few more years, just like the Perth Mart site on Crieff Road. Black Angus cattle were once auctioned off in the Mart's world-famous Perth Bull Sales, but Sainsbury's drew back from building a huge supermarket here in 2014, after the mart moved south to Stirling.
In some respects, Perth is a microcosm of how development works in Scotland. The local authority and its arms-length bodies promote city centre schemes like the City Halls, Thimblerow and the Theatre. Greenfield development at Bertha Park, Ruthvenfield, Balgarvie and Oudenarde is put forward by housing developers working with local landowners. Commercial firms like DB Schenker and Sainsburys have an interest in revitalising dead land in the inner city and suburbs.
The relative scale of public sector and commercial developments is typical, too, as are the high stakes involved. In fact, the representations made to the Scottish Government reporter are fascinating – if you like that kind of thing – as Stewart Milne Homes, M. & S.M. Bullough, Zurich Assurance, Springfield Properties, The Pilkington Trust, John Dewar Lamberkin Trust and their rivals vie with each other to get their schemes adopted.
A fourth factor is that Perth is large enough to have a roll of indigenous companies with corporate headquarters in the city – including General Accident (now Aviva), Stagecoach and Scottish & Southern. However, the city is most associated with the surest wealth-generator of them all – whisky.
The Gloags, Bells and Dewars are both whisky dynasties and patrons of architecture. The Dewar's Centre with its ice rink is a well-known act of philanthropy. Arthur Bell founded the Gannochy Trust, which has contributed to countless projects over the decades from Doo'cot Park to the city's water treatment works on the Sleepless Inch. Best known are the Bell's Sports Centre with its giant glulam dome, Bell's Cherrybank Gardens and the AK Bell Library on York Place.
The Edrington Group, with brands like The Famous Grouse and Macallan, recently announced they would move from their HQ at Walnut Grove which was purpose-designed by Parr Architects only a decade ago. Edrington sponsored the giant steel grouse which squats in the middle of the Broxden roundabout. While the grouse will presumably stay put, the site at Walnut Grove will become something else, perhaps tied into a new Park & Ride facility.
Perth may eventually solve the riddle of the City Halls, find a new use for McEwens, develop its various Quarters and shape-shift to provide thousands more homes. However, it's whisky money which gave the city its civic flourishes and it's a good bet that Perth will call on its philanthropists again, because they're the only ones wearing visionary bunnets.
Back to July 2016