Berwick-upon-Tweed - Borderline
6 Jul 2016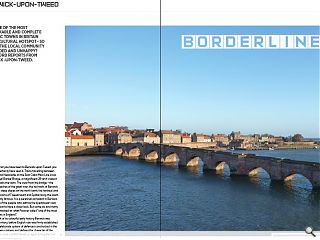 It is one of the most remarkable and complete historic towns in Britain and a cultural hot spot - so why is the local community so divided and unhappy? John Lord reports from Berwick -upon-Tweed.
Whether or not you have been to Berwick-upon-Tweed, you will almost certainly have seen it. Trains travelling between Edinburgh and Newcastle on the East Coast Main Line cross the 1850 Royal Border Bridge, a magnificent 28-arch viaduct which overlooks the town. The view from the bridge – the tidal lower reaches of the great river; the red roofs of Berwick climbing the steep slopes on the north bank; the harbour, and the satellite towns of Tweedmouth and Spittal lining the south shore – is justly famous. It is a perennial complaint in Berwick that too few of the people who admire the spectacular view get off the train to have a closer look. But some do, and many of them get hooked on what Pevsner called "one of the most exciting towns in England".
For much of its colourful early history Berwick was contested territory, before English rule was firmly established in 1482. The elaborate system of defences constructed in the Elizabethan era contains and defines the character of the town's historic core. Conflict flared up again during the Civil War and the 18th century Jacobite rebellions and Berwick remained a garrison town until 1964. These layers of history are reflected in a built environment which, despite some inevitable depredations is remarkably intact. The defensive ramparts are complete and the Barracks, based on a design by Hawksmoor, still dominate the north end of the town although the buildings are underused. The rare Cromwellian Holy Trinity church and the 18th century Town Hall are other notable buildings, but it is the townscape of Berwick that really excites: densely packed streets on a steep promontory site, contained by the walls and embraced by the Tweed estuary and the North Sea. There are streets of handsome Georgian houses, ice houses for the salmon trade, a working port, bridges, lanes and tunnels.
Following the Act of Union, a royal charter granted Berwick-upon-Tweed special constitutional status, which was not rescinded until 1835. But, as Menuge and Dewar point out, political independence had the effect of excluding Berwick from the administration of Northumberland and Berwickshire: the town's status as a centre for civic, commercial and cultural life suffered as a result and this was reflected in decades, indeed centuries, of relative demographic and economic decline. Despite its romantic past, Berwick in the late 19th and early 20th centuries was a workaday place: a small port, a market town and a centre of rural industry. Tweedmouth and Spittal developed as industrial suburbs on the south bank of the river. Tweed Dock opened in 1875, while Spittal Point was home to a selection of malodorous industries: a gasworks, a vitriol manufactory and four chemical manure works. All this within a few hundred yards of Spittal New Town which, after a short career as a spa, developed into a modest suburb and a small resort.
By the 1970s the historic heart of Berwick was in a state of decay, reflecting a fragile economy and a static population. Suburban expansion continued and demand for homes within the walled town diminished. By the end of the 20th century out-of-town supermarkets were capturing trade from the high street, resulting in store closures and a move downmarket into value retail even before internet shopping began to bite. These trends can be observed almost everywhere, and they are certainly not unique to Berwick. But they are felt particularly keenly by people living in a town a long way from any other settlement of significant scale. There is a keen sense that something important has been lost and that quality of life is being diminished. Some claims about the extent of deprivation in modern Berwick are exaggerated, but there are pockets of poverty and the local economy is based on low-skill, low-wage jobs. Relatively wealthy retirees, long distance commuters and visitors shore up the local income base.
Anyone visiting Berwick today cannot help but notice its ragged edges. Prominent buildings are inadequately maintained and, in some cases, at risk; some streets wear an air of neglect. But, overall, a great deal has changed for the better and, for all the challenges it faces, the town is in visibly better heart than it was a generation ago. Successive English Heritage/Historic England grant schemes have restored dozens of key buildings in the conservation area, with work now under way on the near-derelict Cowe Buildings. The Berwick-upon-Tweed Preservation Trust's restoration of the Dewar's Lane Gallery to create a youth hostel and a gallery has been a brilliant success. Berwick Workspace, an award-winning design by Malcolm Fraser Architects, opened in 2008 and a smart new office building by Ryder Architects is on site in Walkergate. As market confidence slowly recovers a number of small residential developments have been inserted into gap sites in the old town.
Berwick's cultural life is thriving too. The Maltings is a remarkably successful arts centre which offers an annual programme of 500 events, workshops and screenings and sells more than 60,000 tickets every year, evidence of strong customer loyalty in a town of 12,000 people and its rural hinterland. The annual Berwick Film & Media Arts Festival is preparing for its 12th edition in September, with a unique mix of feature films, commissions and video art installations in historic sites around the town centre; it has established an international reputation. Berwick Visual Arts organises a year-round programme of exhibitions and events. The town is also home to some distinguished artists, designers and makers. The brilliant Berwick Food & Beer Festival which, like the film festival, is entirely the creation of entrepreneurial locals is another annual fixture. In response to these and other developments there are signs that a new economy is emerging: the main street, Marygate, continues to struggle, but Bridge Street offers an interesting mix of speciality shopping and food. Attempts to establish a high-value visitor economy based on Berwick's history have proved problematic, with businesses struggling to cross the threshold of viability, but positive progress is being made.
All this should be cause for, at the very least, qualified celebration, but the feelgood factor is notable by its absence. Berwick is a remarkable place where extraordinary people are making great things happen, but it is also complicated, difficult and sometimes dysfunctional. The town's long struggle to find a sustainable economic role has been made more difficult by a spectacular breakdown in local governance. Infighting, personal acrimony and endless conspiracy theories have plagued the Town Council for years. 2015 was a particular annus horribilis: the County Council pulled the plug on funding for the town's Portas Pilot following a police investigation into fraud allegations; a town councillor received a police caution after admitting daubing obscenities on a political rival's business premises; and the County Council's Standards Committee found that another town councillor had, among other things, bullied the Town Clerk. There are many more lurid stories and the turmoil has provided plenty of entertainment for locals and endless copy for the Berwick Advertiser, but in truth the effects are anything but amusing. Local politics are conducted in an atmosphere so toxic that good people with a huge amount to contribute have been driven out of public service, understandably unwilling to expose themselves and their families to the bile and intimidation. A corrosive nihilism prevails: every decision is problematic and everyone's motives are suspect.
Apart from the impact on the lives of those most directly affected, it's hard to gauge how much impact all this sound and fury has had on regeneration efforts in Berwick. Things still get done, with or without the support of the town council, but how many opportunities have been lost or delayed unnecessarily? Northumberland has been a single tier local authority since 2009 when the underperforming Berwick Borough Council was wound up, and the Town Council has few powers and limited influence. With some justification people in Berwick feel remote from the local and regional seats of power, but the relentlessly negative tone of public debate is not doing the town any favours. It's also been the default position for far too long, giving the town a reputation as a place where it's hard to get things done. This meant that Berwick missed out on funding opportunities in a time of relative plenty and it has been paying the price in the age of austerity.
Artists, entrepreneurs and developers continue to be excited by the opportunities that Berwick presents, but economic and market conditions remain challenging. At the risk of stating the obvious, local representatives need to abandon their oppositional posture and start to make a positive contribution towards a strategy for the future, drawing on the knowledge and creative ideas generated by a series of excellent and unjustly neglected studies and reports commissioned in the past decade. Work on a Neighbourhood Plan, long discussed and much delayed, resumed earlier this year. It could be a good place to rediscover the virtues of civility and rational debate.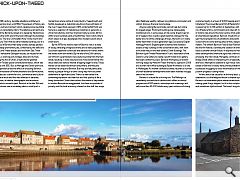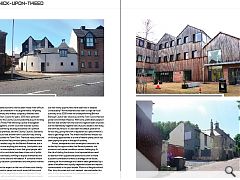 Back to July 2016