Design Pop-Up
15 Jan 2015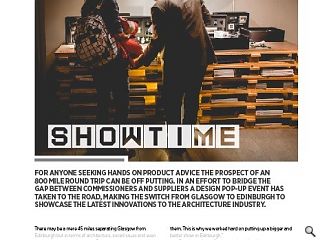 For anyone seeking hands on product advice the prospect of an 800 mile round trip can be off putting. In an effort to bridge the gap between commissioners and suppliers a design pop-up event has taken to the road, making the switch from Glasgow to Edinburgh to showcase the latest innovations to the architecture industry.
There may be a mere 45 miles separating Glasgow from Edinburgh but in terms of architecture, social issues and even sport they remain poles apart. One area where there is some degree of commonality is design and it is here that Double S Events have helped bridge the divide after hosting two separate but intrinsically linked design pop ups in both. It is a tale of two cities to which Sara Seravalli, founder of the events firm, had to adapt quickly having only just made the move from London.
Commenting on the evolution of the show Servalli said: "Glasgow for me was a test event, I had just moved from London and wasn't sure how the A&D community in Scotland would react to my ideas, so I started small and easy and realized very quickly that architects and designers here are eager to get involved and are excited about having events organized for them. This is why we worked hard on putting up a bigger and better show in Edinburgh."
Cognisant of significant shuttling of architects between each city Seravalli ensured that a different group of companies were brought on board to prevent the product selection from going stale. Equally however there was pent up demand from architects less willing to hop down to the capital. "Not every practice and architect can afford to travel to London to visit the shows, besides architects and designers in Scotland are getting incredibly busy now so it's the companies that need to make an extra effort to reach out to them," remarks Seravalli.
One area manufacturers were keen to sound out potential clients on was acoustics, a discipline which is becoming increasingly important in space planning. Seravalli noted: "We had a CPD organized by BENE and Source Developments that was sold out and a few products on display like Bene's Toguna piece and the new acoustic panels by Friends of Wilson that attracted a lot of attention. Feature walls and floors are also something designers are working on and the new Domus Tiles' Kaza collection or the Milliken's 'Rogue Knit' were indeed very popular."
Of course the key benefit of getting involved with such a project is to physically showcase new designs, imparting qualities of texture, scale and sociability which still remain impossible in the digital realm. Seravalli noted: "One of Domus Tiles' bestsellers just now is the Industrial Magnum tile that measures 3000x1200mm: it's really impressive but it needs to be seen full size to really appreciate its incredible potential. Or the new Bute Fabrics' Tutti Frutti collection: it's only when you see it upholstered on a piece of soft furniture, that you fully enjoy its beauty."
One of those in attendance, Joyce Main, regional sales manager at Milliken, commented: "The opportunity to see, touch and feel products has never been more important. Where colour is critical, such as with Milliken's flooring ranges, designers and architects really benefit from seeing the true colours and the end result when combined with texture, this is something that's difficult to replicate on-screen. What's more events like #DesignPopUp also provide a relaxed environment where dialogue can be struck up between manufacturers and architects enabling us to respond more meaningfully to their requirements."
With the great recession receding into memory, and with it an aversion to risk, are clients now prepared to take a punt on more creative solutions and new technologies? Alison Kitchingman, director of marketing & design at Milliken responded: "We are producing our broadest colour palette to date across all our new collections and are interested to understand whether, coming out of recession, there is a greater desire for brighter and more adventurous colours. We feel it's important to offer as much choice within our collections as possible, so that specifiers can choose from vibrant and vivid colours as well as subtle and muted neutrals. If the choice is provided by manufacturers, designers then have scope to provide what their clients' need. We aim to offer the 'building blocks of colour' that can become a powerful design tool for architects and designers to create a unique interior whatever the requirements."
Main added: "In speculative buildings, the developer may need to be fairly conservative and 'play it safe' with a design and colour scheme to appeal to as wide an audience as possible. However they will often use more experimental colours within an interior to add interest or define an area."
Another key aim of the event was to wrestle free of the stranglehold London presently exerts upon the wider design community, sparking a counter effort to encourage adoption of new products and creative solutions beyond the M25 belt. Kitchingman said: "With the strongest economy of any city in the United Kingdom, outside of London, Edinburgh is a city to be taken very seriously. At Milliken we believe that bringing our product developments to Edinburgh is extremely worthwhile and value the opportunity to connect with the extraordinary range and quality of architecture and design practices in this vibrant and prosperous city."
Scott Murray, technical sales director at Artemide, added : "When it comes to demonstrating the quality of lights hand (and eyes) on showcases are the best means of demonstrating lighting prowess in Murray's view. He said: "Seeing the product in the flesh is invaluable, it gives designers are architects the chance to feel the materials, see the quality of a particular light in all its nuances and complexities; we believe the innovative features of our products are better perceived when seen and tested, as their quality really stands out. The ability of giving CPDs is also really important, as it gives architects the chance to discover more background on the Artemide brand to in-depth information on the latest technology used in our lights."
Murray adds: "London exhibitions rarely benefit the Scottish market. Geographically speaking, local exhibitions are a lot more relevant. We can connect with the local design industry and create meaningful relationships with the A&D community, which is a vital part of our profession. Both Edinburgh and Glasgow shows were positive experiences, and qualitatively comparable. The local design industries were equally enthusiastic at both events, but naturally different in scope and relevant projects."
Ken Binnie, sales representative from Allgood, had a different priority for the show, being particularly keen to showcase a range of 3d model prototypes demonstrating the firms strength in manufacturing bespoke designs. He said: "We have seen an increase for this requirement, particularly on oversees hotel projects where clients are looking for a unique signature on their projects. Furthermore we showed our 'Contego' anti-microbial range of hardware which is made from a unique copper alloy and has the look of stainless steel. This was met with enthusiasm from healthcare clients where infection control is a requirement.
"Another talking point was our 'Sesame Stairs' system from Allgood Trio, which we showcased on video. This is an innovative system that ensures access for all whilst providing a discreet and aesthetically pleasing solution. It has proved popular with conservation officers, where a solution for accessibility is required on a listed building, the original steps can be used and incorporated into the design, thus giving the appearance that the lift isn't there at all!"
Whilst acknowledging the need for a greater regional focus Allgood were keen to stress that this shouldn't come at the expense of bashing London, to which they take pride in their historical connections. Binnie said: "We are a global company with roots in London, a critical market to us. Regardless of how you may feel personally about London, our industry needs a commercially strong and vibrant London. However it's really important to have local coverage, our customers are important to us regardless of where they are. Also I felt there was a real synergy between our partners at the event, appreciating the importance of why we were there."
An embrace of hands-on product showcases is becoming all the more important in the digital era, particularly as an aversion to risk gives way to investment in new technology following the recession. It is a trend that looks set to continue when the Design Pop-Up roadshow rolls into Aberdeen on March 2015 before returning to the city where it all began, Glasgow, in June 2015.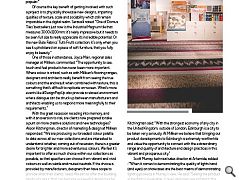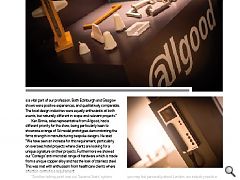 Back to January 2015