Aberdeen
15 Jan 2015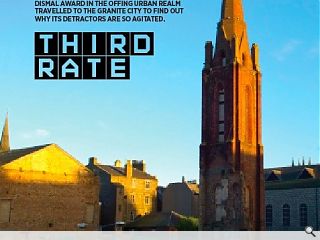 The central belt has long monopolised the Carbuncle awards but when Aberdeen was shortlisted it proved that even the richest corners of the country aren't exempt. With the threat of a most dismal award in the offing Urban Realm travelled to the granite city to find out why its detractors are so agitated.
Of all the nominations for this year's Carbuncle Awards few had the resonance of Scotland's third city, Aberdeen, which found itself subject to much soul searching when news broke that it was in line to pick up the infamous Plook on the Plinth award. Despite being awash with oil money Aberdeen stands apart from it contemporaries due to a particularly dismal approach to architecture and planning, exacerbated by cack handed missteps such as the Union Terrace Gardens fiasco and an embarrassing City of Culture 2017 bid which saw the city overtaken by the likes of Dundee, Leicester, Hull and Swansea.
Such stumbles are hard to square with the rich granite heritage that lends Aberdeen a solid if dour demeanour. Sadly, there is little of note built in the modern era that does justice to this legacy with durability and sustainability sacrificed in favour of flimsy, throwaway buildings now going up across the city. Serious questions nust be asked of the planning department, which appears to simply rubber-stamp the schemes put in front of them. There is almost an attitude of 'anything goes' as long as the good times roll.
Succumbing to the ease of a quick buck the city centre has imploded, sucking shoppers, investment and business activity into covered malls such as Union Square, Bon Accord and St Nicholas Centre and drawing the life out of the surrounding streets. The first impression on coming into Aberdeen train station is of an airport arrival hall. It's a sterile, generic and air conditioned landscape which says nothing about the city and its heritage. These ills are most evident in the mile long artery of Unuin Street in Aberdeen city centre, now a pale shadow of its former glory. in lieu of department storesyou will find decay, litter and charity shops jostling for position, not to mention the wasted opportunities presented by the likes of Broadford Works.
Commenting on Aberdeen's nomination and the stushie it provoked, Urban Realm editor John Glenday said: "The Carbuncles are provocative, necessarily so. Too often our built environment is ignored or neglected and these awards serve as a wake-up call to address issues which are more easily swept under the carpet. The problems affecting our towns are real and will not be solved by continuing to ignore them, only by shining a spotlight on these issues can we hope to right them.
"Whilst debate can be polarising it is also a vital release valve for many communities whch have suffered years of prevarication and inaction on the part of their elected officials, developers and others. The Carbuncles are a cathartic tool giving the disaffected a voice to effect change."
Into this morass stepped professor avid McLean, head of the Scott Sutherland School of Architecture and Built Environment, who wades into the debate to criticise the nomination as "… a crude kind of naming and shaming that offers little that is constructive" whilst acknowledging that "… provocations such as this are generally borne out of a desire for an increased quality in our living environment, and that is undeniably a laudable aspiration."
Referring to 'deep-seated acrimony' within the city McLean fears that the intervention may prove counterproductive in the face of political impasse but conceded: "What we do need to heed is the external perception of the city that this situation demonstrates. For perception, as the adage goes, is everything. Whether or not Aberdeen is the most dismal town in Scotland is a moot point. Personally, I believe this title would be undeserved, but I would equally wish to qualify that position."
Here McLean gives voice to the apparent dichotomy of a 'prosperous city' suffering from an 'impoverishment of investment and ideas.' He wrote: "If Aberdeen's ambition is to be credible as an international hub and urban destination in the 21st century, then we must benchmark our city against the very best across the world. That is the only reference point worth considering. It follows, therefore, that what we do with our city must also be acknowledged further afield as the being of the highest quality. Perception is everything. That is the learning from this 'contest', irrespective of its sensationalist tendencies."
Someone more aware than most of the issues facing the city is Colin McColl, himself a former Carbuncles judge, who observed: "I have lived and studied architecture in Aberdeen and practiced architecture in Aberdeen and London.
Firstly it is sad to see my home city on the nominees list. Secondly, and importantly the nomination must be seen as an opportunity to raise the level of debate on what we can collectively do to realise a framework for a 'better' place to live.
"This is not a linear path, and there is no panacea to fix all ills. Strong town planning policy must be backed with vision. Long gone are the days of a city architect, however the council and councillors need to understand how and what is working elsewhere. This is a process that needs forums to support and engage both lay and professional people.
"All towns and cities evolve, this is granular and long term - it is not achieved by sweeping ideals. Aberdeen missed, to a large extent, the blight of mid-century tower block and although we have lost the way over recent times it can recover. There are numerous global examples of this which can be learnt from (but not copied or pastiched).
"The recent appointment of BDP and public consultations on the shaping of the city centre are the first positive steps toward the next policy chapter - but it needs combined support by all.
"It will not get it right all the time, however it is important to realise and embrace this and keep learning.
"The urban realm is a place where people need to feel supported in whatever they need to do, it is complex, rich and necessarily diverse. The spaces 'between' stitch us metaphorically and physically together. We cannot lose sight of this fact.
"Even if the Plook on the plinth arrives on the doorstep I believe that Aberdeen is, maybe belatedly, once again waking up to its possibilities and potential."
Despite its financial riches Aberdeen has become the poor relation of the Scottish cities. It has been left behind by the likes of Dundee, which has made huge strides to transform its waterfront and create a new name for itself. Many cities would kill for the advantages that Aberdeen has but it has squandered those opportunities. The time to turn things around is now, while the money is still there. In a few years' time it may well be too late.
It's not all over yet however and Aberdeen is facing some stiff competition from the likes of Greenock, Leven and Maddiston for the honour. Nominations for the Carbuncles remain open until the end of the year with the winner set to be announced at the end of January.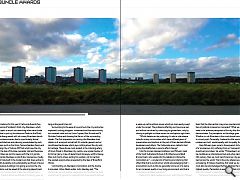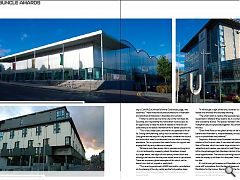 Back to January 2015