North Glasgow
|
Send to friend
13 Jan 2014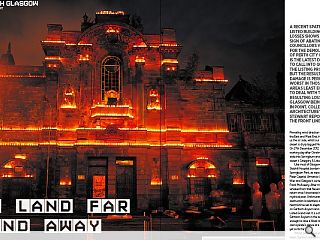 A recent spate of listed building losses shows no sign of abating with councillors voting for the demolition of Perth City Hall. It is the latest decision to call into question the listing process but the resulting damage is perhaps worst in those areas least equipped to deal with the resulting loss, North Glasgow being a case in point. Collective Architecture's Chris Stewart reports from the front line.

Prevailing wind direction gives Glasgow the East and West End, the Clyde gives us the so' side, whilst our largest urban desert is dryly tagged North Glasgow. On 27th December 2012, the first working day after Christmas, the Grinch stole into Springburn and took the desert's Category A Listed Public Halls.
Like most of Glasgow I was born in Stobhill Hospital, bordering the oasis of Springburn Park, as were local celebrities Peter Capaldi, Armando Ianucci, Molly Weir and Glasgow's current bike tzar Frank McAveety. After my birth I was whisked from that Neverland, only to return once I discovered the desert's mythical past. Unfortunately the destruction is relentless and the Grinch has this time set its kleptomaniac sights on Gartloch Asylum and its Category A Listed Grand Hall. It is a stretch to place Gartloch Asylum in the desert but close enough to raise a Hook-like eyebrow and cast a pirate's glance at a land so near yet so far far away.
Whilst perhaps not at the northern heart, Gartloch shares much of its myth. Providing the setting for the BBC drama 'Taking over the Asylum', the mad towers have been crumbling for years. With the fictional nom de plume St. Judes (patron saint of lost causes), a long running planning application for its demolition was granted by the Grinch last September. Demolition is a thriving business in Glasgow with multi-storey flats highest on the agenda, let's hope this unique 20th century typology is not lost and we can look forward to the turn of the Wimpey 'Noddy' house. The treatment of Springburn seems closer to demolition genocide; summed up by the condemned housing complex Red Road Flats, cleverly over clad in asbestos.
All roads lead to Rome but all trains lead to Springburn. Its start as a small rural hamlet was originally transformed with the establishment of a chemical works by Charles Tennant, with the non fictional nom de plume St. Rollox (patron saint of skin conditions), the perfect place to manufacture his new invention, bleaching powder. Charles is now buried in the Necropolis, next to St. Mungo (patron saint of Glasgow), so as to overlook the contaminated site and contemplate the tree that never grew and the fish that never swam, while awaiting the birth of Natural Capitalism.
What St. Rollox (also patron saint of knee problems and diseased cattle), did achieve was give reason for a rail network to be laid into the City from the North. This was added to by the Edinburgh and Glasgow Railway, the City Union Line and the Hamiltonhill Branch Line; these umbilical cords thus giving birth to the North British Railway, Caledonian Railway and Atlas Works. These powerhouses would eventually produce 25% of the entire global manufacture of railway engines and found Locomotive City.
In those days steam was king and Springburn was unable to adapt to subsequent coronations of diesel and electricity, the industry declined. Unlike its ugly big step sister shipbuilding, the locomotive industry was forgotten and left to tend the cinders. Its one time grandeur tattered to rags, where once industry attracted industry, poverty attracted poverty, like a diseased carcass. Misplaced do gooders with their Bruce Plan and Corbusian ideals, saw an opportunity to dip their hooked beak into the rotting flesh. Plans were tabled for the circling of Glasgow with a new inner ring road, potential inspiration for the child who never grew up and the drunk who never sobered up, fortunately these plans were shelved. This happy decision unfortunately did not extend to Neverland and St. Bruce (patron saint of egos), managed to designate Locomotive City as a "Comprehensive Development Area"; demolition of 85% of all the buildings followed along with the construction of a series of foul housing estates, to the vision of the White Knight. If this was not enough, salt was trod deep into the ground with the construction the A803 Springburn Expressway, so Locomotive City would never rise again and petrol was the true king.
It is said you die twice; the first when you leave the mortal coil and your body is left to decay, (apologies for potential metaphors comparing urban rebirth and reincarnation but this is a sad carol and the ending is still not clear); the second when you are forgotten and your memory no longer exists. The Springburn Museum was closed in May 2001 and with it the Ghost of Christmas Past. Not so, a new Ghost has emerged - currently the most used internet search term in Scotland is dear old 'Locomotive City'. Social media is awash with memories, from tattie fritters and dirty faced workers to Victorian splendour, maybe as a result of the one time ghettoisation of Springburn and the exodus of its people.
Tales tend to be morbid and unpleasant, such as in 'Red Road' the 2006 winner of the Cannes Film Festival by Andrea Arnold. A depressing story of voyeurism, bad memory and vengeance, enhancing the reputation of St Bruce's legacy to fever pitch. Unfortunately when it was thought things could not get worse, sadly in 2010 three asylum seekers jumped to their death, sparking a series of more positive contributions from the community. Such thoughts could be considered hypocritical, unlocked barn doors left open for straying guests, although I would welcome anything positive from the mind. The 'Multi Storey' exhibition at GOMA / YMCA (2004 - 2010), Your Stories (2010) and This Road is Red (2012) by Alison Irvine are all good examples.
So often it is left to artists to sprinkle fairy dust, the first in my memory and still very present is George Wyllie (1921 - 2012). His best known work, 'Straw Locomotive' was built in Springburn before being escorted through the streets to be held aloft by the Finnieston Crane, emulating the real locomotives who enjoyed a similar coming out before being shipped to the four corners of the globe. It was then subsequently ceremonially burnt to reveal 'scul?ture'. One artist group managed to bring the plight of both the Springburn Public Halls and Winter Gardens to attention as part of 'the partnership fund' Glasgow 1999. Heisenberg and its principle of uncertainty states that the act of observation distorts that being observed, a good reason for Dan Dubowitz and Matt Baker to take a closer look at the precarious position of these two structures, in particular their photographs of the Public Halls shrouded in candles make it appear like a corpse dressed for its funeral.
To say North Glasgow is the land that time forgot is not entirely true, as a few handsome royal siblings have come forth. The Beauty and the Beast that is Glasgow City Council did venture forth with a gallant effort to bid for the 2018 Youth Olympic Games, bringing forward the redevelopment of Sighthill. Its Cemetery remains as one of the high points of the North, with the main protagonists of the radical war - including Hardie and Baird - buried there. Other high points include North Glasgow College by RMJM and the 364 feet high drumlin Balgary Hill home of the magnificent mirage Springburn Park, a little known extravaganza which really is the park which time forgot.
Of the handsome princes and charming princesses to come forth, Paul Sweeney of Save Springburn Winter Gardens and Patricia Ferguson their tireless MSP have been chopping down most of the thorny undergrowth. The target of their struggle is the Winter Gardens completed in 1900 in return for the Reid family's donation of the ill fated Public Halls. The largest single span glass structure in Scotland, it has lain derelict for 30 years with numerous attempts to magic it into a different use, the most notable failed fairy godmother being Page and Park's multi-functional community space come catwalk. Our latest heroes have managed to strike an early blow by appealing to Glasgow City Council's generous spirit and like an awakening Scrooge they bestowed a princely sum of money to clear away the worst of the decay. Salutations go out to the Parks Department with an understanding that not through a glorious grand plan but through small thoughtful steps the Winter Gardens could be saved.
This philosophy has been picked up by Glasgow Institute of Architects, in the first instance through a community consultation event as part of Doors Open Day. The public were asked if they had any free time what might they do to help, in a week, a month or a year; their willingness was overwhelming. These thoughts are being gathered by the G.I.A. and with the support of Glasgow City Council a realistic design competition will be launched early in the new year.
In tandem, Save Springburn Winter Gardens are making the necessary moves to consolidate their organisation in readiness. It will not be ticking crocodiles, giant beanstalks nor poisoned apples our heroes will face but as any bottled genie will tell you, each journey begins with the first step, Save Springburn Winter Gardens have taken their second.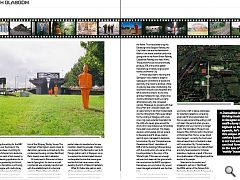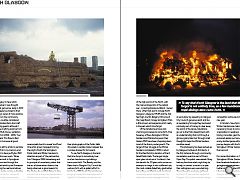 Back to January 2014