ECCI
|
Send to friend
13 Jan 2014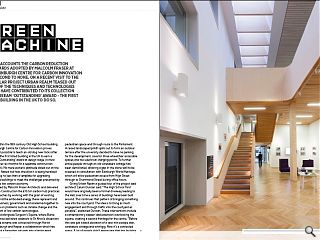 By all accounts the carbon reduction standards adopted by Malcolm Fraser at the Edinburgh Centre for Carbon Innovation are second to none. On a recent visit to the exemplar project Urban Realm teased out some of the techniques and technologies which have contributed to its collection of a BREEAM 'Outstanding' award - the first listed building in the UK to do so.
Housed within the 18th century Old High School building The Edinburgh Centre for Carbon Innovation proves that it's still possible to teach an old dog new tricks after becoming the first listed building in the UK to earn a 'BREEAM Outstanding' award at design stage (it must wait a further six months for a separate construction assessment). No mere esoteric platitude doled out on the whims of a flawed tick-box checklist it is being heralded as providing no less than a template for upgrading yesterday's buildings to meet the challenges presented by tomorrow's low carbon economy.
Designed by Malcolm Fraser Architects and delivered by Graham Construction the £10.5m carbon hub practices what it preaches by working with the grain of existing buildings and the embodied energy these represent and drawing business, government and academia together to collaborate on problems such as climate change and the development of low carbon technologies.
Situated alongside Surgeon's Square, where Burke and Hare once delivered cadavers to Dr Knox's dissection theatre, the scheme was conceived through Heriot Watt, Edinburgh and Napier, a collaboration which has transformed a forgotten car park into a landscaped pedestrian space and through route to the Parliament. A raised landscaped plinth spills out to form an outdoor terrace after the university decided to have no parking for the development, save for three wheelchair accessible spaces and two electrical charging points. To further entice people through an old caretakers cottage has been demolished, allowing a gap in the stone wall to be widened in consultation with Edinburgh World Heritage, which will allow pedestrian access from High Street through to Drummond Street during office hours.
Giving Urban Realm a guided tour of the project lead architect Calum Duncan said: "The High School Yard would have originally been a formal driveway leading to the Hall, over time a series of buildings have been built around. This continues that pattern of bringing something new into the courtyard. The idea is to bring as much engagement and through traffic into the courtyard as possible", explained Duncan. These interventions include a contemporary copper clad extension overlooking the square, creating a second frontage for the centre. "Before this was just a back elevation of a cast iron escape stair, caretakers cottage and whirligig. Now it's a connected space. A lot of people didn't appreciate that this building was here beforehand just because it didn't have that presence down Infirmary Street. It's just about doing some simple things like the landscaping, giving it a clear presence and identity. We're working with an artist and sculptor to decorate that outside space", said Duncan.
"We've just tried to make good, decent, flexible open-plan spaces all of which visually track into a central atrium where there are opportunities for break out into smaller groups or informal meetings. Basically the building is all about connecting people together and mixing people up so you've got. All businesses, master students and centre staff. They didn't have a building before, this is their first building."
Internally the space is defined by a full height atrium conjoining the rear elevation of the front building with another historic structure behind. Intent had existed to repoint stonework on this façade to provide some texture but this idea was shelved when the full extent of damage was revealed. Duncan observed: "When we first saw it we appreciated how many times wall and door openings had been moved and filled in with blockwork and brickwork, only a small amount of original stonework remained."
These changes stemmed from a 1900 overhaul when the university transformed the buildings into a new department of engineering, lining interior walls with a glazed brick and laying new concrete floor with a steel frame. "The whole thing was just one big space," recalled Duncan. "A huge crane stretched the full length of this volume and was used to hoist up engines during work."
A positive side effect of all this chopping and changing was that it gave the architects the ability to add new insulation internally, as there were no decorative cornices or other period features to get in the way. Foregoing the use of steel a cross-laminated timber frame was specified from wall to wall to minimise solar gain. Duncan added: "Everything is structural, the only thing which isn't quite what it seems is a central column of plywood, 400mm thick. Structurally it doesn't need to be that size but if ever there was a fire it would char down and that charring would protect it. It actually performs better than steel. In historic buildings timber was a common structural element but nowadays you wouldn't normally think of using timber in the remodelling of an historic building. You would be using steel or concrete."
Plumping for timber wasn't without its challenges however as the chosen structure came with no tolerance at all, "… it was all mm perfect" recalled Duncan. "We were wedging this between two existing buildings."
A series of timber baffles stretch the full length of the atrium's roof, a conscious decision on the part of the designers to limit overheating. "Environmentally I just didn't want this space to be overheated but architecturally you also get a really nice, dappled, diffuse light. Typical atrium buildings are over lit," Duncan explained. "It's always much more interesting to frame something than look at every view that possibly could be. If you come on a sunny day or warm afternoon you just get that glow coming through and shafts of light hitting the walls. It's just more interesting and environmentally you're not making problems for yourself."
Annabel Cooper communications officer said: "I keep coming in at weekends now, it's a nice place to work - you've ruined my life! (pointing at Duncan). It's been tremendous for us because what we do is quite conceptual and it was hard to explain before the building existed but now it's much more tangible. "
Duncan added: "The first thing I grasped in the early days was it wasn't actually about research into carbon, so it wasn't about boffins in white jackets researching. It was actually about communication and the exchange of ideas. That gives you a clear idea about what the building is about."
Not everywhere are the environmental credentials so high however, with restrictions on site necessitating the use of mechanical air conditioning. Speaking above the hum of an ac unit outside one of the main meeting rooms Duncan explained: "There's only roof glazing here, you could ventilate from the roof but on a rainy day that proves difficult. It's sensible just to close it off but mechanical ventilation is kept down to an absolute minimum."
Elsewhere a shopping list of low-carbon add-ons is impressively long, stretching from a combined heat and power system to a phalanx o three letter acronyms such as VOC levels and FSC specification, its location and a lot of else besides which don't really come under BREEAM. Duncan noted: "We didn't get any BREEAM credits for taking bits of steelwork from the old building and re-using those in the new building but it's enormously satisfying. As to whether the scheme will attain its hoped for 'Outstanding' rating for construction Duncan is remaining coy, saying only: "There are critical credits that still could go either way but fingers crossed."
As a template for repurposing redundant buildings ECCI proves that historic building fabric and legacy structures needn't be a hindrance to crafting spaces that are the equal of any new build. With the vast bulk of our present day cities likely to be with us for the next century or more it is a timely reminder that the most innovative and successful designs are often those borne not from blank slates but the rich and complex layering of history.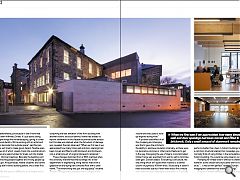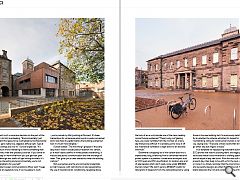 Back to January 2014