St Albert's Catholic Chaplaincy
18 Apr 2013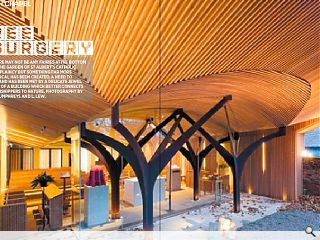 There may not be any fairies at the bottom of the garden of St Albert's Catholic Chaplaincy but something far more magical has been created. A need to expand has been met by a delicate jewel box of a building which better connects worshippers to nature.
St Albert's Catholic Chaplaincy, Edinburgh branch of The Order of Preachers, has been providing an independent chaplaincy service to University of Edinburgh since 1931. Housed comfortably within the drawing room of a genteel 18th century townhouse, distinguished by its beautiful bay window, a small band of Dominican Friars have been kept busy serving a growing influx of Catholic students from abroad.
This demand has necessitated construction of a new chapel to better serve their needs and save hard pressed floor joists from the strain of supporting the feet of as many as 100 worshippers. The cumulative effect of which had been to induce movement in the ceilings below which had loosened plasterwork to a perilous degree. Equally as important was the need to provide disabled access and reinstate an internal wall in the drawing room, removed in the fifties, which now once again delineates public and private spaces.
Describing the Chapel as it was Father Dermot Morrin told Urban Realm: "Initially it was full of tat. Somebody said it was like a chapel in a Greek village. Three Dominicans came here who crafted hand-made chandeliers from odds n bobs found in second hand shops. Sometime in the sixties they stripped everything out so it was just bare boards, off white walls and clear glass. It was like Kettles Yard.
"As time went on people were looking at that Sycamore tree (Morrin gestures out the window to a tree, creaking in the wind) and looking into nature whilst saying their prayers, so the idea of contemplating nature was very much in mind. When we came to design the chapel, we had the idea of building it in the garden and connecting with nature where you can see the seasons, which fits in with lent."
This embrace of nature is no accident as the chapel's patron saint is St Albertus Magnus, a natural scientist from the Middle Ages who would doubtless approve of the green chapel built in his name. Occupying an existing back garden space the chapel sits flush with the boundary wall of an adjacent house. Morrin said: "I call it a garden chapel rather than a chapel that happens to be in a garden. There's continuity with the play of light and simplicity of the front room and the new chapel is equally simple in its own way with a limited palette of materials."
Project architect Stuart Allan of Simpson & Brown added: "The trees almost finished me off professionally. The generator for having the sanctuary at that end was the trees, we wanted to go as close as possible to connect with them and maximise the size of the building but the tree officer was straight onto us with a clipboard and measuring tape. Behind the glass we removed the concrete completely to elevate what was there."
Opened last July the chapel can comfortably seat 150 people, capacity which the Order believe is necessary to cater for religiously minded students. Asked whether the new chapel was drawing in more lapsed Catholics Morrin said: "I think it's certainly true that more people come now, they certainly come to see the chapel but we're not long enough in it to know if those people will stay. A lot of people are religious, despite what people say. They may or may not subscribe to an institutional church but the arrogant dismissal you get that 'this is just rubbish' or speaking of it in the past tense is just not true. More and more it's those people who will be called dinosaurs, it's a pendulum.
Juggling both old and new elements necessitated a quick turnaround so contractors could switch their attentions from one to the other literally decamping to the new chapel overnight. Morrin observed: "People have been coming here for decades and thought they were going to miss this chapel because they were married or christened there, so what we did was have a good celebration to take leave of this place as we left. And it worked. The congregation weren't allowed on site apart from being snuck in on the occasional Sunday so that night when we went down people were 'wow' - even the begrudgors. Suddenly they didn't think about the drawing room at all."
Part of this 'wow' reaction lies in the relative modesty of the approximately £850k build which is barely even visible from the street. It's not until you cross the boundary wall that the chapel fully reveals itself. Only then does the rectangular sedum covered pavilion hove into view, a playful response to brief that hides a series of subtle optical illusions and abstractions from hidden doors secreted within wall cavities to a roof which seemingly levitates above a plate glass sanctuary wall.
This gravity defying act is no miracle but is instead shouldered by four Corten steel 'trees' which sprout directly in front of the real deal, each of which has been textured to a deep dark purple hue that sits well with the seasonal accoutrements which go hand in hand with the Catholic celebration of lent.
Whilst the single glazing limits the energy efficiency of the structure and the decision was taken not to provide direct access to the outside environment from the sanctuary this does provide as direct a link as is possible within these limitations. Remaining elevations adopt a more muscular approach with thick set walls of Hazeldean sandstone (another illusion these actually mask a cavity structure). This use of natural materials extends indoors with extensive use of oak from the flooring and custom designed pews to a ribbed roof which flows around airy skylights.
None of this was a simple matter to effect on such a constricted site, necessitating the removal of a section of wall to allow plant and materials on site, most impressive of which is a solid stone altar which had to be winched in and manoeuvred to its final resting place by hand, its carved cross was then chiselled in-situ. A sense of proportion permeates the build with an attention to detail that assumes more an appearance of a jewel box than a building accentuated by works of art such as a hand carved Flemish Madonna and Child. Indeed Hall went so far as to produce a 'hierarchy of widths' to ensure everything from a timber slatted ceiling to the pews below sat in symmetry.
Simpson & Brown were appointed to the project on the basis of their reputation for steering difficult planning applications through, a reputation which has been bolstered following a marathon two and a half year long battle to obtain the precious consent. One of the many hoops that had to be jumped through was a survey of every available building within a mile of the chapel to rule out any alternative plots or conversions, an exercise which stretched to a 26 page document which confirmed nothing was for sale or was prohibitively expensive - but which allowed planners to say they'd asked.
Part of the reason for this delicacy was that a lot of the parishioners are actually University professors with several architects and developers counted amongst their number, all of whom naturally had favoured approaches of their own. "It's quite an unusual situation to have a congregation with so much say, especially in the initial stages", remarked Morrin. "I didn't think I'd get so involved in it."
Hall added: "I had no knowledge of the Catholic faith at all so at the beginning I was treated with a bit of suspicion but at the end they quite liked it because I didn't come with any baggage or agendas. People in the congregation knew that if they did it it would cause a bit of friction, It was a bit of a hot potato, so I think the decision was to get somebody completely out with the game to do it."
The Dominican motto is to bless, praise to preach and they have certainly blessed Edinburgh with a serene sanctum from the corporate chain stores of Quartermile which lie just across the road. The domestic character of the chapel's situation does leave it adjoining a giant kid's trampoline erected by the family next door, but it is the Dominican Friars who now have a seasonal spring in their step.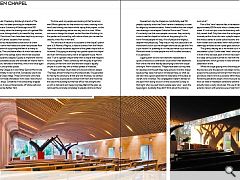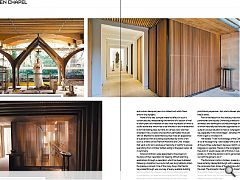 Back to April 2013