Wind farms
30 Jan 2013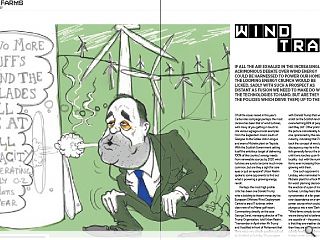 If all the air exhaled in the increasingly acrimonious debate over wind energy could be harnessed to power our homes the looming energy crunch would be licked. Sadly with such a prospect as distant as fusion we need to make do with the technologies to hand. But are they (and the policies which drive them) up to the task?
Of all the issues raised in this year's Carbuncles campaign perhaps the most divisive has been that of wind turbines, with many of you getting in touch to cite various egregious local examples from the Eaglesham moors south of Glasgow to the Sidlaw Hills in Angus and even a Michelin plant on Tayside. With the Scottish Government setting itself the ambitious target of delivering 100% of the country's energy needs from renewable sources by 2020 wind turbines are sure to become much more common, but are they a sight for sore eyes or just an eyesore? Urban Realm spoke to some opponents to find out what is powering a growing energy revolt.
Perhaps the most high profile critic has been one Donald Trump who is bidding to thwart moves by the European Offshore Wind Deployment Centre to erect 11 turbines within clear view of his Menie golf resort. Commenting directly on the case George Sorial, managing director of The Trump Organisation, told Urban Realm: "I remember in April when Mr Trump and I testified in front of Parliament that there was a very simple question put out by Scotland on Sunday. 'Do you agree with Donald Trump that wind farms are a blot on the Scottish landscape?' An overwhelming 83% of people surveyed said they did". Other polls have muddied the picture considerably however with one, sponsored by the renewables industry, indicating that 72% of adults back the concept of wind power. This discrepancy may lie in the fact that most folk generally favour the development until it encroaches upon their own locality - but with the number of wind farms ever increasing those numbers are growing with them.
One such opponent is George Lindsay, who nominated his local Michelin plant for a Pock Mark award for worst planning decision following the erection of a pair of massive urban turbines. Lindsay fears that they are symptomatic of a far greater danger, over dependence on a temperamental power source which could, literally, plunge us into a new 'Dark Age'. He said: "Wind farms simply do not do what we are being led to believe that they are capable of – the principle problem is that they are weather dependent, then they are expensive (requiring high subsidy levels). They benefit largely foreign owner companies (who make and build the turbines – we do not make any commercial sized wind turbines in the UK). They require almost 100% conventional generation backup (hence doubling the capital cost of generation equipment), and they are low density power generators (requiring huge tracts of land per unit of electricity generated).
This sentiment found echo with Sorial who has been immersed in the cut and thrust of Scottish politics to fight Trump's corner. He said: "What Alex Salmond and the SNP government are doing is converting portions of beautiful countryside into industrial parks. The term wind farm itself is misleading, it's not a farm, it's an electrical power plant. They're ugly to look at and they create a whole variety of problems whether its sound or shadow flicker.
"If you look at how these applications go through the planning process it's almost as if they're rubber stamped. Every single council in Scotland is inundated with wind applications – some Council's have thousands of them. They're under tremendous pressure from the Scottish Government to push them through. There are no standards. You have proposals for massive turbine installations are put in beautiful sensitive areas and from start to finish it's a three or four month process. Then it ends up on Fergus Ewing's desk and he gives it a rubber stamp. There are hundreds of examples of this all around Scotland, so much so that I know Aberdeenshire Council's chair of infrastructure services has already asked for a moratorium on further turbine developments."
Giving a taste of the sort of political headache which could be heading Salmond's way Jane Brewster nominated a new development in the Sidlaw Hills, saying: "This would be the first wind farm proposal for the Sidlaws, on a much loved heather hillside rich in biodiversity. It has decimated the site with vast tracks, crane pads and turbine bases, destroying habitat for deer, short eared owls, peregrine falcon and grouse – to name a few inhabitants. It would be clearly visible from most of Angus and is being built too close to homes, 724m being the closest and will spoil the residential and recreational amenity of local residents and visitors."
But isn't there a desperate need to take drastic action now to mitigate the worst effects of climate change? Sorial has an answer for this too: "We support renewable energy but renewable energy that works. Wind turbines are nothing new. They've been in use for decades and they have failed in every part of the world where they were constructed. Thirty years ago the State of California invested tremendous amounts of money in building massive wind energy plants and they've all failed. If you go to a place like Palm Desert you will find literally hundreds of abandoned turbines. They don't work because the economics of them don't work; they are totally dependent on subsidies. When you take away the subsidy, you take away the turbine.
"It's inefficient, costly and driven largely by subsidies. You are paying for this experiment. The Scottish Government talk about wind farms creating jobs but it's really a false economy because it's a job that isn't created by growth or innovation; it's a job that is created by allocating tax money to it. If a business spends more than it's going to earn in revenues then it's going to collapse. The US Congress is considering ending subsidisation of wind and as a result the whole industry is collapsing, they are laying people off in the tens of thousands, because without that government hand-out the entire sector fails.
"If the technology was as effective as its proponents make it out to be then let the industry survive on its own. This is not a new fledgling technology, this is something that has been around for decades and the sector hasn't been able to make it work. If the product is as great as Alex Salmond says it is then end the subsidies and let the sector stand on its own two feet."
Citing one excessive development in the North East by way of example Sorial recalled how a 230ft turbine was constructed next to a fairway at Royal Aberdeen. It caused outrage amongst the global golf community and Sorial is convinced it will directly lead to a decrease in tourism as people vote with their feet and travel elsewhere. Sorial opines: "There are many industrial areas, if the First Minister feels so strongly about turbines then he should limit them to where there is existing industry.
"We've spent a fair bit of time networking with Members of Parliament in London and they're going through the same fight. There are a growing number of Parliamentarians who are looking to end subsidies and that voice is getting louder. Obviously Scotland is a little more challenging but I think we are going to see some major changes coming out of London and it's going to put more of a spotlight on how ridiculous some of the First Minister's proposals are.
"Alex Salmond has his own agenda to make Scotland independent in 2014, a major component of his economic plan is predicated upon the success of these wind turbine applications. In order to fill the huge gaping holes in his budget for an independent Scotland he's no choice but to rely on the construction of thousands more turbines. I've spoken to a lot of Councillors and MSPs who are SNP and privately they express their disagreement with the First Minister, even if they don't come out and say it publicly. I think the next two years for Scotland on this issue and independence will be a very interesting time."
What is clear is that the opponents of wind energy are no longer tilting at windmills and their growing political clout may begin to take the wind out of the sails of the government's seemingly voracious drive to erect ever more and ever larger turbines. The consequences of this extend far beyond energy policy and while wind is undoubtedly an integral part of our energy mix the decision to shun nuclear and fossil fuel sources may be limiting our choices to a handful of overladen baskets. As Salmond's coveted 2014 referendum approaches the First Minister may find himself treading on egg shells.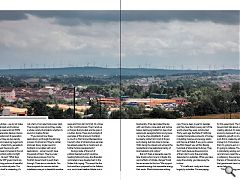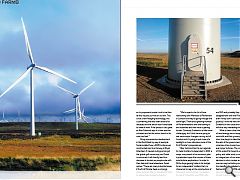 Back to January 2013