Ibrox
30 Jan 2013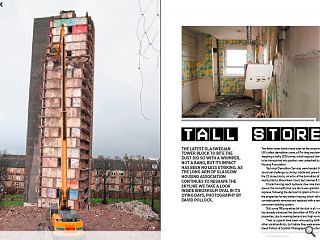 The latest Glaswegian tower block to bite the dust did so with a whimper, not a bang, but its impact has been no less striking. As the long arm of Glasgow Housing Association continues to reshape the skyline we take a look inside Ibroxholm Oval in its dying days. Photography by David Pollock.
Two Ibrox tower blocks have been on the receiving end of the UK's tallest demolition crane, a 67m long mechanical claw weighing a hefty 200 tonnes, which required three low loaders to be transported into position, was unleashed by Glasgow Housing Association.
Technical Demolition Services were handed the complex structural challenge to chomp, nibble and gnaw its way through the 22 storey blocks, an echo of the demolition of three similar nearby blocks, Broomloan Court, by Coleman & Co.
It took the long reach hydraulic claw nine months to devour the monoliths but one block was granted a last minute reprieve, following the decision to splash £7m on renovating the properties for key worker housing, which will see original concrete panels removed and replaced with a render and rainscreen cladding system.
Still, some 198 properties bit the dust in all, in an area which has already witnessed the demolition of 100s of tenement properties, due to waning demand and high running costs.
Their occupants have been rehoused by GHA and other social landlords, but before they were erased forever David Pollock of Scottish Photography Productions was commissioned to document that which remained.
This is what he saw.
Back to January 2013