Gartloch Hospital
16 Jan 2013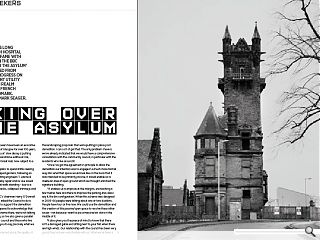 At the start of ts long slumber Gartloch Hospital rose to national fame with a starring role in the BBC drama 'Takin Over The Asylum' but has since faded from view. To assess progress on its more permanent utility as housing urban realm paid a visit to the french renaissance landmark. Photography by Mark Seager
Gartloch Hospital's crumbling towers have been an evocative feature of the eastern outskirts of Glasgow for over 100 years, but a protracted quarter century of slow decay is putting some elements of the majestic sandstone edifice at risk, most notably the grade A listed Great Hall, now subject to a demolition application.
Developer New City Vision plans to spend £95k clearing the site to make way for landscaped gardens, following an inspection conducted by consulting engineers T. Lawrie & Partners which concluded that any repair and re-use would effectively leave just the external walls standing - due to a range of defects such as lintel cracks, collapsed chimneys and deteriorating stonework.
Justifying the demolition NCV chairman Harry O'Donnell told Urban Realm: "What we've asked the Council to do is give us the decision in principle to support the demolition of the Grand Hall. Yes, we're prepared to acknowledge that you want a proper landscape scheme there, we're not talking about building another building, so I've also given a parallel commitment to the community council and those who live around it to say I'll consult with you to say precisely what we do with that open space.
"The Council seem very concerned about the quality of the landscaping proposals that we're putting in place post demolition. I can sort of get that. The only problem I have is we've already indicated that we would have a comprehensive consultation with the community council, in particular with the residents who live around it.
"Once I've got the agreement in principle to allow the demolition our intention was to engage in a much more formal way into what that space would look like on the basis that it was intended to be primarily passive. It would enable us to create an area of open ground which we thought enriched the signature building.
"It enables us to improve at the margins, encroaching a few metres here and there to improve the parking and, dare I say it, the bin configuration. When this scheme was designed in 2005-06 people were talking about one or two dustbins. People have four or five now. We could use the demolition and the creation of this passive/open space to resolve these other issues - not because I want to put a massive bin store in the middle of it.
"It also gives you the peace of mind to know that there isn't a damaged gable end sitting next to your flat when there are high winds. Our relationship with the council has been very good; they've been very flexible with us. What we've been a wee bit disappointed about in the past couple of months is that the focus on not giving us the authority or permission to demolish the building before they're satisfied entirely with the quality of the landscape scheme. We're saying that the two things are linked. Once you agree the principle we then have this commitment to engage with the community and ensure there's something with the quality that they want.
"It just doesn't make any sense to retain the Great Hall - its commercial suicide. If you're on the second or third floor of the main tower building looking out you see the building. Once it comes down you see the loch but because the twin tower building is such an expensive building itself to develop we were actually hoping that some of the enhanced views over the loch would limit that cost value deficit."
O'Donnell suggests that the market has collapsed by as much as 30-35% in terms of the value his firm can get per square foot at Gartloch and the value of flatted properties is actually down even more precipitously (around 50%) from what it was at the height of the market. Indeed O'Donnell states apocalyptically that 'the [flats] market across Glasgow as a whole is completely wiped out'.
Outlining his own proposition given such headwinds O'Donnell said: "What we're offering is flatted property on the edge of the city, whereas flatted property on the whole tends to be concentrated near the centre of the city. We're offering something which is slightly different; it's a very particular market. It's a lifestyle choice. Gartloch is very unusual in that there is a complete spectrum of ages, but it would be fair to say that the average age of people who've bought flats is slightly older than the city centre market. It's not a mature or elderly community."
O'Donnell first took possession of the property back in 2004 after taking advantage of a tax efficient business investor scheme when the health board sold the site to a consortium of individuals. He recalls: "When we came along we bought it from the same people, many of whom had not only bought the property as a group but had also bought individual properties within the site."
This site stretches to some 100 acres from the shore of Bishop Loch and encompasses three clusters of new build housing, each of which will support refurbished elements and each implemented by a different architects; including ZM Architecture, IDP and Elder & Cannon, with five of the nine historic buildings on site refurbished – including one which had a demolition warrant when bought. O'Donnell noted: "This is not a developer whose building 400 houses of the same range it's nothing like that. We're building different types of houses using different architects and my intention is to follow that fiercely. The fact that they've all got different marketing names is not just a ploy. They're all different. They're entirely different. Peter Richardson (director of ZM Architecture) has developed the next one which has several different house types in it and has a very interesting vernacular style.
Richardson told Urban Realm: "Each of the hamlets is designed to have a particular identity which is not necessarily making visual connections with the historic hospital buildings. In our work, we were using the specifics of the site to make places for people by working with particular framed views, existing trees and topography.
"It is very doubtful that a project as ambitious as Gartloch would be considered today in light of the atmosphere of 'the new austerity' affecting market confidence and funding."
O'Donnell continued: "There were buildings with demolition warrants which we thought we could do something with to preserve the integrity of the suite of buildings. We made a fist of transforming that into a suite of apartments. There's decking and glass on the back of the listed buildings which reflects the vernacular that E&C have used in the new buildings it backs onto .We've had a go at trying to do it properly."
At present the main block hasn't been so lucky however and stands as a forlorn hollowed out shell, stabilised against further decay but shorn of all its interior spaces. "We didn't want to be accused of allowing the building to disintegrate from the inside so by taking out all the organic material, leaving the stone walls and roof, you've secured the ground floor and let the air through it" noted O'Donnell, adding: "The building will come to no further harm until we come to improve it. It's propped up from inside to prevent further structural damage.
"I made two purchases within 10 months that have probably been the most stupid things I've ever done in my life, I bought Gartloch Hospital and the Graving Docks in Govan. Architect friends of mine said 'Harry this is something you'd really like'. I was knocked out, I was blown away by Gartloch, I still am. Once it's finished."
Standing as a stark reminder of changing mental health policy Gartloch has also fallen victim to the changing economic climate. Its one constant has been the chiselled features of its sandstone ramparts but as even these succumb to neglect Gartloch may require urgent surgery to preserve the bulk of what remains.
Back to January 2013