George Square survey
16 Jan 2013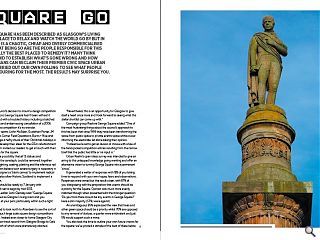 George square has been described as Glasgow's living room, a place to relax and watch the world go by but in reality it is a chaotic, cheap and overly commercialised space. That being so are the people responsible for this mess really the best placed to remedy it? Many think not. In a bid to establish what's gone wrong and how glaswegians can reclaim their premier civic space Urban Realm carried out our own polling to see what people are clamouring for the most. The results may surprise you.
Glasgow City Council's decision to mount a design competition to revive the historic George Square hasn't been without it controversies, and with a troubled history including a botched 1998 remodelling and embarrassing cancellation of a 2006 Café in the Square competition it's no wonder.
As six design teams (John McAslan, Gustafson Porter, JM Architects, James Corner Field Operations, Burns + Nice and Agence Ter) forego a hefty chunk of their Christmas holidays in order to further develop their ideas for the £15m refurbishment plan, Urban Realm invited our readers to get in touch with their own future vision for the square.
At stake is the possibility that all 13 statues and monuments, bar the cenotaph, could be removed; together with all existing lighting, seating, planting and the infamous red tarmac. Councillors believe such severe surgery is necessary in order to allow designers a 'blank canvas' to implement radical new plans. It will also allow Historic Scotland to implement a conservation plan.
Those plans should be ready by 7 January with construction work set to begin by mid-2013.
Urban Realm editor John Glenday said: "George Square has been described as Glasgow's living room and you tamper with that at your peril, particularly within such a tight timeframe.
"We only need to look north to Aberdeen to see the sort of shambles which such large scale square design competitions can descend into. Indeed even closer to home Glasgow City Council have a poor track record from Glasgow Bridge to Café in the Square - both of which were prematurely aborted.
"Nevertheless this is an opportunity for Glasgow to give itself a heart once more and I look forward to seeing what this stellar shortlist can come up with."
Campaign group Restore George Square added: "One of the most frustrating things about the council's approach to this has been that since 1998 they have been transforming the space from public space to private events space without ever informing the electorate, let alone asking their opinion.
"Instead we're set to get an illusion of choice with a few of the hand-picked competition entries resulting from the narrow brief that the public had little or no input in."
Urban Realm's open ideas survey was intended to give an airing to this untapped knowledge going wanting and offer an alternative vision to turning George Square into a permanent 'circus'.
It generated a welter of responses with 189 of you taking time to respond with your own hopes, fears and observations. Responses were varied but the results clear, with 87% of you disagreeing with the proposition that events should be a priority for the Square. Opinion was much more evenly matched though when presented with the stronger question: 'Do you think there should be any events in George Square?' Here a slim majority (57%) were against.
An unambiguous 85% expressed the view that trees and other green space should be a priority whilst 70% are opposed to any removal of statues, a quarter were ambivalent and just 5% would support such a move.
You also took the time to outline your own future visions for the square; we've printed a sample of the best of these below.
» I think the square should be used as a pedestrianised meeting place with an emphasis on busking and performance art. The restaurants should all have outside seating in a theme close to Covent Garden. The mis-development of George House at present is a real missed opportunity for further cafe culture development. I believe George Square should remain a hub for free events such as the Christmas lights however the ice rink is an eyesore as well as totally inappropriate for those who use the space daily as it prevents the square being a walk through area. With its proximity to GOMA the space would truly benefit to be an exhibition area for modern artists with the removal of the statues. Not only do the statues have no meaning to Scottish people they have zero relevance to Glasgow. « Hollie Broadbent

» It should be a green space within the city where people can meet, chill and enjoy the few dry days we get in Scotland outside. Look at what NYC is doing with its green developments. Keep the stages at the bloody SECC. « Howarth

» Either return to the original Victorian layout or go for a European style city square with no traffic even capable of using it (i.e. Prague/Crakow) thus making it truly a place for the public to congregate for non-commercial events. « Richard McLean
» A closer look needs to be taken at other British and European precedents to see how spaces of this scale and status can be made to work - for example Copenhagen's Radhuspladsen, the Place de la Comedie in Montpeliier, or closer to home Nottingham's Old Market Square. « Neil Lambert

» I have many happy memories sitting on a sunny afternoon watching the world go by. I hope they restore it to its former beauty and keep the statues. Why does everything have to be modern? Can we not take pride in our rich heritage? « Laura McColl

» I objected to GCC when the green space became red tarmac - and was assured that the red would be replaced by black eventually! Maybe small commercial events like the art fair and ice rink could stay, but greenery should return, where people can sit in peace, apart from the traffic. « Sara Barry

» It used to feel like it belonged to us - it was a great place to be - please give that back to the people of Glasgow and all our visitors. « Anne Houston

» The proposed re-development seems, to many outside observers, to have been hastily pushed through by Glasgow City Council and with an emphasis on commercial / private interest, rather than civic / public interest. « Ryan Thompson
» I think it'd be terrible to relocate the statues. I often see tourists taking photos of these statues because they enjoy seeing them and they think they are worthy of their photographs. Furthermore, and perhaps more importantly, they show respect to and honour the achievements of several important people who have contributed to society. These people should not be forgotten, but instead be there to inspire the current and future generations of people living and working within the city. I sometimes look at the statues and think what can I do with my life to make a similar positive impact, and I don't think this is a feeling that should be taken away from people. « Kimberley

» No other European city would treat its civic square as badly as George Square is treated by the Council. It shouldn't be 'vibrant', it should a place of quiet greenery and dignified stonework. « Anne Clackson

» Glasgow has whored out George Square for years. Bring some dignity back to this public space. Leave the statues, or at least some of them, and get much of the area pedestrianised. Public events? Have we no SECC? « Robert Burns

» It is currently an eyesore where it should be a celebration. It should be pedestrianized where possible with more grass, trees and flowers. The upgrade of Queen St Station will have a positive impact upon the Square. A monthly farmers market would be a good idea and less barricades and fences strewn about. I don't mind the Christmas fair but the exterior of it looks incredibly tacky, it needs to be made to look a lot classier. « Niall Sommerville

» I used the space a lot before it was destroyed in 1998. I was utterly disgusted at the time and thinking about it still makes me angry. « Anne
Back to January 2013