Best Engineers 2012
11 Oct 2012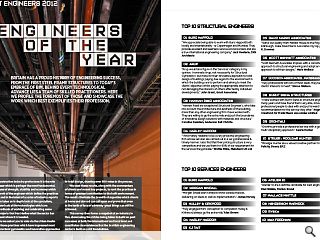 Britain has a proud history of engineering success, from the first steel frame structures to today's embrace of bim. Behind every technological advance lies a team of skilled practitioners. Here we profile the foremost of those and showcase the work which best exemplifies their profession.

Of all the construction industry professions it is the role of the engineer which is perhaps the most fundamental. It is the virtues of strength, stability and economy which define the work of the engineer which define the practices themselves and in the latest of a series of industry reports Urban Realm takes an in depth look at the specialism, taking a closer look at the technologies which are reshaping methods of working and celebrating some of the key projects that best define what the sector has achieved… and where it is headed.
To do this we asked you to vote via the Urban Realm website for those practices which have impressed most with their structural gymnastics and innovative approaches to total design, drawing over 500 votes in the process.
We used these results, along with the commentary of clients and recent key projects, to rank the practices in terms of greatest contribution to the built environment. The results illustrate the breadth of expertise which clients at home and abroad can call upon and prove that even in the teeth of face of adversity great things can still be achieved.
This survey then forms a snapshot of an industry in flux, showcasing the strides being taken to build on past successes at both the international and local level and constitutes clear evidence that the Scottish engineering sector is built on solid foundations.
Top 10 Structural Engineers
1.
Buro Happold

"We appreciate being able to work with Buro Happold both locally and internationally - ie Copenhagen and Mumbai. They provide excellent and seamless service across borders and are a true international engineering company." Jack Renteria, 3XN Architects
2.
Arup
"Arup would also figure in the 'Services' category in my opinion. I nominate Arup, not necessarily for 'Structural Gymnastics' but more for their innovative approach to total design of buildings paying due regard to the environment in which the buildings are to perform and aiming to meet the clients' objectives whilst paying the appropriate attention to not damaging the interests of others affected by individual developments." John Grant, Grant Associates
3.
Hannah Reed Associates
"Hannah Reed are exceptional Structural Engineer's, who take into account the architecture and aesthetic of the building, more than any other engineering firm I have worked with. They are willing to go the extra mile and push the boundaries of innovative design solutions with materials and structure." Caroline Dearden, Anderson Bell Christie
4. Harley Haddow
"I find Harley Haddow to be a very proactive engineering firm whose services are carried out in a very professional & timely manner. I also find that their pricing structure is very competitive and we use them for 90% of our requirement for the services they provide." Wattie Milne, Metaltech UK Ltd
5.
David Narro Associates
"Stand out quality from Marlaw House to the Royal Museum, Edinburgh, make David Narro Associates my top pick." 
R. Downes
6.
Scott Bennett Associates
"Scott Bennett Associates impress with a consistently fresh approach to structural engineering and adopt an innovative approach to all their designs." Mark Wallace
7.
Goodson Associates
:
Waterman Group
"Very professional with lots of fresh ideas, they really take the clients' interests to heart." Simon Watson
8.
Burnt Siena Structures
"I have worked with Burnt Siena as structural engineers over many years and have found them very able, innovative and professional people to deal with and put forward the strongest recommendation for the service they offer." Hugh W J Crawford; Sir Frank Mears Associates Limited
9. Grontmij
"Grontmij provide a professional service with a genuinely multi-disciplinary approach." Seona Hunter
10, Struer : Woolgar Hunter
"Woolgar Hunter are a valued creative partner for ERZ." Felicity Steers; ERZ


Top 10 Service Engineers
1.
Buro Happold
2.
Morgan Sindall
"Morgan Sindall aren't afraid to think outside the box, delivåering on ideas as well as implementation." James Harvey
3.
Hulley & Kirkwood
"Fully engaged from conception to completion Hulley & Kirkwood always go the extra mile."Alex Brown
4. Harley Haddow
5. KJ Tait
6.
Atelier 10
"Aterlier 10 are a definite candidate for best engineer!"
Paul Stallan, Stallan-Brand
7. Wallace Whittle
8. Henderson Warnock
9. Rybka
10. Max Fordham
Buro Happold
Buro Happold's double table-topping performance is a remarkable vindication of strategy for a firm which has done much to internationalise its profile in recent years. Pinning its growth prospects on foreign shores and a ready embrace of new methods of working, such as use of Building Information Modelling (BIM), was always going to pose risks but these have been amply rewarded.
More importantly the practice has learnt from examples of best practice in Europe to give the practice an edge closer to home, as Rod Manson, director of Buro Happold's northern Europe division explained to Urban Realm: "Buro Happold is in the course of implementing our three year strategic plan, with greater diversity in our projects, type and location. For example, our recent success in the masterplanning of the new Federal Capital City for Moscow is exactly the type of strategic project that suits our diverse skills and capability.
"The development of our business in the Nordic region is a very important part of our regional plan and it is a tremendously exciting opportunity for the practice; the world has become a much smaller place now and international working is an essential part of growth plans.
"The use of BIM and other shared design/drawing packages are clearly having a major impact on the way we work, providing much greater collaboration and integration with all disciplines involved in the design and delivery process."
The benefits of this method of working are most clearly evident on Glasgow's Riverside Museum, a project which entailed close collaboration with Zaha Hadid Architects to produce an integrated design within very complex geometry. Manson elaborated: "I am now spending a lot of my time in the Nordic region as part of the Buro Happold strategic plan for greater international diversity, and clearly the linkages with Stuart Munro and the Scotland team provide a great platform for integrated working.
"Our design offices are where the staff are based, not where the projects are, and as such, working across regions has become much more integrated within Buro Happold. Our current work on the Kristiansund Opera House in Norway is an example of where our team in Scotland is providing specialist modelling and sustainable design leadership. Our Fishmarket project in Muscat, Oman, which has just started on site, was also designed within the region."
As architects have wrung their hands over a seemingly remorseless process of dilution of their role engineers are taking on a much more central role in design. Something which Manson wholeheartedly embraces: "The creative design approach of our engineers is something which is absolutely valued across Europe and is one of the reasons why UK engineers are having great success on an international platform. The ability for engineers to influence the massing, form and orientation of buildings is incredibly powerful and is often missing within the design process – some of this is down to procurement, but also education of our building engineers.
"Ted Happold was a great believer in integrated design and the course he helped establish at Bath University on integrated building engineering was very much pioneering at the time, and has produced some great engineers."
Engineers have a 'no nonsense' reputation which stands them in good stead during times of austerity, not to mention an understanding of basic need beyond endless debate over style, so can this be a model for export success at a time when the UK needs every dollar (and euro) it can command? "There is no doubt in my mind that good integrated design can be exported at a global level", Manson observes. Adding: "We see this in particular in building services (MEP) engineering, where these skills are in very short demand in Europe and across the world."
Government policy to favour infrastructure investment as a tool to kick-start the moribund economy is one which carries obvious appeal to engineers, but Manson remains cautious: "Governments across the world are investing in infrastructure projects and are using this as a catalyst to stimulate the construction industry.
"The UK is not unique but of course is to be encouraged on recent initiatives – however, a lot of the major projects have been on the shelf for many years, so often some of the schemes are being dusted down, rather than creating major new design commissions.
"The opportunity to do more is there, for example the cancelling of the Aberdeen City Gardens was a major blow for the whole team involved in the project, as this could have provided us with design continuity for the next five years. I fear that the industry is in for a number of painful years ahead until we can see genuine growth in the design community again!"
Back to October 2012