Water & Drainage
21 Aug 2012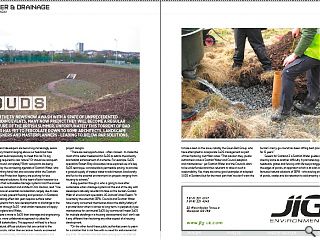 With the tv news now awash with a spate of unprecedented flooding events, many now predict they will become a regular feature of the british summer. Unfortunately this torrent of bad news has yet to percolate down to some architects, landscape designers and masterplanners - leading to below par solutions.
Architects and developers are becoming increasingly aware of the watery threats hanging above our heads but how can they best build responsibly to meet this risk? Is big engineering required to cow nature? Or should we relinquish low lying ground completely? Both viewpoints are being played out by the competing agendas of Scottish Water, who want everything hard, fast and concrete whilst the Scottish Environmental Protection Agency are pushing for less obtrusive, natural solutions. At the heart of both however is a recognition that sustainable drainage systems hold the answer.
Interpave consultant and architect Chris Hodson, said: "Use of SuDS is now an essential consideration, largely due to new measures to help prevent flooding and pollution. In Scotland, legislation taking effect last year requires surface water drainage systems from new developments to discharge to the environment through SuDS - and similar measures will apply shortly in England and Wales.
"But there is more to SuDS than drainage and engineering, and a wider, more collaborative approach is called for involving all stakeholders. This approach will lead to a focus on more natural, diffuse solutions that are central to the SuDS philosophy, rather than excessive, heavily engineered interventions effectively retrofitted onto masterplans and project designs.
"There are real opportunities – often missed – to make the most of the water treated within SuDS to add to the amenity and habitat enhancement of a scheme. For example, SuDS specialists Robert Bray Associates have explored use of a key SuDS technique, concrete block permeable paving, to provide a gradual supply of treated water to add interest, biodiversity and fun to the external environment on projects ranging from housing to schools."
A key question though is who is going to look after sustainable urban drainage systems at the end of the day with developers naturally reluctant to take on the burden. Gordon Millar of environment specialists JIG Ltd told Urban Realm: "It is certainly the case that SEPA, Councils and Scottish Water have overly concerned themselves about the ability/safety of a private factor when it comes to long-term, in perpetuity type maintenance for communal SuDS (by communal I mean SuDS for multiple dwellings in a housing development) but I don't see it any different than factoring any other aspect of a housing development.
"On the other hand these public authorities seem to yearn for a solution that is risk free with no need for enforcement at any time." A number of bodies have sprung up in an attempt to take a lead on the issue, notably the Green Belt Group, who have attempted to incorporate SuDS management as part of their factoring, but Millar notes: "That solution they (public authorities) crave is Scottish Water and Council adoption and maintenance - yet Scottish Water and the Councils claim to be underfunded and thus reluctant to take on such a responsibility. Yes, there are some good examples of adopted SUDS in Scotland but for the most part that 'we don't want the burden' merry-go-round has been stifling best practice SuDS for 15 years."
Sewers for Scotland 2, a Scottish Water guidance book, is cited by some as another difficulty. It promotes big concrete headwalls, grates and fencing with life buoys staggered round the edges of ponds, an approach which is at odds with the favoured natural solutions of SEPA - who are big proponents of ponds, swales and bio retention to add amenity value. All this soaks up land however, sometimes up to 25% of a given site will need to be given over to a pond that is not generating income, a requirement that most developers would consider uneconomic. Millar noted: "Designing systems that embrace the aspirations of those who pioneered SuDS in Scotland is not difficult, but having Scottish Water and council roads departments adopt them often is. What might start life as a soft engineered series of sinuous swales, basins and ponds soon morphs into the fenced, steep-sided, dry detention basin with concrete inlets and outlets so typical of many newish housing developments."
This tick box culture is felt to have inhibited design input with developers just picking design templates with no site specificity. Plumping instead for the 'bomb crater' look at the edge of developments - often squeezed in almost as an afterthought. This is often exacerbated by developers and their agents finalising architects plans ahead of planning with no reference to or allocation for SuDS. Hodson said: "The challenge for architects, landscape designers and masterplanners now is to fully understand SuDS principles and how they work. Then, take an holistic approach, integrating SuDS as a fundamental part of a project from the very start and influencing all aspects of it. "
Exacerbating these issues is the often fragmented policy of different authorities who can impose very different requirements that result in retention basins of sharply differing size between neighbouring councils. South Lanarkshire for instance adopts a particularly tough stance whilst neighbouring North Lanarkshire is more relaxed. Moreover councils often don't have the staff to pick through proposals in detail. Millar observes: "We see some Council's policies as being so stringent that they can drive engineers to employ some 'creative accounting'. Local annual rainfall figures might be over-estimated, greenfield release rates tweaked upwards, the fate of extreme storm rainfall events circumvented all to minimise the storage capacity of the developer's SuDS and thus the cost. This response to the developers' needs might be understandable but it's not excusable given the regularity of flooding nightmares on the television news.
Millar maintains that SuDS remain the only game in town for both flood prevention and water quality issues but "…from a position as pioneers in Scotland we've made a right bourach of it. Getting it back on track in order that developments be blessed with appropriate, proportionate, natural looking SUDS needs a champion in government with the power to bring Scottish Water and the Councils into alignment once and for all.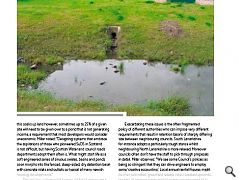 Back to August 2012