Dome Sweet Dome
|
Send to friend
24 Apr 2012
For years Glasgow's Sikh community has called a converted Salvation Army hall home. Now in a bid to cement their faith in bricks and mortar and immerse a new generation in traditional customs, a series of Gurdwaras are now planned across the UK. Seeing it seems is believing.

We have seen with Kericho Cathedral (pg 64) that organised religion is thriving in Africa. In Britain however it is a different story with government projections indicating that the country could be majority atheist within 20 years. Nevertheless these headline figures bely an increasingly diverse picture with some minorities on the increase, notably Sikh's whose numbers now top 10,000 in Scotland - the majority of whom reside in Glasgow.
It means that whilst new build churches may be as rare as hen's teeth faith based architecture is far from dead, as a duo of new Sikh temples, (or Gurdwara's), attest. Lending a touch of far eastern exoticism to the dreich west of Scotland these outlandish temples are intended to act as a cultural anchor for the descendants of Sikh immigrants.
One of these, situated opposite the Tramway Theatre in Glasgow's south side, is currently being built by The Sangat (Congregation) of the Gurdwara Guru Granth Sahib Sikh Sahba. This group has been working for many years to create a new purpose built Gurdwara to serve residents in the south side of Glasgow and has appointed CRGP Architects to make this a reality.
Costed at £3.8m it will accommodate 1,000 worshippers and is intended to act as the heart of the south side Sikh community, as project architect Tom Crombie of CRGP, explained: "The Gurdwara is the most important building for Sikhs. It houses the Sikh scriptures and providing a central focus for the local and wider community."
Offering enhanced levels of accommodation for worship and religious and civil ceremonies the building will also serve as a community centre with ancillary teaching, general purpose and library facilities. A community kitchen is also provided to allow the Sangat to sit together and eat after worship.
Crombie notes: "The community centre aspect of the Gurdwara dictates that they should be sited in the centre of the communities that they serve. While the principal religious services take place on Fridays and over the weekend there are daily continuous religious services with visitors joining and leaving the service at any time during the course of the day."
Despite not being a Sikh himself Crombie was quick to embrace the unique challenges of the brief after being appointed by the Sangat to prepare designs for the new temple. Crombie said: "The design process was initiated by CRGP following extensive research and dialogue with the Sikh community in respect of the religious architectural reference requirements.
"Joint building committee/CRGP visits were made to other Gurdwara in various parts of the UK to view and discuss with the local Sikh groups, and their design teams. This extensive exploration resulted in the development of a deep understanding of the religious and cultural aspects of Sikhism within the CRGP design team."
The principal architectural features associated with Gurdwara are the domes, which have historically marked the importance of the Gurdwara buildings within the community, and the Nishan Sahib (a triangular flag made of cotton or silk cloth with a tassle at its end). The profile of Gurdwara domes are distinctive and differ from those found decorating buildings of other religions. Costs now indicate that, in the majority of cases, including Albert Drive, domes are formed in glass reinforced plastic - as are the traditional "battlement" features at parapet level.
The external façade meanwhile will be clad using light coloured polished granite masonry. This hard, non-porous reflective material is, with white marble, one of the materials traditionally associated with Gurdwara - as there is no longer a UK source for granite material this will be imported from India.
Internal decorative elements, carved doors and balustrading for example, are important traditional features and it is intended that these elements will also be sourced from India.
The planning of the Gurdwara requires that the Guru Granth Sahib, or Holy Book, is placed at the highest point of the building to confer status. Traditionally the prayer hall is located on the upper floor with the dining hall at ground level – neither of which contains any seating in order to show that all members of the congregation are equal.
Crombie added: "A large number of new Gurdwara buildings are currently at the planning stage in the UK, principally in the Midlands and South East where Sikh communities are at their most numerous. This reflects the growing number of Sikh's in the UK and their wish to retain their own special religious identity.
"Significant investment in religious buildings by other faiths is happening but tends to focus on the internal adaptation of existing, often landmark buildings, to make them suitable for more flexible multi-purpose use to promote the fellowship aspects of religious activity."
Like buses however just as one Gurdwara comes along a second, even bigger, £15m temple is currently rising from the ground at Berkeley Street, Charing Cross.
Designed by Calford Seaden Architects, the practice behind the UK's largest Sikh temple at Gravesend in Kent, with T.A Kernoghan as main contractor this will be built in two phases, ultimately accommodating around 1,500 worshippers. Phase one, which is already well advanced, will see erection of a polished limestone main building, boasting a domed roof of glass reinforced plastic, entailing extensive groundwork's including soil decontamination and digging out a new three storey underground car park, accommodating 257 vehicles.
As with its Albert Drive stable mate this will be more than a place of worship and will include a community centre, educational resource centre, library, classrooms and office.
Although construction is proceeding apace on site much of the work is taking place in India as recent visa restrictions mean that craftsmen can no longer be flown over from the subcontinent. Instead limestone panels will be cut and carved prior to transit to Scotland whereupon local stonemasons will take responsibility to erect the structure.
An additional £1m of funding still needs to be raised by the Sikh community; from the likes of Bali Rakhra, the Glaswegian businessman behind the Retro guy online clothing firm. He said: "We hope the project itself will bestow a great sense of pride upon both the Sikh and non-Sikh communities in Scotland, particularly in Glasgow. To extend our commitment to the 'Interfaith' message, we welcome participation from the wider community, irrespective of culture or background. The Initiation of Construction Ceremony itself was ground-breaking, with representatives from all faiths."
This all means that Glasgow's skyline is set to be a far more eclectic place in the future as the chimneys, spires and tower blocks which have defined it for so long welcome a new breed of architecture to their midst.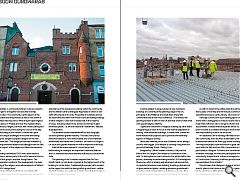 Back to April 2012