Linwood
|
Send to friend
24 Apr 2012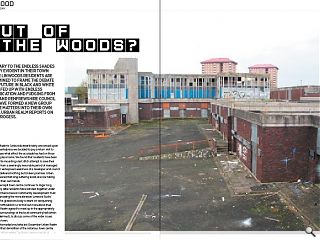 Contrary to the endless shades of grey evident in their town centre Linwoods residents are determined to frame the debate on its future in black and white terms. Fed up with endless prevarication and fudging from Tesco and Renfrewshire Council they have formed a new group to take matters into their own hands. Urban Realm reports on their progress.

Photography by Geoff Crowley.

With Urban Realm's Carbuncle award newly ensconced upon Linwood's mantelpiece we decided to pay a return visit to the town to see what effect the accolade has had on those who call the place home. We found that residents have been galvanized into mounting a last ditch attempt to save their town centre from a seemingly inexorable period of managed decline. With widespread weariness of a developer and council which have delivered nothing but broken promises Urban Realm discovered that long suffering locals are now taking matters into their own hands.
As the decrepit town centre continues to linger long past its sell by date residents have bandied together under the newly formed Linwood Community Development Trust banner, superceding the more abrasive 'Linwood Sucks' campaign. This grassroots body is intent on vanquishing the inertia of officialdom so to find out more about their work Urban Realm agreed to meet up in the appropriately dilapidated surroundings of the local community hall (which is itself condemned), to discuss some of the wider issues affecting the town.
During the media brouhaha last December Urban Realm was assured that demolition of the notorious town centre would start "within weeks" by Brian Lawson, leader of Renfrewshire Council. Needless to say, three months later, those words now echo hollowly around the concrete warren at Linwood's heart as it slips further into decay.
Mindful of this and other problems The Trust outline three main objectives; improve the infrastructure of Linwood, create a new community build somewhere in the town and demolish the existing shopping mall. It is clear however that the persistent existence of the eyesore at their heart is increasingly aggravating those in proximity to it, particularly with demolition again off the cards in the short term. Renfrewshire Council are, ironically, moving swiftly to level the community centre, as Trust chairperson Janette Anderson, explained: "This is coming down in the next few months. There are a thousand users in here each week and there is not going to be anywhere for them to go apart from a new £24m sports hub when it is built in 2013. Locals are going to be priced out of that because they're not going to be able to afford it.
"Linwood's endured social decline now for the past 20 years and a lot of it is down to a lack of facilities. Obviously they (Renfrewshire Council) are investing in the area and regenerating the area but they're not actually meeting the needs of the Linwood community. Linwood doesn't need a sports hub; it's serving Renfrewshire not Linwood. It doesn't matter where it is, even if it is in Linwood it's not for Linwood."
Increasingly desperate the Trust have now dropped any expectation of effecting a redesign of Tesco's contentious proposals – having been told that any amendments to the approved design would require a further public consultation, a move which locals regard as a delaying tactic.
"What we're pushing for just now is to get the demolition of the shopping centre enforced", Anderson declared. "Tesco are still dragging their heels but whether or not it ever gets developed we want that eyesore brought down to the ground."
"Our main push is to get it demolished and if Tesco want to build they can build and if they don't they don't. The Council on Linwood's behalf should demolish it. If they deem a building to be in an intolerable state then they have got the authority to have it demolished or repaired or serve a notice to the owner (Tesco) to have it demolished or repaired. If Tesco doesn't adhere to that within an agreed timescale then the Council have the authority to go in and do it themselves and pass on the cost.
"We equally blame the council and Tesco for the failure to redevelop our town centre because they both have the power to stop it."
Refuting this suggestion Renfrewshire Council claim that they do not have the power to intervene and enforce demolition unless the property has been deemed a danger to public, something which a recent visit from health & safety officers failed to establish. As such the onus rests on Tesco to maintain their asset and prevent it from deteriorating further into such a dangerous condition.
Trust member Kirsty Flannigan added: "My main concern is the infrastructure, given what the traffic is like already without a Tesco and a sports hub. We've not heard anything about whether or not they're going to rebuild the road up to Brediland and there isn't going to be any road restructuring down at Tesco."
The Trust aren't just pushing for demolition however, centrepiece of their plans are proposals for a new community hub, designed by residents for residents. Anderson explained: "We're looking for a hub that can accommodate the people who use this centre as well as the football community whose needs are not being met by the new sports hub. We have been eyeing up pieces of land and trying to obtain some kind of professional support from outside organisations because obviously we don't have any money.
"We will be applying for funding but we need as much outside support as possible, the Scottish Community Federation and Oxfam have pledged their support for us, Urban Realm have given us this award and we're hoping to harness the promotional aspect, to say 'look we've won this award, this is what it can do'."
Flannigan added: "We're eyeing up an asset transfer with the council at the moment, haa design did a space plan for us after we did our own community consultation on the top 12 priorities of people in the area, this established what the requirements for the building would be and what space it would need to have – such as accommodation for the football parks.
"The feedback we're getting is people don't care if Tesco never come and just flatten it and put trees there. We don't care. It's just getting rid of that eyesore. You've got to remember that Tesco only paid £1.7m for that bit of land."
Tesco's corporate motto, 'Every Little Helps', stands somewhat at odds with their penny pinching in Linwood. A little help would go a long way, even if it takes a nudge from the Linwood Community Development Trust to get them there.
Back to April 2012