Fife Housing Showcase
|
Send to friend
24 Apr 2012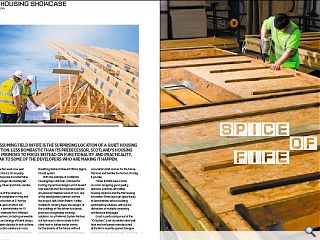 An unassuming field in Fife is the surprising setting for a quiet housing revolution. Less bombastic than Scotland's Housing Expo, it promises to focus instead on functionality and practicality. We speak to some of the developers who are making it happen.

With construction work now well underway on the £3.3m Housing Innovation Showcase in Dunfermline, Fife, part of a larger site masterplan developed by Oliver and Robb, Hardies and SBA.
Phase one of this scheme is scheduled for completion in May and will entail construction of 27 homes for social rent, each of which will also serve as a demonstrator for 10 construction methods from different contractor partners; including renewable technologies and energy efficient design.
Urban Realm decided to look at three of the construction solutions in more detail; CCG's IQ System, Lomond Homes Breathing Wall and Stewart Milne's Sigma II build system.
With the example of Scotland's Housing Expo still fresh, criticised for hosting impractical designs which haven't sold well, has the Fife Showcase learned any lessons? Stephen Good of CCG, one of the development partners behind the project, tells Urban Realm: "Unlike Scotland's Housing Expo, the designs of the buildings at Fife deliver functional, practical, recognisable housings solutions. As a Preferred System Partner, our task was to demonstrate to the client how to deliver better homes for the tenants of the future, without fundamentally altering the core Housing Association brief. Homes for the future, that look and feel like the homes of today if you like.
"Oliver & Robb have a track record in designing good quality, spacious, practical, affordable housing solutions and the Fife housing Innovation Showcase is an opportunity to demonstrate various building performance solutions, without the distraction of multiple competing architectural languages."
Good is particularly proud of the "IQ System", a set of prefabricated wall, floor and roof panels manufactured at the firms recently opened Glasgow manufacturing base. He said: "Our offsite products fall within our 'iQ System' brand, encompassing wall, floor & roof cassette panels, all capable of being manufactured within our strict quality controlled environment, to consistently achieve higher performance levels."
A proponent of offsite manufacture Good states that these can offer many advantages over onsite construction, not least reduced waste, increased consistency of quality, improved energy & carbon efficiency performance, tighter tolerances, safer, better organized building sites and much quicker build durations. Good adds: "As a constructor, with an offsite manufacturing arm in-house, we are better placed than most to realize the true benefits of offsite construction to our clients, as it is often the integration between the offsite product, and the follow on on-site processes that let others down."
Outlining his hopes for the expo Good said: "We hope the public showcase can raise awareness about the capabilities of a number of Scottish companies that are investing heavily in R&D and embracing innovation, to deliver the targets of the future. We hope it can showcase alternative models for funding and procurement that are drastically needed to help avoid the potential future that awaits current, flawed models. We hope, through the ability to engage with system providers, visitors and future residents will better understand the lifestyle and patterns of use that will need to change to ensure efficient houses are not used and operated inefficiently.
"Our approach in terms of the social sustainability was to avoid filling every nook and cranny with kit and gizmos that often reduce storage space and create impractical or unworkable homes. Our fabric first approach ensures the sustainability is built into the walls, floors and roofs, where it remains for the life of the building."
Lomond Homes meanwhile have opted for The Breathing Wall system on their neighbouring plots, a technology which also adopts 'fabric first' principles to deliver affordable and low-maintenance housing. Based on "Dynamic Insulation" technology (from Lomond's partner, Energyflo), this transforms external walls into heat exchangers, capturing the escaping heat and using that to pre-warm the incoming air, thus reducing the demand for space heating - bringing down energy consumption and thus fuel bills and carbon emissions to boot.
Designed for conventional thin wall construction, Dynamic Insulation integrates the insulation and ventilation system using familiar building methods, with no ongoing maintenance or add-on thermal technologies required. It aalso brings added health benefits, as the constant background ventilation maintains a low level of relative humidity, improving indoor air quality and creating a healthier living environment.
Derek Grubb, Lomond's project leader for the Fife Housing Innovation Showcase, said "Our system is a highly insulated, timber-framed external wall construction, which delivers low heat loss through low Uvalues. It's a high-performance construction solution for low-carbon, energy-efficient homes, which transforms the thermal performance of building envelopes while still maintaining thinner walls and smaller house footprints."
Another developer to pick up the Fife cudgel is Stewart Milne Construction, part of the Stewart Milne Group, who will deliver four low carbon homes using the Group's Sigma II Build System.
Like CCG Stewart Milne will be focusing on higher levels of offsite prefabrication to deliver greater onsite efficiency and speed of build, reducing other elements such as site prelim costs and waste in the process. The developers Sigma II Build System will provide each property with significant levels of energy efficiency including a U-Value as low as 0.12 W/m2/k, air tightness of 2 and 0.02 thermal bridging.
The system's innovative insulation, which carries a Green Guide A rating, will also provide the homes with high water resistance, long term durability and thermal bypass prevention within the panel cavities.This is intended to meet the economic challenges facing local authorities of meeting increasing sustainability targets with diminishing budgets.
Central to many of the solutions adopted, with Stewart Milne, being no different, is the use of timber as Bill Imlach, managing director of Stewart Milne Construction, noted: "The flexibility and speed of build offered by timber frame make it an ideal option for developments of any size and budget, with the build programme tailored to meet customer needs. With air tightness, thermal performance and service channels built in, the closed panel system delivers additional benefits in terms of on-going maintenance and energy savings for end users."
These sentiments were echoed by CCG's Good, who also rallied to timber's cause, dubbing it the "obvious" choice: "As a Scottish construction organisation, with an offsite, closed panel, timber manufacturing team in-house……it was an obvious choice. Timber is the predominant building material for houses in Scotland and through our timber supply partners, BSW & Donaldson Timber, we had an opportunity to demonstrate the capabilities of Scottish home-grown timber at Fife. Made in Scotland………..Made from Scotland was our objective."
Returning to the project itself Imlach continued: "By using the Sigma II Build System, projects can be delivered up to 30 per cent faster and specific cost benefits that can be achieved from offsite fabrication include: reduced site prelim costs; lower weather dependency and improved onsite predictability. In terms of energy performance, the system can achieve an air tightness performance expectation of 3m3/h/m2 @ 50pa. The insulation, designed to achieve U-Value of 0.12 W/m2/k with a lambda value of 0.032, offers high water resistance, long term durability, prevents thermal bypasses within the panel cavities, and carries a Green Guide A rating."
Alex Goodfellow, group managing director – Stewart Milne Timber Systems, added that SigmaII is already meeting 2013 energy performance targets and with the addition of a combined heat and power system it could meet 2016 targets: "Our expertise in the housing sector enables us to offer a more holistic approach with detailed reviews of overall project costs, allowing housing associations to meet both budget and performance requirements. One of our greatest assets is our commitment to delivering cost benefits for our customers, who are seeing real cost savings as a result of our involvement in their projects.
"In Scotland, around 75 per cent of houses are timber-frame, and timber frame is increasingly gaining ground in England. Around 70 per cent of the UK self-build market and 40 per cent of UK affordable housing is of timber frame construction. This is down to cost, energy performance, sustainability, quality, flexibility and speed of build."
To test these solutions (and others) in the wild a three week showcase of the completed scheme will be held this April when members of the public and the wider industry will be invited to see whether reality matches up to the theory. Thereafter all homes will be handed over to Kingdom Housing Association for their ultimate test as inhabited housing and perhaps their most demanding critics - local residents.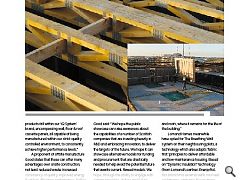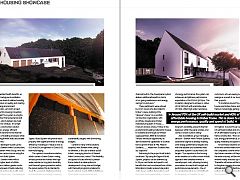 Back to April 2012