The Works
|
Send to friend
24 Apr 2012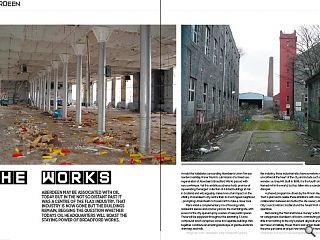 Aberdeen may be associated with oil today but in the not so different past it was a centre of the flax industry. That industry is now gone but the buildings remain, begging the question whether today's oil headquarters will boast the staying power of Broadford Works.

Amidst the hullabaloo surrounding Aberdeen's Union Terrace Gardens Halliday Fraser Munro's submission of a mixed use regeneration of Aberdeen's Broadford Works passed with nary a whimper. Yet this ambitious scheme holds promise of rejuvenating the largest collection of A listed buildings at risk in Scotland and will, arguably, make more of an impact on the vitality of Aberdeen's city centre than its much hyped neighbour - prompting Urban Realm to travel north to take a closer look.
Plans entail a complementary mix of housing, retail, restaurant spaces and a nursery across the crumbling site, with access to the city opened up by a series of new public spaces. These will be peppered throughout the sprawling 3.5 acre compound which comprises some 100 separate buildings that together constitute an arresting landscape of granite and brick chimneys and mills.
Hangovers from Aberdeen's early nineteenth century flax industry, these industrial relics have somehow survived unscathed at the heart of the city and include such architectural wonders as Grey Mill. Built in 1808, it is the fourth oldest iron framed mill in the world, but has fallen into a scandalous state of disrepair.
A phased programme driven by the Prince's Regeneration Trust is planned to realise these ambitions with close collaboration between Ian Suttie (the site owner), Aberdeen City Council, Historic Scotland and the Tenant First House Co-operative.
Bemoaning the "fast and furious money" which has thus far categorised Aberdeen's oil boom, contributing precious little if not nothing to the city's present day built environment, Ian Fraser of Halliday Fraser Munro told Urban Realm: "With the price per barrel of oil just now we're almost inundated with companies looking for new headquarters office space, but they want them tomorrow and that's it, quality architecture? Probably not.
Railing against the 'iconitis' afflicting Glasgow's waterfront Fraser continued: "It's funny. If you look at Edinburgh, Glasgow and Aberdeen, three amazingly different cities and what Glasgow has done on the waterfront which is scary in many ways. One iconic building is great but thirty iconic buildings all lined up against each other is just overload – so at least we didn't go down that road."
Broadford Works is equally close to the retail heart of Aberdeen, yet because of its nature very few people actually know about it, its isolation almost rendering it as a Scottish Forbidden City. This out-of-the-wayness has spared the site from the ravages of development up till now but is slowly being wrecked by vandals with only the robust, fire proof nature of the warehousing sparing it from destruction. "I was last in at the beginning of last year and even in that time it has deteriorated markedly," Fraser laments.
Despite these problems Broadford holds promise of taking a closed, walled in industrial site and opening it up to the rest of the city whilst retaining its character through selective demolition, conversion and new build. "It's really difficult to get right especially with all the other constraints. Everyone from Historic Scotland to the Princes Trust is involved; you're on a hiding to nothing with that one." But Fraser adds: "There's nothing worse than no brief because then you just don't go anywhere, you do need constraints and barriers pushing you in the right direction.
"The biggest problem that we had with it was that it was completely filled in with buildings which needed to keep workers in and people out so there are only two gates. Now if you're going to turn that into 350 residential units plus shops you wanted to start connecting with the rest of the city – but the minute you started making big breaches in this it start losing the character of what it is. You can keep the chimneys but that's not really the essence of what Broadford is about."
"It's like going to a European medieval city, Italy for example, where there are very, very narrow streets and high buildings, little squares and lots of little spaces where you can always go somewhere but it's not big wide vistas."
For so long cast in the shadow of its southern peers Aberdeen looks to be belatedly set on carving out a 21st century niche for itself now that its post-oil future can no longer be ignored. If it can learn from the mistakes and successes of the Central Belt Aberdeen could just get the best of the new whilst retaining the best of the old with City Gardens and Broadford Works.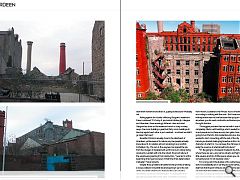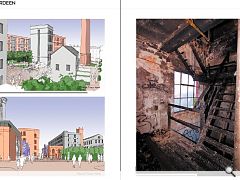 Back to April 2012