Royal Museum
10 Aug 2011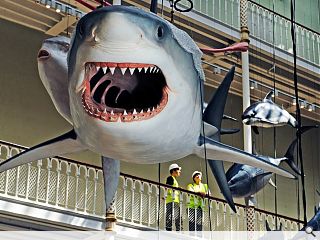 This summer is proving to be a sizzler as far as Scotland's cultural attractions are concerned with a slew of brand new venues seemingly opening their doors every week, most notably with Zaha Hadid's Transport Museum - reviewed this very issue on page 40. Standing as counterpoint to the brash modernity of Glasgow's uncompromising intervention stands an altogether calmer interpretation of what a 21st century museum should be, Edinburgh's Royal Museum.
For the past three years Gareth Hoskins architects, working alongside engineers David Narro, have been busily remodelling the historic Victorian structure in order that it better house its trove of curios in a manner better suited to the requirements and expectations of 21st century visitors.
The first impression such visitors are likely to take from the revamped museum is likely to come from a brand new street level concourse stretching the length of the front façade. Dressed in granite paving supplied by Edinburgh City Council it is the first phase in a longer term plan to iintroduce traffic calming measures on the clogged Chambers Street.
Waiting at this shiny new entrance was Museum director Gordon Rintoul who informed Urban Realm: "Underneath our architectural transformation the whole concept behind the museum was the world under one roof with collections covering everything from science and technology, the natural world, cultures of the world and art and design. That was the original Victorian vision, to come in and learn about all these things in the one place and I suppose we're recreating that with the architect making it possible and more interesting in a sense. That's where it's got to a after a century and a half of people footering around with it - and that's putting it politely."
Joining Rintoul on the tour was project architect Gareth Hoskins who took led Urban Realm into the catacombs which serve as entrance porch to the historic building: "This was originally a complete warren of spaces and absolutely full of objects," recalled Hoskins. With its contents shipped out to a new storage facility at Granton however the residual space has been opened up in a manner sure to surprise regular museum goers. To achieve this feat the designers didn't just declutter, they had to dig 1.5m below the existing floor level to create sufficient head clearance, a task which entailed propping up the entire length of a structural spine wall whilst it was dismantled stone by stone. "Literally by one guy with a hammer in this cage of props" Hoskins noted. We must have used every prop in Edinburgh to take the load of all the gallery space above" Hoskins joked. "It was an interesting moment when we took the props away."
Encompassing a series of vaulted spaces each undercroft will be adorned by a set piece object, including a two metre tall vertical steam engine and an equally tall incised granite sarcophagus collected by a Scots Egyptologist in the late 19th century. Hoskins noted: "They've all got stories behind them. That's one aspect of the museum; every object has a story to tell. They've all got explorers, missionaries going out there and bringing back much of the original collection. I like the fact that this building is known for its cast iron galleries," Hoskins adds. "The heaviness and darkness of this space makes the lightness even more special when you come up those stairs.
"One of the things that we'd found with the museum was that previously only about 10% of visitors got to the floor above. There are three floors of galleries but despite the grand Victorian staircases people couldn't seem to find their way around the building and with all the different accretions that had happened throughout the years - different installations, fit outs and exhibition galleries going in, people couldn't find their way so that about two thirds of the collection wasn't getting seen. Now there are doors right in front of you, the new staircase mirrored on either side around the central point and also new lifts which get people right up to the top of the building. A big part of the museum is events and this becomes a big events space as well and that gives back gallery space upstairs as well so that puts us back at around 50% in terms of gallery space. Around 95% of the material in these six galleries wasn't on display before."
Amongst these new additions is a Maori war canoe, the largest such canoe outside New Zealand and one which had never been displayed previously, despite having been first brought back to Scotland by the governor of New South Wales Scotland in 1827. Rintoul explained: "Previously it was in bits in the store down in the arrivals hall, it was only when we pieced it together during the move that staff got a chance to look at it. We then employed a Maori artist who came up from NZ to create a new stern post not as a pastiche in timber but as a mother of pearl inlay." Occupying one of a series of six "stack" galleries playing host to different world cultures this space has had to be blacked out to prevent ultraviolet degradation, a complication surmounted through use of theatrical lighting.
In addition to exhibits a 1950s wing to the rear has been transformed into a new 40,000sq/ft learning centre following removal of a dark and gloomy stairwell which did more to hinder access than facilitate it. "There were lifts at the back but no-one ever got there," Hoskins mused. "Only the people who lived or worked locally and happened to know that there was a café down at the bottom would come in for lunch. Hoskins noted: "For some reason it was built half a level out of sync with all the floors here so it's slightly ramped to connect all the spaces, god knows why they built that in the fifties. In fact in the seventies there was a project to build a new set of galleries at the front which managed to come out of alignment by about a foot. So we spent money putting them all back in again.
"For some reason it was built half a level out of sync with all the floors here so it's slightly ramped to connect all the spaces, god knows why they built that in the fifties. In fact in the seventies there was a project to build a new set of galleries at the front which managed to come out of alignment by about a foot. So we spent money putting them all back in again. Hoskins continued:
"Edinburgh's all about these big streets going one way and pends going the other. It's about connecting this building with Edinburgh University and their new informatics building and their masterplan." This plan calls for the relocation of a busy road and underpass to open up a second south facing front door to the museum complex, something which was being actively pursued prior to the credit crunch.
Hoskins continued: "When we inherited this building all the main gallery space was taken up with temporary exhibitions. The issue with that was with setting it up and taking it down it was actually only effectively open for about a third of the year - but it sat right in the middle of the promenading area, so you couldn't get through to the galleries. The idea was when we first looked at the museum eight/nine years back was to restore the original grand gallery space which had gradually become a place of cloakrooms and cafes rather than a museum." This was achieved first by shunting all back of house functions such as a restaurant, shop, information desk and introductory displays downstairs whilst also relocating the special galleries, to which people would come without going up to the rest of the museum. We've taken that big special exhibition gallery upstairs, so everybody has to go up to it. Then they'll come back out and down through the other galleries," Hoskins observes.
Speaking of the new claret hued exhibition space Hoskins stated: "We took out the floor here to create this double height space. This again was a gallery, the archways at the back were bricked up and plastered over, in fact we didn't know they were there at all. It wasn't until the team were hacking the plaster off that the line of arched brickwork and the arches were discovered, totally intact."
Such back to the future interventions were to become a recurring theme throughout the rebuild as Hoskins explained:
"A lot of the work here has been about trying to reinstate the best bits of the original building; it's one of the most spectacular architectural spaces in Edinburgh – even the UK personally, but in the late sixties a pair of five metre long fish ponds and a fairly nasty travertine floor had been inserted - a total intrusion upon the space. It was about getting rid of all that and putting in a new limestone finish which goes right to the back of the building. We've had a lot of interesting discussions with Historic Scotland regarding what is worth keeping and what can come out. No-one walking through the new museums doors will remember it unless they saw it as a very young child.
"The main thing about the museum is that it has these tall cast iron galleries, previously when you came in there was exhibits on the ground floor and a few exhibits up here but they didn't use the volume." Ruing the "Festivals in MDF exhibitions" which served to obscuring the stately architecture Hoskins has gone back to first principles with a series of unobtrusive glass cases. Critically the new museum works in three dimensions far more effectively than the linear dead end of the old layout. Vertical exhibits now stretch to make use of the full volume of available space with larger exhibits such as planes and dangling wildlife now jostling for attention in spaces previously notable only for their blank walls.
Rintoul stated: "We've tried to create a few focal points so that as you look through at a distance you see something to keep your interest. For instance underneath the wrappings in the centre arches is the millennium clock. It's a mechanical clock commissioned in 2000 which lights up on the hour and the figures move around. We've also created new views; you'll actually see a five metre tall T Rex skeleton where the head is going to be more or less in the middle of an archway glaring at you.
Long the forgotten neighbour to Benson & Forsyth's brasher contemporary neighbour, the Royal Museum of Scotland, the Royal Museum can now stand proud alongside its younger brother. Operating as a cohesive whole for the first time its completion in 1888 is sure to inspire a new generation of adherents just as its forebear had done. Rintoul concluded: "At the closing party everyone was given a bubble wrapped elephant, when we open on July 29 we'll have to give an unwrapped one."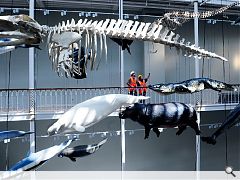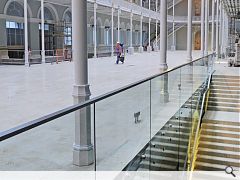 The main gallery space has been shorn of an intrusive fish pond
Back to August 2011