Hole story
7 Oct 2010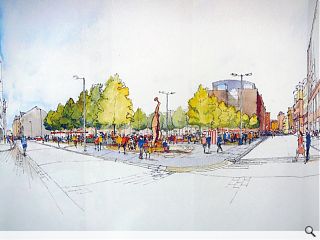 News that Selfridges have finally submitted a planning application in Glasgow... for a car park come public space, prompted Urban Realm to ask if this is the right angle to take? Every story has two sides (or four), so we took a closer look to see if the Merchant City grot spot is finally turning the corner. Or merely a sign that in the current economic climate empty space is simply more affordable than someplace.
Glasgow's Trongate can be a colourful experience for the uninitiated, particularly when traversed whilst dispensing 20p's to passing strangers and ignoring the cacophony of random shouts and sirens which echo amidst the rubble, mould and bricked up windows of the surrounding streetscape. Dominated by the decaying hulk of a former Goldberg's department store the effect is to imbue an almost apocalyptic character, an impression at odds with the "Glasgow: Scotland with Style" image that an increasingly exasperated Glasgow City Council have been seeking to promote for a site which lies within a stones throw of the City Chambers and has been impeding wider growth in the popular Merchant City area.
Seduced by Selfridges grand 2002 vision for a £90m, 200,000sq/ft flagship store with the longest shopfront in Glasgow designed by Toyo Ito the elation of netting a Bullring style coup for the city swiftly deflated as a subsequent bout of protracted silence smothered hopes through reports of the architect's replacement in 2007. Now Selfridges have all but pulled the plug on their planned Glasgow store, after a decade of prevarication after the upmarket London chain opted to concentrate on an online superstore instead. A spokesperson categorically stated that a "bricks and mortar store" was "not going to happen" before backtracking somewhat to say "it's certainly not the plan in the immediate future." Instead Glaswegian shoppers are being encouraged to log on from home to access the Selfridges range, shattering the veil of exclusivity which had contributed to its allure.
For the interim Selfridges have employed ash design + assessment to draft up £3m measures for the site, describing their plans as for the "short to medium term." It will entail the leveling of a huge site bounded by Trongate, Candleriggs, Hutcheson Street and Wilson Street to allow construction of a combined car park and public space with provision for a temporary market and event space, new pedestrian links, landscaping and an outdoor café. Further revenue raising potential may be explored through advertisement banners on the gable walls of buildings on site.
The primary Trongate frontage will see its buildings, many of them listed, retained to preserve the structure of the thoroughfare. An existing gap site however will be see a timber pergola style structure introduced as a means of signifying the new space to pedestrian traffic and improving accessibility by connecting through to a secondary space opposite Merchant Square, which could potentially feature a stretched material canopy as a corner feature. Parking areas would be screened by semi mature trees and Selfridges are in talks with the Merchant City Initiative to use reclaimed stonework and railings to define the site boundary.
Some locals have scathed however that the plans amounted to little more than a "traffic island" and questioned the need for such an expanse of parking, requesting that provision for cycle stands be made and believing that the plans in their current form did not represent a creative use of space. Council leader Gordon Matheson went further however, going on record to describe Selfridges behaviour in the long running saga as "disgraceful," saying: "They are responsible for a huge, wasteful eyesore and they should be ashamed of themselves. A car park is not the solution."
Having publicly parked their grand plans for the moment Selfridges will be hoping to temper public and official flak being directed their way but so far at least it seems the Selfridges brand has become as run down as that of its predecessor, Goldbergs. Whether the store can rise from the rubble at some unspecified future date remains to be seen but if the past eight years are any indicator, don't hold your breath.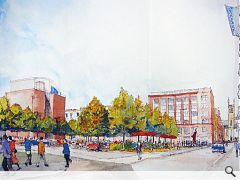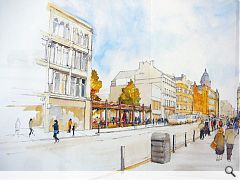 Back to October 2010