Sins of Saint James
7 Oct 2010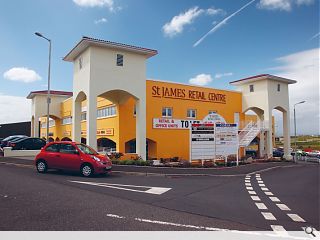 No-one could accuse the architects of the St James Retail Park of being yellow. The luminous attempt to bring Spanish revival architecture to South Lanarkshire is a mark of bravery that doesn't merely border foolhardiness but launch itself four square into the territory marked 'mental'.

As a statement of design however the retail park is certainly a stand out, even if it requires donning shades to appreciate fully. Amidst the grim greyness of East Kilbride this Carbuncle calamity shines like a beacon, injecting a dose of humour and colour to the drab environs of Scotland's most successful new Town. It's comedy gold. But is architecture an appropriate platform for comedy? Closeted away in the vaults of Edinburgh comedians are at least hidden from the view of those unenamoured with their wit, here the building is on very public display by the side of a roundabout (what else), the main arterial route through Hairmyres.
But really this is no laughing matter for at heart this is big box architecture of the meanest kind, irrespective of the elaborate stage set with which it may be dressed. A fact made all the more galling by miserly windows and a schizophrenic signage style which sees both serif and sans serif fonts deployed to confused effect. The impression then is less Spanish Hacienda then and more Turkish prison, an effect made all the worse by unflattering comparison with nearby development, The Inn at the Byre. Further dominated by four campanile like turrets and a ground level colonnade the centre does its best to introduce a touch of theatre, sadly however the curtains look set to remain up on this particular production.
"Tacky" doesn't really do justice to this colourful confection of low rent shops and pizza joints. It has been said that the standard of our built environment has been steadily decreasing with time; a swift perusal of this horror would do nothing to disavow anyone of that notion. Cheap, nasty and impossible to ignore this is a structure which owes more to American sprawl than East Kilbride's New Town ideals. That ambition and expectation should have fallen so far speaks volumes for the current drift in the local environment, as a one off (however heinous) it may be regarded as an aberration. Sadly however East Kilbride has been a champion of this type of edge of town, shed retail for a while now. Their spread, analogous to that of a cancer, needs to be halted and quick or East Kilbride won't find itself quite so fortunate when next the Carbuncles team roll into town.
A more deserved candidate for Scotland's worst new building then you would struggle to find but the abomination is at least guaranteed some positive press, the East Kilbride Mail is based there.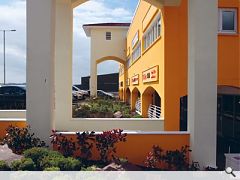 Back to October 2010