Roses flower in Nottingham
14 Jan 2010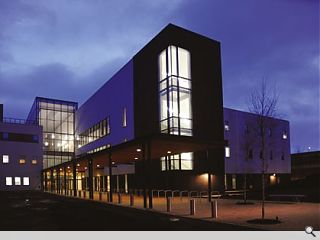 A change in geography brought a new audience to this yearÕs Roses Design Awards, but as always the same great architecture was on display. Departing the East Midlands with top honours were Reiach & Hall whose Stobhill Hospital earned the Grand Prix Award.

Stobhill Hospital is garnering adulation not just from the architectural fraternity, as evidenced by its Grand Prix win at the Roses Design Awards, as an exemplar of what can be achieved through the PFI/PPP model, but from patients and staff too, as a tour with project architect Andy Law of Reiach & Hall attests.
Indeed perhaps the most tangible sign of this success has been the unseemly jockeying of candidates in the recent Glasgow North East by election as prospective candidates jostled to claim credit.
Built around a voluminous 150m long east/west concourse the hospital draws people in through a welcoming coffee shop and sanctuary. Law says: "Visiting a hospital is an unnerving experience for many, it was imperative that we support patients on their journey."To achieve this clinic spaces are orientated toward the south facing aspect, maximising their exposure to natural light and ventilation. These connect into large hi tech departments on the north side via a series of lofty link bridges. Differences in the composition of facades; a series of glazed gallery spaces advertise clinic areas whilst a heavier formal approach is employed for the main departments, dissuades patients from straying.
Eschewing the route one approach of simply installing a glass roof to the atrium a series of high level skylights have been installed orientated towards the North to draw light in as Law explains: "We wanted to draw in a gentler northerly light to imbue a sense of calmness and relaxation."
This principal of calming the environment extends to the banning of TV's from the majority of spaces as Law states: "Watching an episode of Neighbours is not a good way to relax in a waiting room." Instead a series of installations from artists including painting, poetry and a looping 20min recording of a tree in the Hebrides, arguably more entertaining than aÊdose of Ramsay Street, subconsciously impart a sensation of serenity.
Acoustics inform many design decisions and are most apparent in the short walk from the main foyer to waiting areas, a subtle drop in ceiling heights plays with the reverberation of sound, creating a disconcerting sonic experience when passing to more private areas as the audio hubbub of the central foyer swiftly dissipates, despite the absence of doors.
Materials use has been kept consciously minimal, dropping loud colours and conflicting palettes for a consciously minimal space. Extensive use of larch has been employed to warm the somewhat sterile use of white throughout and a series of courtyards have been sunk into the body of the building drawing light and introducing planted Spruce trees.
Law freely admits that certain aspects of the facade look unfinished but this will serve to accommodate future expansion. Law explains: "The problem is people design set piece buildings to cater for current need. When the hospital needs to expand there is nowhere to go and you end up with portacabins everywhere."
Despite some teething troubles, Law is dissatisfied with the choice of furniture chosen and the hospital went without heat one night when a valve burst, the hospital showcases the regenerative potential of architecture to assist in the healing process; and this is as true of people as it is buildings.
Scottish Design Awards 2010
Keen to further satiate a taste for glory? Proud of something you wish to share? The Scottish Design Awards are open for entries now.
Submissions can be made by downloading your call for entry at www.scottishdesignawards.com or by contacting Kimberley Baran on 0141 559 6078 or
kim.baran@carnyx.com.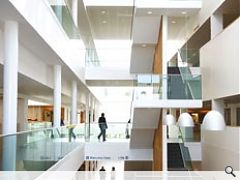 Reiach & Hall's Stobhill Hospital won this years Grand Prix award
Back to January 2010