Hard lessons
14 Jan 2010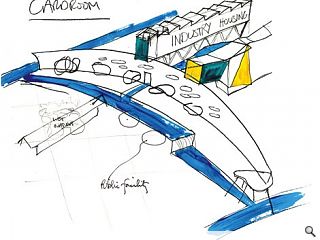 One big budget blockbuster of a project holds promise of much greater regenerative potential. Archial, BDP, RMJM/Gehry & Hopkins reveal their ambitions and ideas for the site. Notable by their absence were Atkins. What do they have to hide?

A giant brouhaha has erupted over the controversial appointment of Atkins to Glasgow's New Campus project. A plan to unite the city's Central, Metropolitan and Nautical Studies Colleges together onto a shared £300m campus. In today's financially straightened climate, the big ticket commission for what is in effect a new city quarter drummed up international interest with five teams shortlisted for the design including Archial, BDP, Hopkins (with Bennetts), RMJM (with Frank Gehry) and Atkins (with Michael Laird).
But dark allegations of foul play have fostered an atmosphere of discontent following the appointment, with many querying the suitability, justness and appropriateness of the decision.
Key to complaints is a lack of prominence given to design at the competition stage where, unlike the Glasgow School of Art competition whose jury was chaired by architect David Mackay, New Campus at four times the size did not contain a single architect on the jury Ð a fact that astounded many.
Responding to these criticisms, Iain Marley, programme director for the New Campus project, said: "Design was part of the process for selecting the winning team but we didn't select a design, that's the key difference here. It wasn't a design competition, it was a designer competition. The objective of the exercise was not to appraise them on the basis of their architectural merit, it was to understand how practices interpreted the information we gave them on the projects objectives. We'll move into the design stage in the New Year once we've established our development strategy."
Speculation is rife however that rather than soliciting the best designer the process merely filtered out the lowest fee bid. A belief lent credence by an extraordinary anomaly in the fee submissions which came in at around £12 -15m save for Atkins, whose bid of approximately £6.75m trumped everyone Ð an astonishing gulf referred to as a "rogue fee". Naturally such an outcome left competing parties severely nonplussed with several describing the process as "shocking".
It is argued that running a competition with no baseline for fees was fundamentally unjust Ð an argument bolstered by the journal notice for Ulster University (a scheme directly comparable in cost and scale to New Campus). This stated at the outset what level of fees would be expected by providing a costs banding for entrants to work within.
Refuting the comparison however Marley contests: "We took advice and looked at a range of ways in which we could approach this, there are many ways in which this kind of scoring can be applied. We went with something that we're happy was appropriate for this project and reflected the public and capital procurement guidance through the experience of our professional advisers who have done this many times."
A whistleblower complained however: "Fee levels are tighter and people are going in lower but it's difficult to think of a more demanding project, particularly for this money."
Further comparison to the GSA competition illustrates this disparity where Stephen Holl won on a fee bid of 5.7% for architecture only. Atkins won New Campus on a fee bid of 3.46% in a project of far greater complexity. Such a chasm disturbs many involved in the process: "You cannot do a project for that fee level" said one.
A scoring matrix set out by the organisers came in for heavy criticism for disproportionately favouring low cost over strong design. In marks out of 40 for cost Atkins cleaned up with a weighty 37, dwarfing its nearest challenger BDP who scraped a paltry 7. Complaints are rife that benchmarking bids against the lowest and most detached submission created a "highly distorted formula". Indeed so low was Atkins' submission that many bids were subsequently sunk with Ônil points', instantly dunking them out of contention. One individual close to proceedings opined: "The lowest fee bid was always going to win regardless of quality due to a mathematical multiplier applied to assessments."
A source close to the competition remarked: "We're all big boys and you win some and you lose some but you just can't compete on that basis. We might as well just pack it in." This feeling was shared by a rival contender who said: "It was a sore one, I felt shabby after it". Another complained: "We were not happy at the time, my first reaction was Ôsomething's wrong'. We've done a lot of work in the education sector and deem ourselves to be competitiveÉ but we weren't even close. The competition was never set up on the intention of getting a low bid but the way the process was set up that's precisely what happened. Whether this was the intention from the start is questionable."
Marley is adamant however that the results were not skewed. "It was carried out under the European and Scottish Government procurement rules and the evaluation criteria reflected the public procurement guidance. It's a matter of record that the financial elements comprise 35% of the total marks, so it's simply not the case to suggest that pricing which is of course commercially sensitive and confidential skewed the overall score towards the low fee submission. This is all standard stuff. The whole scoring mechanism has been used on many other projects; it's not unique to us. That's just a red herring."
New Campus insists that it is convinced Atkins can deliver its promises on budget, but deny claims that this will be achieved through outsourcing work to China. Marley explained: "This is just the rumour mill gone mad, that is not the case at all. The project at the moment is being resourced from Atkins' office on the Broomielaw in Glasgow. There may be some elements, in common with other large projects, which may be outsourced, but for this stage and the key design stages there will be no significant element that will take place outwith Glasgow. This is a significant investment in a Scottish practice."
Concerns remain that Atkins is not recognised as a design team, a fact openly admitted by Atkins' head of architecture Martin Pease in a recent BD article in which a policy of poaching design talent was articulated to redress the balance. In the article Peace stated: "We have a reputation of being a good, solid, dependable, technically robust, on time and on budget firm. That is a good building block for us but we're not recognised as a design leader. We want to be known as design-led and innovative." An insider commented: "If I were New Campus reading that I would be very uncomfortable."
Others see this farming out of work abroad (one source claimed all production work would be carried out by Chinese CAD monkeys), as a kick in the teeth to young British architects struggling to find work. It is argued a protectionist stance needs to be taken and they echo Gordon Brown's mantra of British jobs for British workers for taxpayer funded projects.
Another source of consternation for some parties was a lack of consultation with outside agencies, in particular the Townhead community, Architecture + Design Scotland, the neighbouring Strathclyde and Caledonian Universities or the Glasgow Urban Review Panel. It is also alleged that no consideration was given to student council opinions on the submitted schemes.
But Marley counters: "What would we have asked those parties to contribute to? I think there's a misunderstanding there, this was a selection procedure brought about under European rules. Frankly it would have been inappropriate to involve those in a designer competition. It's absolutely critical that we consult Townhead residents on this project but they really have no locus on the selection of this team. You wouldn't involve them in that any more than you would in the selection of our lawyers, financial advisers or managers. It's actually quite an absurd idea.
"Students are a part of the client group, they'll be working with our designers and are absolutely fundamental to the process. The involvement of the staff and students was for them to give us some feedback on how they feel the different teams and their different approaches would work for them.
"That's the key to this, it's how we would work with the team. What we were looking for through the final selection was their approach, the composition of their team and to try and get under the skin of how they would work with us. Not to pick a design at the end of it. Therefore the whole approach required the participation of staff and students, rather than any external parties such as A+DS."
Another source contended: "Kids at Stow College are getting hee haw in any investment, a core curriculum and that's it. Further education provision in Glasgow is abysmal. Scandalous. The College of Building and Printing are still using equipment from the 1960s"
The source continued to speculate that the entire campus project may ultimately be a dead duck, with a cash strapped government cutting a deal with Glasgow City Council behind the scenes to channel the funds into the city's airport rail link instead. Some see investment in infrastructure as a better use of taxpayers money than new college buildings, particularly in a scheme that has thus far singularly failed to fire the public's imagination.
These practices committed considerable investment to the bid process and big names in the architectural fraternity are said to have become disillusioned by the whole affair, amongst them Frank Gehry who is unlikely to return to the city. RMJM too are said to be embarrassed by the whole process, as well as out of pocket after paying the master up front.
Atkins were unavailable for comment telling Urban Realm the design team were "too busy" to deal with enquiries and wished to put the client first. Neither Atkins nor New Campus was willing to submit sketch drawings of the winning bid with Marley stating: "For us it would be counterproductive to share even the sketch drawings which we had because they've got no status. The issue for me is that if they were presented in that manner most people would read it and think that's what we're proposing to build and I might have liked this one and that one and the other, but that was never an objective of the exercise."
Urban Realm has issued a freedom of information request and will publish Atkins winning bid once received.
Back to January 2010