Radisson SAS
|
Send to friend
6 Apr 2006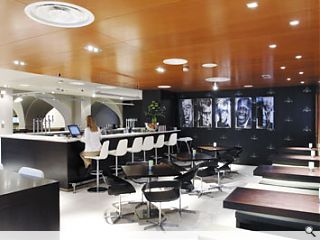 Graven Images has turned a frumpy lobby into a meanignful public space.
The Scandic Crown Hotel (1989) on Edinburgh's High Street, was designed by Ian Begg to mimic the historic grain of the surrounding buildings, dormers, closes and all. The hotel had an underwhelming reception and a lobby that was dominated by the door to the car park. Radisson SAS, who now own the hotel, asked Graven Images to rethink the reception area; create more convivial public areas as well as reworking the 238 bedrooms.
"Entering a hotel should feel like a series of mini-dramas" said Ross Hunter of Graven Images. They designed new reception islands and converted an existing cloister into a series of bays off the main lobby. Renzo Mazzolini was commissioned to photograph the Old Town to put on the walls and a new bar called Itchycoo was created overlooking the Royal Mile. The new bedrooms are simple with bespoke furniture, Bute Fabrics and black Timorous Beastie wall paper.
Back to April 2006