Games Bid Process
|
Send to friend
24 Jun 2008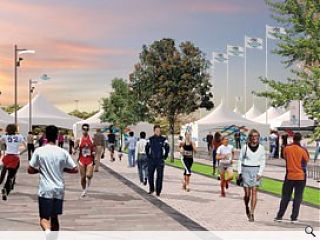 A consortium put together by Progress Property Developments is among one of several groups bidding for the lucrative contract to develop GlasgowÕs 2014 Commonwealth Games Village.
Glasgow City Council opened the tender on 26 May, which is open to any company or group within the EU in accordance with EU procurement rules. The completed bid forms must be returned to the Council by 16 July, at which point the bidding will be closed. Completion of the form acts as a pre-qualifying test for the companies, who will then be invited to bid for the contract.
Glasgow City Council are expected to announce the successful bid during the second week of December. The Council would not confirm how many bids it had received by the time Prospect went to press.
The proposed development at sites across the east end of Glasgow will be required to accommodate over 6,500 attendees for the Games.
The PPD consortium have taken on Ian Simpson Associates as the Masterplan Architect, and Mace Group as project and construction manager. Council subsidiary City Building (Glasgow) LLP have been taken on for the provision of construction services. PPDÕs development proposals claim to be designed to create "a sustainable residential community". It is suggested that the buildings on site will be convertible into family homes when the games are over.
"Our games village proposals aim to further define sustainability - not just in terms of green credentials but also in terms of a thriving community and the opportunity for permanent employment. We hope to make the village one of the leading ecological developments of its type and thereby putting Dalmarnock Village onto the world stage," a spokesman said.
Back to June 2008