Terry Farrell on championing design
|
Send to friend
5 Jun 2008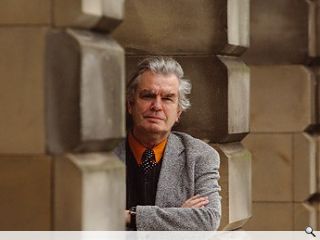 My initial team of the years as Design Champion subsequently became four years, & will now be five
My tenure has witnessed a period of considerable change in governance both at local and national levels, as well as many personnel changes. It has been a period in which Scotland has gained substantial political independence, with significant economic changes in its capital city.
I am extremely grateful to have had the chance to spend more time in Edinburgh. As a child I grew up in Newcastle and came here many times. In particular, it has been fascinating to have had the chance to understand the civic view 'from the other side'. I've been engaged in private practice all my life, so it's been a remarkable opportunity to gain some insight into the workings of a city council and the challenges and difficulties it faces in trying to run a city. I have enormous respect for those who dedicate their lives to the public service of managing cities. It is often an extremely thankless task with hard to measure achievements. Problems are ever present and seemingly never finally resolved, so to see these as potentially creative opportunities takes real commitment and insight.
Perhaps the origins of the role of the Design Champion needs some explanation. There are many kinds of Design Champions and the role is approached and interpreted differently by different people in different places. In this case, the definition that evolved was very much tailored to suit Edinburgh at this point in time. Initially, Trevor Davies the then Convenor of Planning and Ian Spence the Head of Development and Quality came to me in summer 2003. At that time I never thought about becoming a Design Champion. It had never crossed my mind that this was something I wanted to do, or indeed that anyone would ask me to do it. However Trevor and Ian had both made an enthusiastic commitment to improving Edinburgh. They could see the changes that were taking place, and believed that urban design was a key way forward. I believe they sought me out as an outsider, but also as a bit of an insider, someone who, although he didn't live there, knew Edinburgh well . But I had no idea that it was going to take up so much of my time. Though it was supposed to be only a day a month (12 days a year), it has gradually evolved into a much bigger and much more time consuming commitment.
As well as being rewarding, it has also been extremely frustrating. I have found it much more difficult to get things done than I ever would have thought possible. But early on I defined the role from my own point of view and went on to think a lot about what can be done for cities by those who cherish the concept of urban placemaking. My experience is growing. In the last year I have become Design Champion for the Medway Towns, in their quest to become a city in their own right, as well as the Isle of Wight, which has set itself the target of becoming the world's first eco-island. And last November the Prime Minister, Gordon Brown, announced that I had been appointed to the post of Design Champion for the Thames Gateway Parklands. All these roles are tailor-made and for a limited duration.
My tenure at Edinburgh was originally for three years, but with elections due and in order to help with the transition to new members, it was thought that it should be extended for another year. I accepted, but have recently been asked to do a further year, as the transition period throws up considerable further issues and problems that the new administrators have recognised and are now determined to address.
My personal belief is that place is the real client and that urban design begins and ends with this assertion. As Edinburgh is a truly extraordinary place, this philosophy assumes a special dimension. Yet sitting alongside such civic and urban qualities are some of the worst problems of the modern age. Traffic congestion in the city centre, depredation of pedestrian routes and blighted suburban council estates all sit uneasily alongside a defensive sense of self satisfaction. True, Edinburgh regularly wins plaudits for being the best and most liveable city in the UK or Europe. But over the past four years this complacent view has drastically changed. During my term there have been a number of new developments such as at the airport, the Gyle and the ports, that dwarf the New Town in terms of scale. Add to this major infrastructure enterprises such as the tram, and you get the sense that new forces are now shaping Edinburgh, bringing home the reality that its population growth and capital city status will have to be addressed by a new era of city making.
It cannot be called a renaissance, as that implies a level of 'failure' that Edinburgh should never contemplate. Rather it needs to be defined another way - for instance 'Project Edinburgh', 'Edinburgh – Twenty First Century' or 'Changing Edinburgh', to suggest moving on and even greater aspirations. Most of all, it needs vision. Edinburgh needs to roll its sleeves up with planners, designers and visionaries rather than cower against the tide of change, or fiddle around with smaller scale, peripheral matters.
This edition of Prospect includes a review of the past four years and looks at what we have done in that period. It also lays the foundations for the coming year and the more long term future. Apart from the ongoing involvement of Trevor and Ian for three years and more, another continuous ally and full-time appointment as 'City Design Leader' was and is Riccardo Marini, who brought enormous energy and enthusiasm to the project. Riccardo's experience in local government and his knowledge of Scotland's design community and its local 'actors on the stage' were vital. As a committed urbanist who clearly understands what makes a city work, he also has a real empathy for Edinburgh.
Duncan Whatmore, whose drawings we show here in the first section, has also been a great help. Initially he was seconded to Riccardo Marini as a part time assistant, but eventually Duncan set up on his own and has continued to work with Riccardo on a partly voluntary basis, providing invaluable support.
We have organised this review into a set of new agendas for Edinburgh. These are based on urban design-sized component parts (which Riccardo christened 'tiles') in which we involved fellow designers who have shown an appetite for collaboration and urban design thinking. An entire cast of people pitched in - landscape architects, surveyors, developers and designers. Some may question what we have achieved. A lot of work has been done behind the scenes; this kind of activity does not have the profile that accompanies individual buildings or planning consents. This has been by choice, because we consciously did not want to get involved with ongoing projects or their review.
Rather we deliberately sought out those areas where there was a gap or a vacuum in order to accelerate change in a broader sense, primarily within what is generally known as the 'public realm' – i.e. the areas between the specific projects. The work shown in this issue is intended to give some sense of what we do and how we do it.
Some general proposals for placemaking and pro-active planning in Edinburgh
Town planning's conventional reliance on development control can never be enough.
The UK town planning acts of the late 1940s anticipated that state planning would be the dominant force. Private sector planning would have a minor role, kept in its 'rightful' place by development control. But from the 1980s onwards the power of state control was reduced and the private sector grew. In the UK the major planning roles gradually became reversed with private ownership of land and private initiatives often being the sole driver of city making.
This pattern was particularly noticeable in those cities where there were major changes. However in Edinburgh there has been very little change over the past half-century, so that awareness of this shift took a long time to percolate through. Because there was so little change and because Edinburgh's central core remained a self contained world heritage site, the planning role of the local authority was reduced to simple defensiveness (i.e. vigilant development control), encouraged by an active conservation lobby. The Cockburn Association, Historic Scotland and many architects thought that the appointment of a Design Champion would involve debates over issues of taste, condensing the notion of city planning in Edinburgh to a battle of contemporary architecture versus the heritage and conservationist lobbies.
However over the last decade this has changed, mainly because of the way that Edinburgh itself is now changing on an unprecedented scale. Coinciding with the time of my appointment as Design Champion four years ago, many architects and planners in Edinburgh began to realise this. So my role gradually became clear. I decided that I would not be involved in development control and would not advise on planning applications or be involved in any individual building issues. Instead, planning in Edinburgh needed a complete change of mindset. And so the area that needed addressing was to reinforce and accelerate and structure this shift from planning being driven by reactive development control to proactive and creative city making.
What is needed more specifically is 3D spatial planning at the right scale i.e.: the scale of urban design.
The city's future well-being depends on its ability to drive wealth creation and social justice by healing flaws in workable urban areas through the processes of regeneration. Crucially, this relies on proactive urban design work, but this needs funding and staff with the right skills and tools. I believe this is currently Edinburgh's most important urban challenge, made more urgent by its new status as a capital city of an independent country, and by the rapid change and growth it now faces. The scale of urban design is that of neighbourhoods, places and city blocks, and sits between the large two-dimensional policy plans of planners and the individual building designs of architects.
In my view, the Design Champion role provided an opportunity to kick-start a change in attitude towards urban design and the public realm. So the emphasis is on achieving change, rather than simply championing what is already there or currently being done. In other places, such as the Medway Towns, the Design Champion tends to be a spokesman for existing successes. But with Edinburgh there has been little to champion in terms of new urban design, particularly in the public realm.
Cities governors and administrators cannot do this alone.
No city can provide enough qualified staff, resources, flexibility or holistic thinking without the active involvement of the widest range of urban design parties. This includes private sector professionals, the universities and also the private development and land-owning communities. These last groups have additional skills in the operating managers, planners and consultant designers of their own estates. As Design Champion I've worked hard to engage with all those that have skills to offer. This great city contains many talents, and the key is to channel these talents and involve people. Over the past four years the development of skills through workshops and the implementation of projects such as the tile process has shown that there is much to be gained by engaging widely with creative, committed people.
There needs to be a greater involvement and commitment from Edinburgh's leaders in both private and public sectors.
Leadership needs to come from a platform of governance and political will at every level, both local and national. In other cities political leaders, such as Daniel Moylan and Ken Livingstone in London, have far fewer real powers, yet manage to make a significant difference. City Hall staff can show leadership - for instance, Howard Bernstein in Manchester has shown what a chief executive can do if there is the will to lead and drive change, and at national level, London Docklands and the Thames Gateway have benefited over the years from the aspirations of successive senior politicians such as Michael Heseltine and John Prescott.
In the private sector, the influential and experienced business community can also demonstrate powers of leadership. Edinburgh has a number of large and powerful organisations, particularly in the financial services sector. But they, for whatever reason, are not too involved – particularly when compared internationally. For example, I've seen in Seattle how local corporations that had their headquarters there, such as Boeing and Microsoft, had really engaged with the city. Not only did they invest in major building projects, but they attended and spoke at city meetings and contributed financial and personal resources to making the city better - taking it forward was something everyone shared in.
Engage with the wider public in Edinburgh's new era of city making.
If the local press and media (including the new media of websites and podcasts) are able to share and disseminate what is happening in the city, then this adds to the creative possibilities. However it is not the same as the legal requirements of development control, i.e. "consultation". In its formal sense, consultation, while extremely valuable, can also have considerable limitations. True city making needs enthusiasm, engagement and excitement, not passive response. Around the world, city making is a hot topic, filling newspapers and television channels because everyone knows it's happening and feels part of it. In great cities such as Barcelona, Copenhagen, Amsterdam, Sydney, Portland and Manchester, urban design is a whole generation ahead. Edinburgh needs to show what is happening and how it is being transformed, through a concerted and lively programme of exhibitions, conferences, debates and media coverage.
Edinburgh needs to learn from everywhere else.
The 'albatross of excellence' has led those that run and deal with the existing fabric of Edinburgh to believe that it is virtually 'job done', that the city is complete. It has reached such a level of national and international excellence, the thinking goes, that there is nothing to be learnt from anywhere else. But this complacency is misleading. Edinburgh's civic qualities were established over 200 years ago (by people long demised!), and it now needs new thinking and leadership to address the future. It needs to re-learn city making and to do that it needs to look at how the leaders of other British cities have worked within our existing "British" democratic and socio-economic systems.
There have been enthusiastic and genuine offers of help and of the exchange of knowledge from cities such as Leeds, Liverpool, Manchester, London and the Medway Towns. All have established city making project offices equipped with urban design staff resources, skills and tools, and they all admire Edinburgh as a wonderfully planned historic city. I believe that we need to set these connections in motion, as well as fostering links with national and international development organisations, professional planners and design teams.
The Design Champion's role needs to be re-thought
The Design Champion cannot 'stand in for' the absence of a proper city making resource in the city, and once this is established perhaps the Design Champion's role needs re-thinking. I will have done this job unpaid for 5 years; my hope is that at the end of it I will have helped set up a situation that doesn't need someone in this identical role – it is just too much to ask, and anyway, it is a proper full time paid job to lead on urban design. Perhaps it then needs a set of sector or mini-champions for big aspirations such as, say, Waterfront City; planning all the city centre; the Haymarket; and re-planning all social housing. They could then be more local designer/urbanists (and need not necessarily be architects at all!) If mini-champions were also to be more local but sector based, the over-concern with "conflict of interest" should then be avoided. It is unrealistic, and indeed impossible, in any sphere, to get someone totally uninvolved to be useful and interested in public life, (or to insist that to be involved, all active life in their professional field within the city should end). Every city needs its clever and experienced people to get involved, and there are ways of ensuring everything is done properly and fairly. In London, CABE, English Heritage and the Mayor's Architecture and Urbanism Unit all rely on the huge amount of voluntary work done by local architects, planners and landscape architects, and indeed, developers themselves.
With the setting up of Architecture + Design Scotland, architectural design matters need to be considered without the duplication of having a Design Champion who looks at architecture. At this point in time I see the Design Champion role I played as probably a one-off project to help for a period to get through transitional times and to help set up a new way of doing things. The city, when it has an urban centre and a full involvement of private/public sectors, and with a good urban city making team in the City Chambers (hopefully all achieved in the next 12 months), will need to take stock and revisit what new kinds of roles that are needed from those that champion design.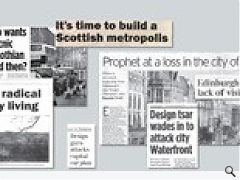 Back to June 2008