Planners discuss Edinburgh design
|
Send to friend
5 Jun 2008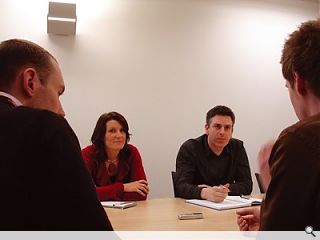 Planners Prospect talked to planning officers working in Edinburgh to find out if they thought design had moved up the planning agenda since the creation of the design initiative
City of Edinburgh Council design and planning team have their work cut out for them, both in their day to day planning decisions, and their overarching design strategy. The appointment of Sir Terry Farrell as the city's architectural 'design guru' – the planning team prefer the term 'champion'- was intended to place design at the top of the planning agenda. And help them square the circle which balances the competing challenges and priorities of the city's planning decisions, while accommodating the thinking of a greater design strategy beyond the expediencies of each application.
Prospect sat down with a team of Edinburgh's planners for a round table discussion about the challenges ahead, and the possible difficulties of working with a respected figurehead whose visionary role may clash with the everyday functional challenges of a busy planning department. The panel consisted of Stephen Hajducki the group leader responsible for delivering the design initiative through the development control (an architect and planner by training), design officers David Givan and John Deffenbaugh who are both architects, Gina Bellhouse, a planner who spent ten years in planning enforcement before moving into policy, and planner Kevin Murphy who has worked in local authorities since graduating.
"One of the key barriers to moving design up the planning agenda generally is the aspiration of some members in the private sector," said design officer John Deffenbaugh, who trained as an architect before joining council planning to get more of a view of the broader citywide context. "In architecture you get so focused on detail to the nth degree, down to drainage and electrical issues. I wanted to see the bigger picture in the way a city is planned and functioned." He now works in a development management team dealing with planning applications; what he calls the sharp end."
"What really shocked me coming to work here were some of the absolutely dire developments you see every day, and it is not a minority. Volume house builders, generic house types, pastiche, really low quality material. There is only so much a regulatory process like planning can do to raise design up the agenda, if the quality brought to the table by the private developer doesn't have an aspiration. That is a big barrier in itself. We are not here to hold people's hands. It is not designing by numbers."
"We get to liaise with a huge range of people to ensure that things come together within an overarching design solution instead of it being the result of a number of departments' separate requirements, which is what could happen. If you look at any organisation that has a number of people working for it, there are going to be conflicts." With Farrell's appointment, Prospect posed the question of whether the current structure allowed design to finally be placed at the top of the planning agenda, which seemingly remains a challenge despite the presence of a design champion in the role."
"In recent years there has been a real push to put design at the top of the agenda. We do have standards for urban design, and it is has been on the agenda for a long time. Even the local plan has design policies in it," says Bellhouse. "Maybe 12 years ago, there was a feeling that you couldn't refuse an application on design alone. I do think there is far more awareness of design now, and we are more confident about turning applications down if we don't feel more confident on design issues alone. As a planning officer you are expected to know and understand an awful lot, but you can't be an expert in every field."
Deffenbaugh adds that there is still a perceived conflict between planning and design in relation to the city's flagship development projects which can still result in unpopular designs making it through the process. "The waterfront has been criticised in the past for the nature of the development taking place out there, and the way the city has allowed that to happen," he says.
"At the same time, those designs and those buildings originated on someone's drawing board. A qualified architect designed those buildings, but the city bears the brunt of the criticism. That's a big problem." "We are seeking to have that joined up thinking," Bellhouse adds. "Perhaps there are still conflicts that do need to be sorted out between us. I think we're much better these days at actually speaking to one another."
David Givan agrees that the planning process is often misunderstood, and planning decisions frequently - if not invariably - turn on questions of style, as well as content. "It's the technical ability and also the advice they can bring. I don't think an architectural technician could do this job, even though they might have even more knowledge about how to put a building together than an architect," he says. "The aesthetics are very important, and that's a big part of what we're looking at."
Deffenbaugh appreciates that the appointment of a design champion with a broader overview can assist not only in bringing style to the table, but can help with the planning process on a day to day level. "As an architect you're looking at going into a high level of detail on a specific site. In the city planning department we're working on much more macro level," he says.
"It's the skills the planners can bring to the table, it's not just one sided. Planners and architects work together in dialogue with each other. The really important thing is that it's not about personal preference. You may not have done it that way yourself, but if it is driven by an overriding design concept that works well within its context in terms of form, matter and materials, then that may be a very positive development, whether you like the aesthetic of it is another matter."
"It is about looking at it from an objective point of view. So many people say design is subjective, and how can you assess that? I think that is often used by people as an excuse to get their designs through the planning process. If you look at it purely objectively through a series of stepped criteria, then you can make some judgements about it." Despite the presence of Farrell, both Deffenbaugh and the team agree that having a vision in place can have only a limited effect on the city's design culture. The developers and applicants also have to play their part by being aware of the city's unique requirements, and submitting suitable design aspirations of their own. Deffenbuagh explains.
"It goes back to the building's local and wider context, its transport links, height, massing, conceptual material, elevational patterns, surrounding buildings. If there are valid and just reasons for deviating from that, it may be a positive thing to do. It is more about the physicalities rather than the process," Architecture and planning group leader Stephen Hajducki agrees. "We do get applications for very attractive buildings that are just completely wrong in their setting. It is about getting something that is right for the location. Although Edinburgh is probably more joined up than many cities."
If the appointment of Sir Terry was intended to act as a beacon for the city, the council's planning team are not yet convinced that his presence has had the desired effect. "I am not sure how high profile it has really been. Not as high profile as perhaps it ought to be," says Hajducki. "The purpose of the design initiative was partly to raise our own game here, and also partly as a shop window for Edinburgh to highlight the standard we were expecting. It is very much raising the profile of design. We as planners are almost reduced to arbiters. We do sometimes find that some people can be precious and have their own remit. In hindsight, more feedback in both directions would be useful, based on the reality of what is actually happening, and what it is achieving."
David Givan argues that the fact that the city has appointed a design champion sent out a very clear message to the architectural community that the city is interested in design, a point which Deffenbaugh is in agreement with. However, he believes that the role itself can come with some inherent problems built in.
"It is a double edged sword. In other local authorities, design champions have been specifically involved in the planning process, and there can be conflicting views from the design champion and the planning staff themselves," he says. "Here, the design champion operates at a strategic level, and perhaps that eliminates any conflict. I don't think there is a conflict between what the design champion says and what the planning officer says. The planning officer is operating at a more strategic level. The downside of that is that maybe it would be a benefit to get his input earlier on in the planning process."
Gina Bellhouse adds that the presence of the design champion was crucial in providing guidance and focus on the city's flagship, large scale design projects. "In the beginning Terry Farrell was a very good figurehead in lots of meetings that were high powered about major sites, such as the waterfront," she says. Hajducki adds that Farrell needed, and was given, a high level of internal support from within the Council to try to integrate him into the workings of the planning system as effectively as possible. "Crucial to the structure was the design officers' team. We realised a figurehead person would not turn up more than twice a year," he noted.
Sir Terry Farrell's pedigree and track record speak for themselves, and in Deffenbaugh's view, his appointment indicates an ideal way to synthesise the priorities of planning with the aspirations of design. Having someone with a designer's eye giving an overview is crucial to making city planning effective, he argues.
"Design is integral to planning, which is a statutory process. In other countries you have to be an architect before you can be a planner. What would taking the senior planner and putting him at the top of the structure make if that individual didn't have a passion or knowledge of design?" Ultimately, the team hope that the success of design under Farrell will create a virtuous circle into the future, as Givan concludes: "The reality of what gets built will have a big impact on the kind of applications we'll get."
Back to June 2008