The future of Prince's Street
|
Send to friend
4 Jun 2008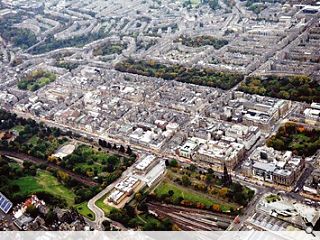 Prince St: Just a shopping street or much much more?
Princes Street is one of the most spectacular streets in Europe. Its great drama lies in its setting facing the castle and the Old Town, together with its gardens, which have panoramic views, its south facing orientation and its generous, boulevard-style width. It is a natural place for people to gather, acting as a venue for firework displays, races and other civic and cultural activities. It is the heart and meeting point for the whole of Edinburgh, the city's genius loci, it is Edinburgh's equivalent of a civic ''town square'', recognised all over the world, and is also the backbone of the city's world heritage site. Yet at closer inspection the street itself is something of a failure. True, it sits within a world heritage site, but it also has quite an extraordinary number of second rate buildings. It is a triumph of urban design over architecture, and if much was substantially rebuilt with the right kinds of buildings, it could present a great opportunity for new architecture without sacrificing its historic and extraordinary qualities of urban design.
At pedestrian level, Princes Street is of mixed quality. Though it boasts one of the great promenades of Europe, moving from west to east and facing south, it has four shockingly bad pedestrian bottle necks. Experiments with traffic over recent years have had varied success, but it is clear that this malaise needs addressing. Other great historical cities are vigorously tackling such problems, so why not Edinburgh? Planners and traffic engineers should aspire to an international standard of how to deal with railings, crossings, lights and the whole balance of pedestrian flow versus vehicular movement, so that the Princes Street experience it is not just a great walk along the horizontal plane, but also free flowing at key nodal points and intersections. At present there is a huge amount of muddle, chaos and visual intrusion.
Moving from east to west, the first key intersection is where North Bridge and Leith Street meet Princes Street. The second is at the junction of Waverley Bridge and the third is at the Royal Scottish Academy, where the route across the Mound bisects Princes Street and runs up into Hanover Street. The last is where Lothian Road meets Princes Street at its far west end. All four junctions need to be rethought and reconfigured, as simple, straightforward, direct crossings without island-hopping or railings. In fact, a whole agenda of pedestrian improvements need to be set in motion so that the street and its connections reflect the quality of setting and place.
We proposed these improvements four years ago but to date apart from the launch of the new standard for streets, nothing much has happened on any of these important issues.
It also must be questioned whether shopping is Princes Street's sole or primary role. These days, great cities are becoming polycentric and Edinburgh is no exception. Out of town shopping centres such as The Gyle and Ocean Terminal, together with increased activity elsewhere such as the redevelopment of Haymarket and especially the St James Centre, all mean that Princes Street's retail role is being eroded particularly at its western end, so that it is no longer pre-eminently a shopping street.
What is its real future? We are absolutely convinced it is primarily as a promenade, probably one of the finest in the world, and not just for tourists, but also for residents and for celebrating great occasions. But it is suffering a creeping malaise. Shops at its western end are of low quality, reflecting the fact that it has been overtaken as Edinburgh's primary shopping thoroughfare. Moreover, it can no longer compete with out of town, purpose built shopping centres with their easy servicing, accessible car parking and large ground floor plans. On Princes Street it is not possible to build large stores without radically altering the streets behind.
Yet despite these constraints, Edinburgh keeps trying to convert this great part of the New Town into a kind of mammoth shopping complex. This it has been proposed can be done by introducing deeper plan buildings running north from Princes Street. Such a tactic invariably requires combining smaller, independent buildings, so that their plan forms are completely altered, and also taking over service streets from Rose Street at the rear so that the whole street layout is distorted.
None of this may be the primary future for Princes Street. To compete with out of town and other nodal shopping areas is letting down a great high street and great promenade. At present most shops on Princes Street only occupy the ground floor, so the upper floors are grossly under used. Many are given over to storage, with cardboard boxes stacked in the windows. Considering the potential of Princes Street, it is a dismaying state of affairs. Here is one of the world's greatest city panoramas, but because of past planning policy and no overall urban design approach, these floors are either languishing empty or used for 'dead' functions such as storage.
The answer is to fill these upper levels with flats, boutique hotels, clubs or other uses that will colonise them with people who can enjoy the view. The emphasis should be on introducing restaurants and cafes which will bring new life to the street. Moreover, taking advantage of the south facing orientation and gardens opposite, it should be possible to connect with pavilion cafes in the gardens that are effectively satellites of ground floor restaurants. Here both locals and tourists can sit, savour the view and enjoy this great street.
Another aspect of future development is the proposed tram route along Princes Street. How it is planned and what the policy will be for buses and car access is going to be crucial in how it develops. Though the tram will have only one stop on Princes Street, because of its ''business plan'', it will stretch and encourage accessibility of the stops further west and east. The important thing to control is speed, so that the physical presence of the tram itself and its associated street furniture is appropriate for a world heritage site.
Ultimately, the question must be – what is the true nature of Princes Street? As Louis Kahn would have said 'what does the street want to be?' The place itself should dictate its future and that is its vital civic and urban role rather than being the competitive equivalent of an out of town shopping centre.
Back to June 2008