Developing Edinburgh's Waterfront
|
Send to friend
4 Jun 2008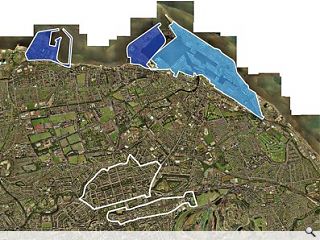 THE WATERFRONT: A String of seperately planned development sites... or Edinburgh's New New Town?
Throughout the world the post industrial landscapes of docks and dockyards has changed beyond recognition, presenting new development opportunities for all kinds of cities. Edinburgh is no exception, but its waterfront has the rare advantage of being arranged in an arc very close to the city centre, unlike London's docklands which are set at some remove in its East End. With picturesque views of mountains, Edinburgh's docklands have an almost seaside setting, and its waterfronts have none of the industrial brownfield squalor and degradation usually associated with docks. The closest comparison is with the waterfront at Lisbon along the banks of the River Tagus, which is a very similar distance of about 11 kilometres.
We have made this a key target for implementing the philosophy of Design Champion leadership. Instead of separate development control led from the city and a series of independent, masterplan-led developments for each site, we have argued that there should be a much higher aspiration. Collective efforts should focus on establishing a set of connected regeneration projects that will give rise to a new kind of waterfront city. In urban planning terms, this should have as great an impact as the New Town and Old Town had when they were first developed. Edinburgh has a chance to create a third great town, but it will not happen unless all participants can see it as a linked project with a spatial framework and strong city leadership at its core.
Over the last four years we have led several initiatives. The first was the Waterfront City Design Symposium in June 2004, assisted by Dr Iain Docherty of Glasgow University, Dr Jonathan Charley from Strathclyde University and Pauline Gallagher a NESTA fellow. There then followed a further three events (including one in April 2007 co-facilitated by Wayne Hemingway of Hemingway Design) which were designed to raise awareness and expose critical issues which needed to be resolved to ensure that the waterfront city could become a reality. The technique of using city tiles was tested here for the first time, and component parts were developed by different designers, among these were Gross.Max. and Sutherland Hussey who produced the first City Tiles with Eelco's Nature Activation – Cultural Stimulation and Sutherland Hussey's Seafield Parklands and Beach. The proposed tram route will also have a major impact and workshops have explored the implications of this (Waterfront City Design Summit, April 2004 and Tram Charrette, May 2006). We advocated the setting up of a forum which would allow the local authority to understand the pressures and become enablers. In August 2005 the City set up the Waterfront Development Partnership board, we are hopeful that this is the first step in the local authority becoming more strategic and responsive to the reality of Place Making, but as yet, no urban framework masterplan has emerged other than what has been created at our many workshops.
The idea of a waterfront city has huge potential, which must not be squandered. It could be developed along a continuous boardwalk or grand boulevard, such as the Promenade de la Croisette in Cannes. This connects up places for the sheer pleasure of experiencing the city, like George Street in the New Town or Princes Street. If ever there was a case for the public realm being instigated as a lead project, it is along the waterfront. Without it, development will be unsatisfactory and piecemeal, and the waterfront will fail to live to the potential that its great setting promises.
One of the sub-projects within this waterfront city is Leith Walk, which is included by the Design Champion initiative as one of the tiles. With it gentle slope down to the docks and harbours, Leith Walk is a surprisingly direct connection between the city core and its waterfront. Connecting Picardy Place to the old town of Leith is a fine street with the potential to become Edinburgh's equivalent of the Ramblas in Barcelona. With the tram running along it, together with wide pavements, new shops and new developments, Leith Walk could become one of the great streets of Europe. It is surprising how closely connected Leith is to Edinburgh, yet in the mindset they could be 10 miles apart. The redevelopment of the waterfront as new urban territory with housing, offices, entertainment and leisure facilities promised to be a spectacular addition to Edinburgh and the umbilical cord connecting them is one of the city's great urban design opportunities.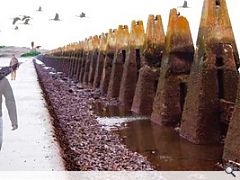 Gross Max's proposals for the ten mile boardwalk and estuary wetland park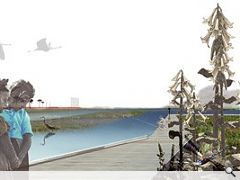 Gross Max's proposals for the ten mile boardwalk and estuary wetland park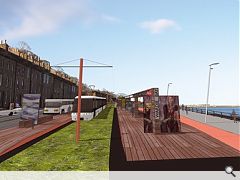 In 2004 the RIAS commissioned young practices to look at inventive solutions for Edinburgh's proposed tram system. This shows Zone architects' proposals for the waterfront
Back to June 2008