Saving Grace
|
Send to friend
9 Jan 2008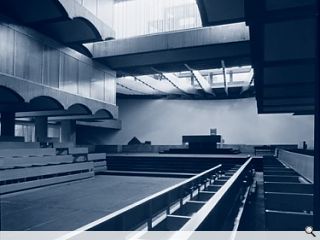 Prospect backs the campaign for the reuse of GKC's St Peter's seminary. In the spirit of debate it invited Diane Watters, author of a book on the building, and John Deffenbaugh from the St Peter's Building Preservation Trust to debate its importance
Today Cardross Seminary is probably the most celebrated post-war building in Scotland – at least among architects! It's famous not just for the poetic qualities of its architecture, but also for its tragic story – a design of unique beauty misused and abandoned by a philistine client and an uncaring society. But if we look closer and try to understand Cardross as it originally was, a very different story emerges, of a troubled building of restricted reputation, whose current fame stems from present-day ideas unconnected with, or opposed to, its original reality. What, then, is this original, 'real' story of Cardross? This is a narrative stretching from 1953 to 1980, which tells how an important Glasgow architectural practice, little-known internationally but dominant within the west of Scotland's specialist world of Catholic building, launched into an innovative phase of architecture, driven by formal rather than functional or liturgical considerations, and culminating in the building (1959-66) of a major new seminary – an extension conceived as a grouping round a Victorian mansion.
In the post-war age of modernism, inspired by the collective Welfare State, it was going to be difficult for a religious institution steeped in 16th century isolationist doctrines to establish a major international reputation, however inspired its forms and spaces. GKC's chief architects avoided any Modernist avant-garde theorising, and couldn't claim a more general establishment reputation like some other Scottish architects, such as Robert Matthew and Basil Spence, because their patronage base was too narrowly limited to the Catholic world. Out of just 12 contemporary journal references listed in the new Lighthouse book on GKC, only one was from abroad. Cardross has established a reputation as a key reference point and pilgrimage for Scottish architectural students, but the contrast with works of true international status, like Cumbernauld New Town, a worldwide mecca for architects and planners, is sobering!
The main narrative of the early years of Cardross had a very different focus: severe structural and maintenance problems. This was a repeated issue with GKC's architecturally innovative works of the 1960s – a burden falling chiefly on the long-suffering Catholic Archdiocese, as a perverse payback for their generosity as the key institutional patron of the firm. After Cardross's triumphal opening in November 1966, when Archbishop Scanlan glowingly praised "the genius of the architects", things began to go wrong – on all fronts – almost immediately. Sustained water ingress had led, by 1971, to dampness and fungus penetrating almost everywhere. By 1972, a damning engineer's report, cataloguing faults in everything but the small convent block, was eventually accepted by GKC. Crucially, in 1971, the Vatican announced for the first time the shocking number of priests abandoning the priesthood, initiating a crisis in recruitment. This architecturally modern seminary was steeped in the 16th century doctrines which prescribed a rigid life of isolation for the trainee priest, cut off from the community. It was an anachronism, and its raison d'etre was turned upside down by Vatican II. The seminary only ever operated at half capacity. By the late 1970s, heating and sound insulation problems, coupled with the dampness, had made teaching impossible, and staff and students retreated into the Victorian solidity of Kilmahew House. Eventually the seminary was closed in 1980 after only 14 years in semi-active use. Following numerous failed attempts to find a new use, it stands 27 years later, a truncated, gutted ruin, derelict for over two thirds of its existence – the Victorian house that formed its core having been unceremoniously demolished.
Traditionally, the success of a work of architecture has been judged by whether it adequately combines the three criteria first set out by Vitruvius: beauty, practical usefulness, and constructional stability. By that measure, the original 'story' of Cardross was one of failure. But today, this outcome has been forgotten and swallowed up in a new 'story', a myth shaped around one of Modernism's most worn-out themes – that of tragic, betrayed, unappreciated, poetic genius. In the 1990s, an array of architects and journalists turned the ruin of Cardross into a headline-grabbing piece of architectural rhetoric, symbolising not failure but material sacrifice, which fortuitously makes up for past offences. GKC followers threw the trust and patience of the Catholic Archdiocese back in their faces, attacking their "obscene, sacrilegious vandalism" of the seminary. The new mythical Cardross was torn from its real past in post-war Modernism, and became a 21st century 'icon': in 2005, Prospect magazine actually voted it Scotland's 'top modern building'! Historic Scotland dutifully kept up, listing almost every GKC church in sight, even those in Cumbernauld New Town, as its housing stock and town centre crumbled into undeserved obscurity. Regardless of its reliable bolstering of GKC's oeuvre, the heritage agency became Cardross campaigner's latest focus of attack when the St Peter's Building Preservation Trust ceremoniously repaired the fence around Cardross, padlocked the gate and sent it to Historic Scotland!
Now, we await the next chapter in the 'new' Cardross story. Will the Avanti report simply continue the narrative of tragically misused genius? Will millions of pounds of public money eventually be poured into a rebuilding project to put right this terrible wrong – on top of the hundreds of thousands already spent in subsidising the current 'celebratory' Lighthouse exhibition? And if the tragic ruin does eventually disappear, and the building re-emerges in a sanitised form that so conspicuously failed to excite wide architectural acclaim in the 60s, what then of the myth and the magic?
Diane Watters
Irish Irish immigrants were not well received in 19th Century Glasgow. As emigrant ships docked at the Broomielaw, local leaders called for their immediate extradition. When this did not happen, they saw to it that immigrants were discriminated against in terms of housing provision and employment. Consequently, the city's Irish population developed as a close-knit community concentrated on inner city areas. However, the mid 20th century would devastate these communities, as city fathers set out to redevelop much of central Glasgow, decanting its residents to peripheral estates and new towns.
This period would roughly coincide with a high point in Catholic Church attendance. With one of the largest Catholic populations in the UK, the Archdiocese of Glasgow believed that Catholicism would soon become the city's dominant religion. Central to this was the provision of new churches in the emerging peripheral communities. But where would new priests be trained to man these suburban cathedrals? The answer led to the Archdiocese's most ambitious undertaking, leaving Scotland with an enduring symbol of this incredibly optimistic, but ultimately ill-fated, period of history: St Peter's College, Cardross.
While the College was under construction, the number of Catholics attending mass began to decline. Unfortunately for St Peter's, the number of young men seeking a life of celibacy at the height of the swinging 60s was dropping even faster. The effect of this social revolution was exacerbated by the religious upheaval that would follow Vatican II. Sculptural, spiritual, and doomed from its conception, St Peter's functioned as a seminary for 15 years before its students were transferred elsewhere.
Today, St Peter's is significant on many levels: architecturally, as the most rigorous example of the modern movement in Scotland; professionally, as the pinnacle of one of the country's most prominent 20th century practices; and socially, as the physical embodiment of the demographic and religious upheavals of its time. However, for me, the most significant aspect of St Peter's does not lie in a theoretical discussion; it is the College's blatant physical beauty and the articulation of its internal spaces.
Perhaps to legitimise the College's current sorry state, a number of professionals now question St Peter's credentials, and the pedigree of its designers. They argue that the focus on GK&C's work is detrimental to the appreciation of other Scottish architects of that period. Surely there is room enough in Scottish architectural history for all its protagonists? St Peter's is also accused of being all skirt and nae knickers, with little of value beyond its facade. Well, perhaps the College was less radical in its planning than works by GK&C's peers, but neither did it facilitate the social despair of developments by Spence and Matthew in the Gorbals, or Wilson at Cumbernauld. Revolutionary it may not be but in terms space, light and section, St Peter's is a masterpiece.
On a practical level, some assert that it would be impossible to reuse St Peter's as its rigid layout precludes this. These people clearly do not get out very often and have not had the pleasure of visiting the Tate Modern or Musee d'Orsey. What makes finding a reuse for a complex of buildings that contains a wide range of spaces in one of the most accessible parts of the country so hard?
The bottom line is that the main obstacle to finding a reuse for St Peter's is not physical, it is psychological. The buildings have languished for so long with so little done to market them that, like an essay put off until the last minute, the challenge seems all the greater. Add to this the numerous urban legends and the difficulties seem truly insurmountable. However, these myths seem to be perpetuated by those who have no intention of seeing the buildings reused and, in my experience, those who have never been to the site itself. This is a building that is not just iconic, it is heroic, and it moves you in the same way as an exceptionally poignant or personal song lyric.
Many associate St Peter's ruin with a sense of romance, drawing comparisons with ancient monasteries. However, visitors who spend time at Cardross cannot fail to identify the incredible sense of loss that pervades the buildings. During the summer, I showed a celebrated architectural photographer around the complex. After a full day shooting, I asked her how she felt about the College. She replied that it felt like the buildings had been raped, such was the sense of despair apparent in her images. There is nothing romantic about that. How can a modern society inflict, and now attempt to justify, such a fate on one of its greatest assets?
John Deffenbaugh
Back to January 2008